Greece Default: How Might it Happen and What Would it Mean?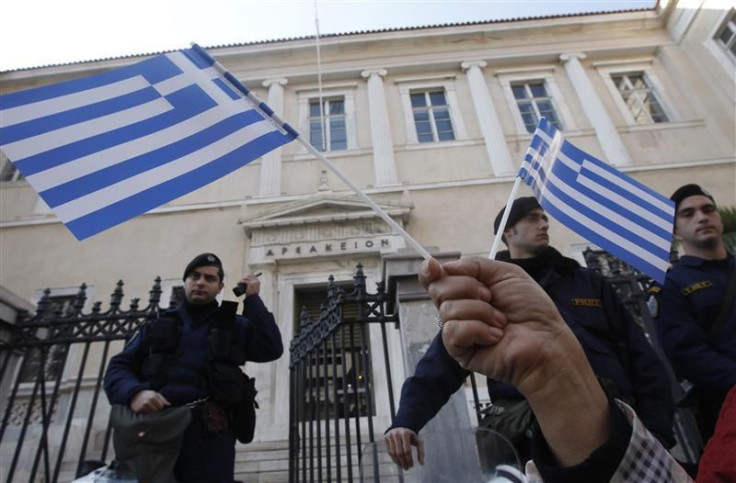 Even as Greece works toward an agreement with private sector investors to meet their debts, Standard & Poor's warned that Greece is likely to enter into default. The country has a €14.5 billion bond payment due in March which it may not be able to meet without a second bailout, and the country's credit could once again be downgraded, this time to default status.
Between 2000 and 2007, Greece's economy grew at a rate of 4.2 percent per year, the fastest in Europe. However, as the world's economy began to falter, Greece was hit harder than other countries because its two biggest sectors, shipping and tourism, were affected heavily.
In April 2010, Greece accepted a bailout from the European Union and the International Monetary Fund of €45 billion in order to cover €8.5 billion of bonds that were due for repayment. A few days later, S&P downgraded Greece's credit rating to BB+, or junk, status on fear of default, and said inspectors could expect to lose 30 to 50 percent of their investment in event of a default.
Greece accepted a €110 billion loan from the IMF in May of that year, on conditions that it implement austerity measures, which include deficit cutting and lower spending. Then in June 2011, Greece's credit was again downgraded by the S&P, this time to CCC, the lowest in the world. Riots ensued from the population, and Prime Minister George Papandreou reshuffled his cabinet. Papandreou resigned in December, and Lucas Papademos took over, promising to cut the deficit from 9 percent of the GDP to 5.4 percent.
If Greece does enter into default, it risks damage across the European economy and may have to abandon the euro, causing their bank system to collapse and driving the country deeper into a recession. Greece is trying to reduce its debt to 120 percent of GDP, down from 160 percent, by 2020.
The default, if it happens, may not happen until the fall, though the effects could be felt much sooner. The value of the euro fell on Tuesday, and is projected to continue falling through May.
© Copyright IBTimes 2023. All rights reserved.