Greece?s Tourism Woes Continue As Tour Operators Slash Prices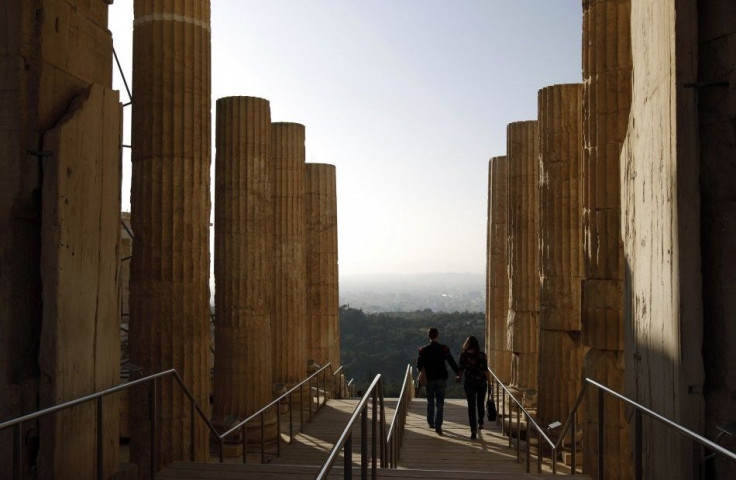 Amid speculation about a Greek euro exit and fears of ensuing social unrest, tourism officials worry that Greece could have a terrible summer season this year.
A repeat election on June 17 will likely determine whether Greece retains the common currency or returns to the drachma. The gloomy forecast has travel agents across the world offering discounted fares to try and convince travelers to visit the sun-soaked Greek Isles and historic monuments.
Agents in the UK and Germany, in particular, have offered steep discounts to help kick-start slumping demand as the economic crisis hits travel spending across Europe. Residents of the two nations account for a large percentage of Greece's visitors, but reports of anti-German sentiment and the fear of being stranded amid protests has left several would-be visitors leery. Many of the 2.2 million Germans who holidayed in Greece last year appear to be headed for other destinations this year such as Spain or Turkey.
London-based Olympic Holidays, a major seller of Greek package holidays in the UK, reduced its rates by up to 25 percent for peak season travel. Meanwhile, online hotel prices in Greece show an 8 percent decline this month compared with June 2011, according to Trivago.gr, with rates in Athens down by 22 percent over last year. Overall hotel rates in Greece average 100 euros for a twin room, considerably lower than most other European nations.
Sales on Greek vacations touting the best value for your money ever come one week after a Reuters report revealed that Greece's tourism revenues could plunge up to 15 percent in 2012.
We will see a considerable drop in tourism income, the head of Greece's tourism enterprises association SETE, Andreas Andreadis, told Reuters. A negative number...something like 10-15 percent.
Greece is already feeling the dip. Tourist receipts for the first quarter tumbled by 15.1 percent, the Bank of Greece said, while Greek airport arrivals fell 5.1 percent in the first five months of the year.
These figures come after a surprisingly upbeat 2011. A record 16.5 million tourists visited Greece last year and revenues rose by 10 percent to 10.5 billion euros. Industry officials say political turmoil in rival destinations such as Tunisia and Egypt and lower fares accounted for the increase in visitor numbers.
Tourism is vital to the Greek economy and accounts for about 15 percent of output and one in five jobs -- this in a country where unemployment has hit a record high of 21 percent.
Tourism officials in Greece hope to lure travelers from Russia, Ukraine and Israel to help make up for the loss from Western European markets. They blame negative publicity in Western Europe and the Americas for distorting the country's image.
The immediate result is the devaluation of our country in the international tourism market, the head of the Hellenic Association of Tourism and Travel Agencies, Giorgos Telonis, told Athens-based ekathimerini.com. We are all feeling the impact on the tourism industry and the Greek economy and society.
Rick Steves, the popular European guidebook writer and television host, said tours in the country have been as smooth and fun as ever -- virtually unaffected by the local political and economic events.
The main impact on travelers as Greece struggles through this period will be: shorter hours of sights, intermittent strikes and friends and loved ones back home wondering if Americans traveling in Greece are OK, he said. From my experience, they are more than OK. ... They are enjoying a wonderful vacation in a wonderful and more-welcoming-then-ever corner of Europe.
© Copyright IBTimes 2023. All rights reserved.