Gregg Popovich The Greatest NBA Coach Of All-Time? Cases For Phil Jackson, Pat Riley, Red Auerbach, Others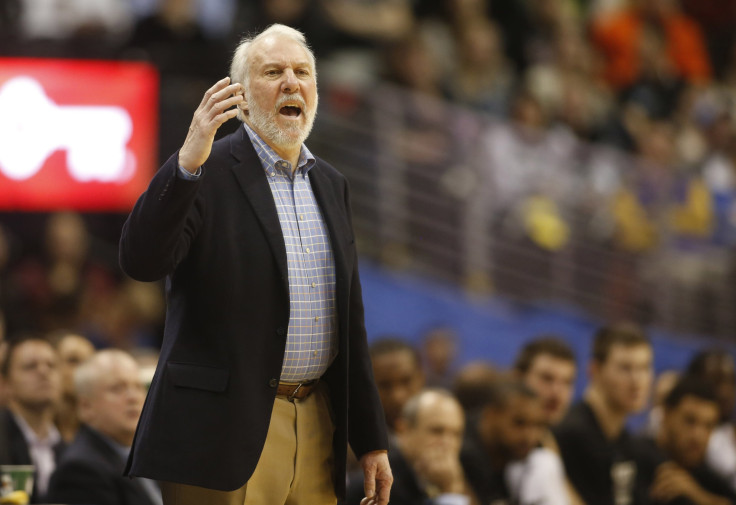 San Antonio Spurs head coach Gregg Popovich joined one of the most exclusive clubs in NBA history Monday, becoming the ninth coach to win 1,000 games. The Spurs overcame a 14-point fourth-quarter deficit to beat the Indiana Pacers, 95-93, making Popovich the third fastest coach to reach the career milestone.
The only coaches to reach 1,000 victories faster were Phil Jackson and Pat Riley. Popovich joins those two, along with Don Nelson, Lenny Wilkins, Jerry Sloan, George Karl, Larry Brown and Rick Adelman as the only ones to cross the career threshold.
Popovich, now in his 19th season with the Spurs and the longest tenured coach in the NBA, has now further padded his resume, which already includes five NBA championships. He equals Los Angeles Lakers and Miami Heat great Riley in titles, and is only bettered by former Boston Celtics great Red Auerbach's nine, and Jackson's 11 rings between the Chicago Bulls and Los Angeles Lakers.
While the accomplishments of the six other coaches who reached the 1,000-plus victory mark shouldn't be overlooked, with the exception of Brown, none captured multiple championships during their decades in the NBA. In fact Brown is the only one of that group to win even one as a coach.
That leaves Popovich to duke it out with Jackson, Auerbach and Riley in the debate over the greatest NBA coach of all-time.
With the focus narrowed, let's breakdown the careers of Jackson, Popovich, Auerbach and Riley and try to discern who deserves GOAT status.
Gregg Popovich, San Antonio Spurs (5, titles, 1,000 wins, .684 regular season, .623 postseason)
A running theme in these breakdowns will be the talent each coach had to work with. For Popovich, his only losing season with Spurs was his first.Taking over for Bob Hill 18 games into the season, Popovich would go 17-47 with David Robinson sidelined due to injury in 1996-1997. That led to the No. 1 pick in the draft and the Tim Duncan Era.
Also acting as general manager, Popovich found undervalued foreign assets in Tony Parker and Manu Ginobili, and Duncan took less money than most superstars in order to win throughout his career. That led to five titles and a .684 winning percentage in the regular season, which barely dipped to .623 in the postseason.
Picking up three Coach of the Year honors, which seems like a pittance, Popovich helped San Antonio to the best record in the league 11 times in the ever-reloading Western Conference. And when the Spurs reached the NBA Finals they won five out of six times.
Phil Jackson, Chicago Bulls and Los Angeles Lakers (11 titles, 1,155 wins, .704 regular season, .688 postseason)
Some have discredited the Zen Master's 11 titles, saying he was blessed with the greatest player in history, Michael Jordan, then the best center of his generation, Shaquille O'Neal, and the player most often compared to Jordan, Kobe Bryant.
However, it's one thing to get the most out of a patchwork roster, and another to coax greatness out of superstars and convince them to rely on teammates. Jackson did that 11 times, even if he couldn't keep O'Neal and Bryant together.
It's also to his credit that Jackson lifted Larry O'Brien trophies with two different franchises, and he won .704 of his regular season games, aided by two of the greatest teams in NBA history. There was the 1995-96 Bulls, a group that owns the all-time regular season record of 72-10, and the following year's 69-win club.
Like Popovich, the postseason was more of the same for Jackson, winning .688 of his teams' matchups, and only losing once in the Finals for an 11-1 overall record.
Pat Riley, Los Angeles Lakers, New York Knicks, and Miami Heat (5 titles, 1,210 wins, .636 regular season, .606 postseason)
Riley also won a title with two different teams, with his and Jackson's career connecting at different points. Technically Riley has seven rings, helping the Heat lure LeBron James to South Beach for two straight titles, but as a coach he picked up five, four with the Lakers in the 1980s and one with Miami in 2006.
Like Jackson, he was blessed with future Hall of Famers in Magic Johnson, James Worthy and the NBA's all-time leading scorer in center Kareem Abdul-Jabbar. Riley built the Lakers back up in the 80s, and Jackson did the same in the late 1990s and throughout the 2000s.
It hurts Riley's case a bit that Jackson's Bulls teams denied his Knicks a title for most of the early and mid-1990s, but Riley does get bonus points for being the only coach to nearly bring a title to New York in the last 40 years.
Red Auerbach, Boston Celtics (9 titles, 938 wins, .662 regular season, .689 postseason)
It was a much different era when Auerbach guided the Celtics to nine championships, including an unfathomable eight in a row between 1959 and 1966. There were only nine teams in the NBA the last year that Auerbach won a title, and he did have Hall of Famers like Bill Russell, Sam Jones, John Havlicek and Bob Cousy for most of his coaching career.
But his career also coincided with the rise of such dominant stars like Wilt Chamberlain, Jerry West and Oscar Robertson, all of whom missed out on several championships thanks to Auerbach's dominant Celtics clubs. He didn't amass 1,000 wins but, similar to Popovich, he endured only one losing season while spending 20 years on the bench.
Auerbach also did an exceptional job of promoting team basketball, which was a crucial reason Boston won so many titles. He also had his hand in discovering and developing young talent like Dave Cowens, Larry Bird, and Kevin McHale, and trading for Robert Parish, when he shifted to the front office.
Verdict: Based off wins and total titles, the distinction has to go to Jackson. He won with two different teams and molded Jordan, O'Neal and Bryant into legends. The start of his run as the Knicks team president notwithstanding, Jackson reshaped the league with his triangle offense following the fast-break 1980s, and he could have equaled Auerbach's title streak if Jordan hadn't retired for almost two seasons. Under Jackson, the Bulls even won 55 games in the 1993-1994 season, with little-known Pete Myers starting in place of Jordan.
© Copyright IBTimes 2023. All rights reserved.