'Grey's Anatomy' Season 11 Spoilers: 7 Things To Know Before The Sept. 25 Premiere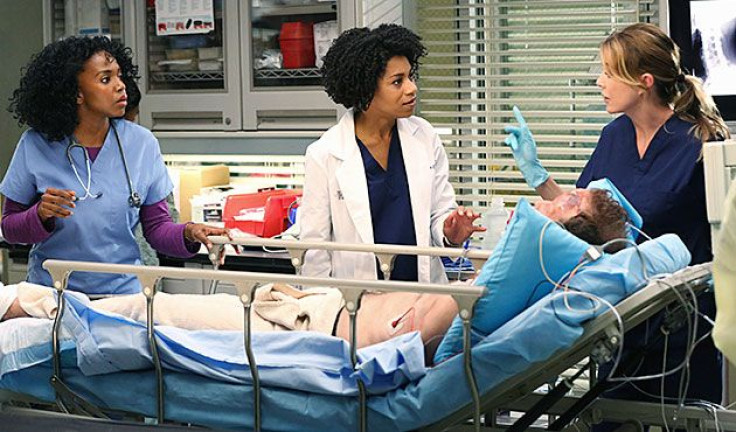 Ready for some blood, guts and tears, "Grey's Anatomy" fans? That's exactly what showrunner Shonda Rhimes plans to bring you when Season 11 of the hit ABC medical drama premieres on Thursday, Sept. 25. As we all remember, the Season 10 premiere left off on a twisted note with Cristina (Sandra Oh) leaving Grey Sloan Memorial Hospital for good. Meredith (Ellen Pompeo) and Derek (Patrick Dempsey) got into an argument over moving to Washington, and Maggie (Kelly McCreary) was revealed to be Meredith's half-sister! Talk about a cliffhanger.
So, what does the new season of "Grey's Anatomy" promise for fans? Check out all the drama in store when our favorite series returns:
1. Season 11 Premiere Synopsis
Episode 1, "I Must Have Lost It On the Wind," written by Stacy McKee and directed by Kevin McKidd, will pick up where Season 10 left off – pretty dramatic. Derek is still set on moving to Washington, D.C., while Meredith struggles to "regain a sense of normalcy both at home and in the hospital." The two will bump heads about this decision, to the point where Meredith questions her marriage.
Callie (Sara Ramirez) and her partner, Arizona (Jessica Capshaw), will come to a decision about surrogacy. And Bailey (Chandra Wilson) will realize that she needs to fight Alex (Justin Chambers) if she wants to take Cristina's empty board seat. Dr. Richard Webber (James Pickens Jr.) had promised the position to Bailey when Cristina left for Sweden, but Yang gave it to Alex prior to leaving. Who do you think deserves the position on board?
But out of the entire synopsis it was the part about Amelia (Caterina Scorsone) overhearing a big secret that really turned our heads.
2. Secret's Out!
Rhimes teased that Amelia would be the first one to learn about Webber's secret of Grey Sloan's newest employee actually being his love child and Meredith's sister.
"There's a moment early on when Amelia finds herself the keeper of some secrets that Richard didn't necessarily want her to know by being at an AA meeting that he didn't know she was at," Rhimes said to Entertainment Weekly.
3. Sibling Rivalry
A sneak-peek video from episode 1 reveals that Meredith won't take too kindly to Maggie when she learns the duo are more than just co-workers. In fact, the sisters won't even be able to see eye-to-eye in the professional realm.
"They have different approaches to medicine and patient care," McCreary told EW. "They have to negotiate while working together how to be a team. There's a bit of tension there."
4. Comic Relief
Although the Season 11 premiere is jam-packed with heart-stopping drama, viewers will also find themselves laughing when they see a pair of teens "caught in a very compromising position." Check out the sneak-peek video below of how these teens found themselves intertwined on a gurney during episode 1.
5. Season 11 Theme
According to Rhimes, Season 11 will focus on the storyline of Meredith. "Right now, if you were in the writers' room, you'd probably tell me the theme was Meredith, because that's all I keep saying," the creator dished to the Hollywood Reporter. "I'm like, 'The show is just about Meredith Grey!' Maybe the theme is Meredith at this point. It's a really Meredith-centric season. There's a lot of growth. She's lost her person. Her sister has showed up. Her husband is chafing to go someplace else. She's got all these things going on. Maybe that's the theme, maybe it's independence. But for me right now, it feels like it's Meredith. I'm feeling her more acutely because she's lost a person."
6. Time Jumps
Rhimes previously said that Season 11 of "Grey's" wouldn't feature any time jumps but in a recent interview with The Hollywood Reporter the creator dished fans will get their flashback fill in order to tell Maggie's story.
7. Mama Drama
Meredith's mother, Ellis (Kate Burton), will return to the new season to help give context to the surprising storyline of Maggie, Meredith's half-sister and Webber's daughter. The last time viewers saw Ellis was in Season 8 when she appeared on the episode "If/Then," so it will be exciting to see Burton's character walking the halls of the hospital once again – even if it's just a flashback.
What are you most excited to see in the Season 11 premiere of "Grey's Anatomy"? Be sure to tune in for episode 1 when "I Must Have Lost It On the Wind" airs Thursday, Sept. 25, at 8 p.m. EDT on ABC.
© Copyright IBTimes 2023. All rights reserved.