'Groundhog Day' Movie: Where To Watch Online; TV Schedule For 2016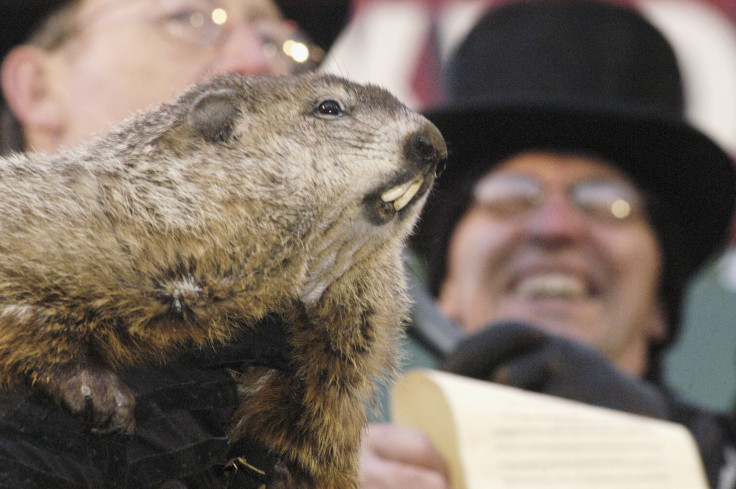 It's that time of year when everyone gets a visit from their favorite groundhog. In celebration of Groundhog Day on Feb. 2, some will likely want to watch Bill Murray's famed 1993 comedy of the same name. In the film, the veteran actor stars as Phil Connors, a grumpy weatherman who is forced to cover the antics of the annual celebration in Punxsutawney, Pennsylvania. His world is turned upside down when he wakes up in the small town the following morning only to realize the holiday is repeating itself. He is forced to right the wrongs in his life in order to stop the repetition, which results in both hilarious and tear-jerking moments.
For those who want to re-watch the comedy classic, or view it for the first time, here are eight places you can view it on TV or online in 2016:
1. Cable – You can watch the comedy on cable TV this year, according to TV Guide's listings. The film will be airing four times on Comedy on Tuesday. Fans can watch the film at 11:21 a.m., 2:07 p.m., 4:46 p.m. and 7:24 p.m. EST.
2. Amazon – You have two options for watching "Groundhog Day" on Amazon. The film is currently available to rent in HD for $3.99. Once rented, you have 30 days to view the film and 48 hours after clicking play. If you prefer to have the film join your movie collection, you can purchase a digital, HD version for $12.99.
3. Google Play – If you're looking for another place to rent or buy "Groundhog Day," you can check out Google Play. The service is renting the film for $2.99 in standard definition and $3.99 in HD. Digital copies are selling for the discounted price of $7.99.
4. Netflix – While it doesn't appear "Groundhog Day" is among the films currently streaming on Netflix, subscribers can request a rental of the film be delivered. Renting DVDs from Netflix costs $7.99 per month.
5. VUDU – The television company has several different rent or buy options available. HDX versions of the film can be rented for $3.99 and purchased for $13.99.
6. PlayStation/Xbox – If you prefer using your gaming consoles to play movies, both the PlayStation and Microsoft online stores are selling and renting the film. Prices range from $2.99 to $12.99.
7. Blu-ray – For superfans who may want to catch all the "Groundhog Day" bonus features, purchasing the Blu-ray is your best bet. The 15th anniversary special edition version of the film is available for $9.79 on Amazon and includes deleted scenes, a making-of documentary and audio commentary.
8. YouTube – If YouTube is more your thing, consider renting the film from the video-sharing site via Sony Pictures Home Entertainment for $2.99. If you don't want to spend money to watch the Groundhog Day classic, relive the fun by taking in the trailer below:
© Copyright IBTimes 2023. All rights reserved.