Gun Rights In America: Right-Leaning Supreme Court To Hear Second Amendment Cases
The Supreme Court is gearing up to hear a landmark Second Amendment case from New York. Having received the go-ahead from the justices, New York State Rifle & Pistol Association v. Corlett will be heard next term with wide ramifications for gun control and firearm purchasing.
The case was sparked by New York's gun license guidelines, which require those applying for publicly concealed carry permission to present proof of a "proper cause."
While the law itself doesn't define exactly what that means, subsequence lawsuits have made it clear a simple desire for self-defense doesn't meet that bar.
New York's State Rifle and Pistol Associate is seeking to change that.
"A law that flatly prohibits ordinary law-abiding citizens from carrying a handgun for self-defense outside the home cannot be reconciled with the Court's affirmation of the individual right to possess and carry weapons in case of confrontation," the organization wrote in the case's petition.
It's been years since the Supreme Court decided major firearm legislation, such as 2008 and 2010's pair of in-home handgun rulings. It was in those cases that the conservative Supreme Court established an individual right to bear arms, disregarding the "well-regulated militia" part of "a well-regulated militia, being necessary to the security of a free state, the right of the people to keep and bear arms, shall not be infringed."
The court has moved more to the right since then, with Sen. Mitch McConnell, R-Ky., delaying a vacancy from Justice Antonin Scalia's death in February 2016 into the Trump presidency and filling the vacancy after the death of Justice Ruth Bader Ginsburg with Justice Amy Coney Barrett.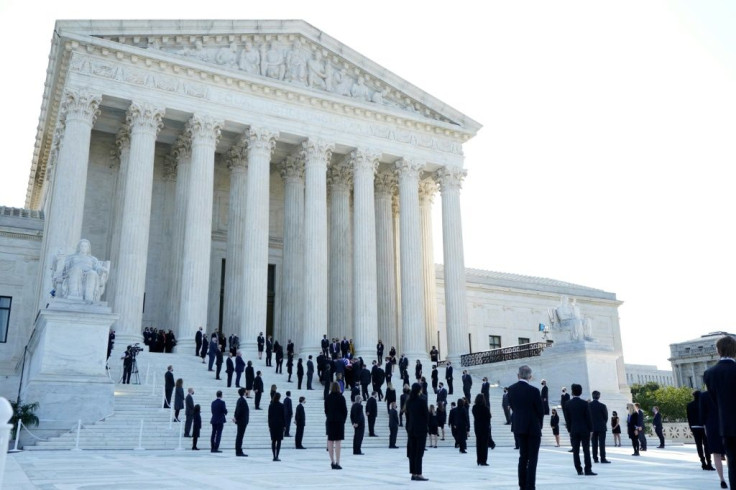 The disconnect between the Supreme Court's lifetime political appointments and the American zeitgeist has prompted calls for Democrats to rebalance the court by expanding seats. The suggestion has been met by equally fervent Republican alarm.
The approval of New York State Rifle & Pistol Association v. Corlett comes just days before another test of fundamental rights as a student's Snapchat message tests the limits of free speech and cyberbullying.
© Copyright IBTimes 2023. All rights reserved.