Hall Of Famer Hingis Ends Retirement To Play Doubles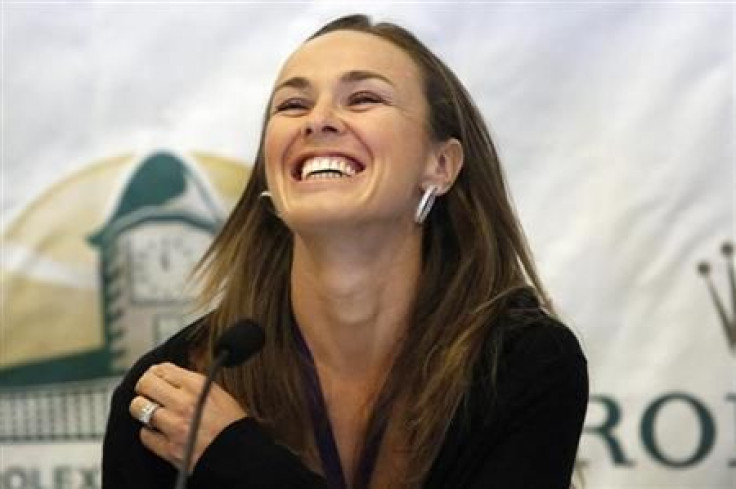 Martina Hingis, fresh off her induction into the International Tennis Hall of Fame, will end a nearly six-year retirement to play doubles at next week's Southern California Open, the WTA said on Tuesday.
Hingis, a winner of five grand slam singles titles, will partner with Slovakia's Daniela Hantuchova at the July 27-August 4 tournament in Carlsbad, Calif.
"I am very much looking forward to making a return to competitive play at the Southern California Open," the Swiss former world No. 1 said in a statement on the WTA website.
"My competitive spirit is still very much alive and I love being out on court."
Hingis, who won the Australian Open and Wimbledon at the age of 16, quit tennis for the first time in 2003 at the age of 22, suffering from ankle injuries. She returned in late 2006 and finished the following year ranked seventh.
However, she quit for a second time in 2007 under a cloud after she tested positive for cocaine at that year's Wimbledon. Hingis served a two-year ban but maintained her innocence.
She also won nine grand slam women's doubles titles and one grand slam mixed doubles title.
The 32-year-old Swiss, who has not played a WTA event since September 2007, was inducted into the International Tennis Hall of Fame on Saturday, becoming the fourth-youngest player to be enshrined, following Tracy Austin (30), Bjorn Borg (31) and Hana Mandlikova (32).
(Reporting by Steve Keating in Toronto; Editing by Frank Pingue)
© Copyright IBTimes 2023. All rights reserved.