Hallmark Channel 'Christmas In Evergreen' Premiere: Meet The Cast, Watch Trailer
Now that it's December, Hallmark Channel is really at the heart of its Countdown to Christmas programming event.
The first premiere of the month is "Christmas in Evergreen" with Ashley Williams and Teddy Sears. This marks Sears' return to the network after seven years away since his first film on the channel, "Backyard Wedding," with Alicia Witt.
For Williams, though she's been in a couple of Hallmark Channel films over the last few years, including 2015's "October Kiss" and 2016's "Love on a Limb," will be starring in her first Christmas film on the network. That said, it won't be her first-ever holiday TV film, as she was in Lifetime's "Christmas in the City" in 2013 and a couple on ABC Family before that.
Fun to note is that while this is Williams' first movie with "The Flash" alum Sears, it is not her first film with someone from that series.
Years before the show ever hit The CW and years before Williams even had her first Hallmark film, the ABC Family original Christmas movie that she was in was 2014's "Snow" with current "The Flash" star Tom Cavanagh. The two also starred in the film's sequel together, which came out on the network in 2008.
That alone must've given Williams and Sears plenty to talk about while filming their new Hallmark Channel movie.
Let's take a look at what we can expect from the duo's Christmas creation.
"Dr. Allie Shaw (Williams) is the town veterinarian in Evergreen, Vermont, but thinks it might be time for a change, especially since she just got a job in Washington, D.C. where her boyfriend Spencer Burris (Marcus Rosner) lives," the synopsis shares. "Two years of long-distance dating has taken a toll on their relationship, and they're thinking about taking the next step. But Allie isn't sure, so she's agreed to spend Christmas in D.C. to test the waters. Everyone is going to miss Allie, especially her parents, Carol and Joe Shaw (Barbara Niven and Malcolm Stewart), who run Kris Kringle Kitchen, a diner with a yuletide flavor, not unlike the rest of the idyllic mountain town."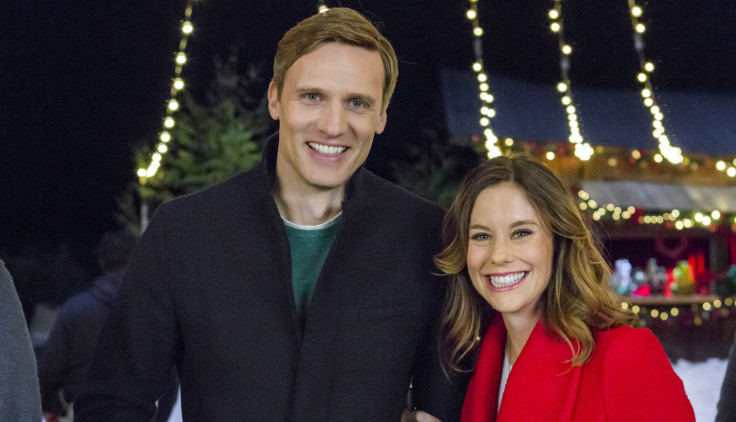 Dr. Ryan Bellamy (Sears) is also looking to switch things up after losing his wife just before Christmas the year before. He decides to take his 8-year-old daughter Zoe (Jaeda Lily Miller) to Florida on a cruise. On the way to the airport, they stop in Evergreen to eat, and they find Allie trying to start her car. Ryan offers to help and is able to get the truck working, as well as able to get a little spark between the two of them going.
"Thinking they'll never see each other again, Allie goes to check on a pregnant cow, while Ryan and Zoe head to the dinner, where Zoe makes a wish on Evergreen's magic snow globe. Legend has it that if one makes a wish from the heart, Christmas magic will make it come true," the synopsis explains.
A snowstorm makes Zoe's wish happen, as she's forced to spend Christmas in Evergreen when all the flights are canceled.
"Stranded with Ryan and Zoe at the airport, Allie offers to drive them back to town. But on the way there, she gets a call that the cow she saw earlier is in labor, and Zoe's amazing Christmas begins. Not only does she see a calf being born, but also she, Allie and her dad bake Christmas cookies, make stockings, and build a snowman," the synopsis reveals. "Zoe couldn't be more delighted with how her Christmas is turning out, and Ryan and Allie are happy to get to know one another. But things get pretty complicated when Spencer arrives in the snowbound town by helicopter."
Will Allie choose the new man she's starting to love or the one she's been away from and isn't sure she even truly knows anymore?
Catch Hallmark Channel's first December Christmas premiere, "Christmas in Evergreen," tonight at 8 p.m. EST.
© Copyright IBTimes 2022. All rights reserved.
FOLLOW MORE IBT NEWS ON THE BELOW CHANNELS