Hallmark Channel 'Season For Love' Premiere: Cast, Trailer And Synopsis
Hallmark Channel's Summer Nights is coming to a close, but not without one final movie premiere first. "Season for Love," starring Autumn Reeser and Marc Blucas, debuts Saturday night and marks the end of the programming event.
Both actors are already part of the Hallmark family, with Reeser recently starring in the 2017 Hallmark Movies & Mysteries film "A Bramble House Christmas," while Blucas starred in last year's Hallmark Channel movie "Miss Christmas." They both have multiple other Hallmark movies on top of those.
This new movie of theirs, written by Heather Provost and Scott Damian and directed by Jill Carter, finds high school sweethearts Tyler (Reeser) and Corey (Blucas) crossing paths once again years later at the Annual BBQ Festival in their Texas hometown.
"Coming from San Francisco with her daughter Rosie (Lola Flanery), Tyler is glad to help her mom Jo (Shelley Thompson) at the family restaurant while deciding her next move after her ex-husband Eddie (Ray Galletti) closed the restaurant where she was a sous chef," the synopsis shares. "Corey, on the other hand, has more than enough on his plate with three bestselling cookbooks, his own product line and three restaurants. Flying in from New York, he promised his pal Jay (Paulino Nunes), in charge of the festival, he would be the celebrity chef at the cook-off, even if it rattles his manager Sofia (Tara Nicodemo). She keeps a tight leash on him and now she must reschedule a network meeting to discuss Corey getting his own TV cooking show!"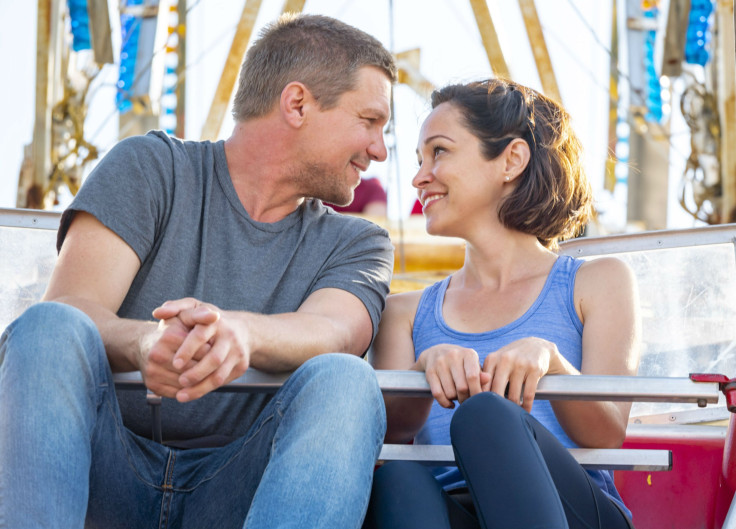 Tyler decides to enter the BBQ competition to win the $25,000, but is surprised when she finds Corey there. He's busy promoting the festival and will be competing in the final cook-off at the event. For the two of them, it feels like no time has passed at all, and they easily fall back into a flirtatious relationship. It starts to build from there when Rosie asks Corey to have ice cream with her and her mom. When Tyler sees how great he is with her daughter, old feelings start to find their way back. The same thing is happening to Corey, with him starting to feel something for Tyler once again, too.
"Finally, the cook-off is underway and after the first round, Tyler is one of two contestants left for the final against Corey," the synopsis reveals. "Excited, Tyler and Corey lock eyes and just as sparks ignite, Sofia arrives. She's come to drag her celebrity back to New York but he's not having it. Asking Jay to give Sofia a town tour, Corey heads to the gazebo, where he finds Tyler already looking at what he came to see – the heart he carved with their initials. Romance is in the air and it grows even stronger the next day when Corey helps at Jo's restaurant."
Once they close up, he and Tyler dance together and are just about to kiss when Eddie shows up. He's there to surprise Rosie for her birthday and to offer Tyler a job at his new restaurant. It's a great opportunity, but she's not sure she wants it because she realizes how much she loves cooking at her mom's restaurant.
"As it turns out, Corey is puzzled too," the synopsis explains. "He's glad for Tyler when he hears about the job, but he wants to move his home base to Red Rock, and was hoping she would stay. For now, though, Tyler has won the spot to compete in the final, and with old sparks rekindled between them, and new ones flying between Sofia and Jay, the festival is alive with excitement."
Who will win the cook-off, and what will Corey and Tyler decide to do about their relationship and careers? Find out when "Season for Love" premieres on Hallmark Channel on Saturday at 9 p.m. EDT.
© Copyright IBTimes 2023. All rights reserved.