Halloween 2014: 17 Trick-Or-Treat Safety Tips For Parents And Kids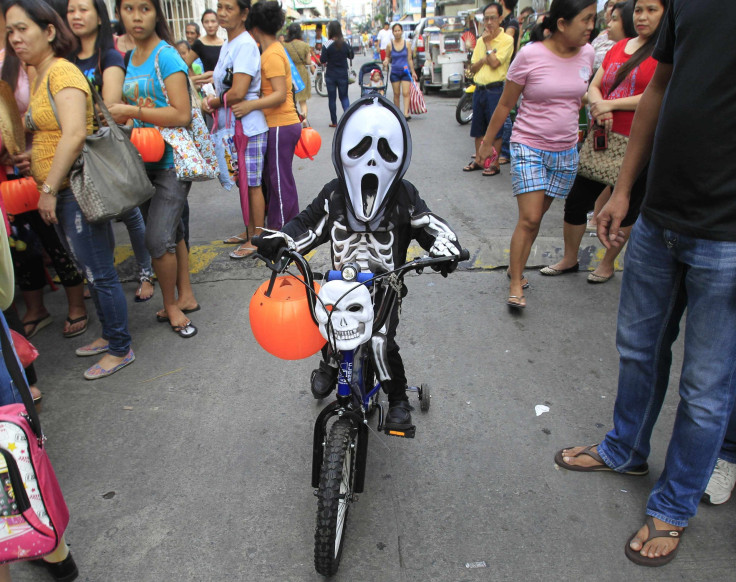 Halloween can be the best night ever for kids, but it can give some parents an anxiety attack just thinking about it. After all, most parents don't let their kids roam the streets in the dark asking for candy on any given night.
The best way to have a stress free Halloween is to make sure the trick-or-treaters are safe, which is easy if you remember just a few tips.
1. Enforce the buddy system. Whether they're going trick-or-treating with parents or friends, make sure they know to stay with their group.
2. Examine candy. Take a look before you let your kid dig into their treats. If the candy is factory sealed, it's safe. If it's homemade or partially opened, toss it.
3. Make an ID card. The New York City Police Department advises parents to be prepared just in case they are accidentally separated from their child. "Emergency identification information should be placed discreetly inside clothing of small children," the NYPD's website states.
4. Make sure everything fits. "Wear well-fitting masks, costumes and shoes to avoid blocked vision, trips and falls," the Centers for Disease Control and Prevention advises.
5. Use flexible props. Make sure swords and light sabers are foam, not plastic, Reader's Digest recommends. If the prop weapons are soft, kids are less likely to accidentally hurt each other.
6. Be aware of allergies. If you're taking someone else's children trick-or-treating on Halloween, be aware of allergies, especially to nuts, dairy, chocolate or gluten. The last thing you want to do is end up in the ER because you let someone with a nut allergy have a Reese's.
7. Teach street safety. Make sure the kids know to look both ways before crossing the street, use crosswalks and stay on sidewalks whenever possible, according to the CDC.
8. Bring flashlights. Sure, you think your neighborhood is well lit -- that is, until you actually walk down every street on Halloween. Carry a small flashlight just in case you run into some dark areas.
9. Use reflective tape. The CDC advises parents to put reflective tape on both costumes and treat bags so that drivers can see trick-or-treaters. Reflective tape is available for under $10 a roll at several major retailers including Walmart and Home Depot.
10. Plan a route. Make a map and decide where you're going, Reader's Digest advises. This can help avoid stranger's houses and puts a time limit on trick-or-treating to prevent sore legs post-Halloween.
11. Avoid candles. Fire and kids don't mix well. Try to avoid flaming decorations, but have flame-retardant costumes just in case, the CDC recommends.
12. Test face paint. The night before Halloween, test face paint on a small portion of skin to see if there is an allergic reaction. Much face paint is not FDA-approved, according to Consumer Reports.
13. Visit well-lit houses. If they want to give out candy on Halloween, they'll probably have their lights on. Even if the homeowners are going for a dark, creepy vibe, you'll still see some Halloween decorations.
14. Establish a curfew. Set a firm curfew, especially if you don't want to plan a route. This is helpful if your child is going trick-or-treating without you or if you want to make sure you're not out with the kids all night. Also, check if your town has a general Halloween curfew, Halloween Safety advises.
15. Arrange for bathroom breaks. Everyone needs them, especially your kid in the middle of Halloween festivities. Plan to stop at a friend's house or public restroom about halfway through trick-or-treating. Also, "pick costumes that are bathroom-friendly," About.com recommends.
16. Plan for the weather. If it's cold, wear layers underneath if the costume is a sleeveless princess dress. If it's warm, keep it to one layer and try to avoid full face masks. Children will become cranky quickly if they're too hot or cold to enjoy trick-or-treating, and no one wants their kids to get frostbite or pass out from heat exhaustion.
17. Don't forget your cell phones. You should have your phone with you, but if your child is older and going trick-or-treating without a parent, make sure they have a cell phone, too, Halloween Safety advises.
For more tips specific to your area, check out your local police department and town websites.
© Copyright IBTimes 2023. All rights reserved.