Watch Review: Yema Spacegraf Zero-G - the French Space Watch
This article uses affiliate links, which means if you purchase products through these links, we may earn a commission. Click here to see our
T&C
. For licensing please click
here
.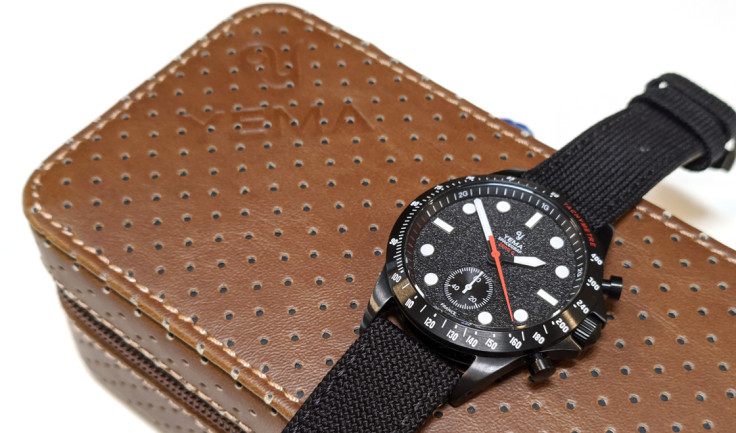 Who is the Yema Spacegraf Zero-G for?
Business travelers who are after a watch that can be dressed up or down. The PVD coated 39mm stainless steel casing together with the black canvas strap is a versatile look for all occasions
The Spacegraf Zero-G is a measuring instrument for an engineer, has a highly functional chronograph, tachymeter and highly legible oversized domed hourmakers
With one of the brightest luminescent markers and arms in the dark, the Super-LumiNova C1 coated details makes this watch excellent for those who venture out to night excursions or spend considerable time in dark flight cabins
Hands up those of you who have been on a Parabolic Flight and experienced weightlessness: the handful of you who are raising your hands please leave a comment below and receive the envious cyber gawking the remaining 99% of us will be throwing at you.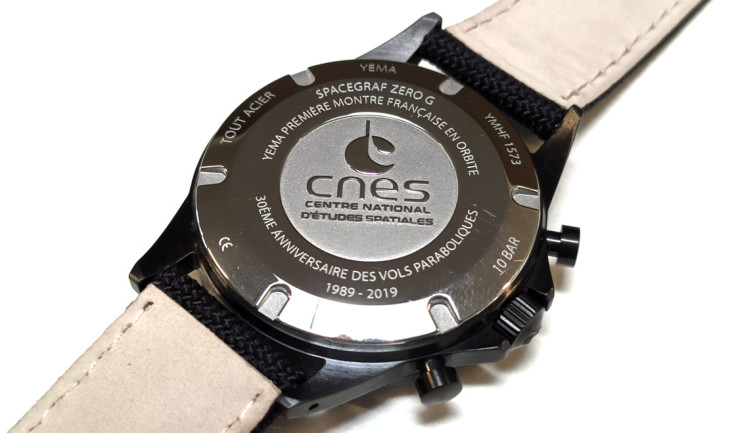 While most of us don't have the chance to take these flights that allow ordinary earthlings to experience weightlessness, the Yema Spacegraf Zero-G on the other hand is available to all of us. It's specific design for these Zero-G flights is enough to get us dreaming about weightlessness, and might just be enough to get you committed to book a Zero-G flight for yourself.
But enough of dreaming, in my hands-on experience with the Spacegraf Zero-G, I found it to be a versatile watch that will be a great fit for many of us - more than the 'vomit comet' program that most of us will only get to watch on YouTube.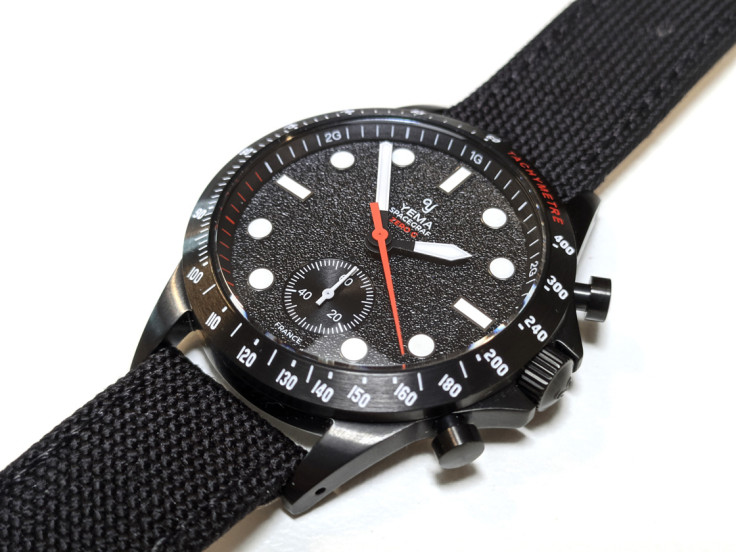 Hybrid of elegance and utility
When it comes to trying to label this watch, I find myself quite hesitant to pigeonhole it in any particular category - and that's not a bad thing. On the one hand it has a compact 39mm case and a domed glass that makes it a good fit for the dress watch category, but on the other hand it has tool watch features that makes it more utilitarian than a dress watch. What's more, the aviator watch hands that reminisce dials on flight instruments are matched up with over-sized hour markers that more resemble diver watches.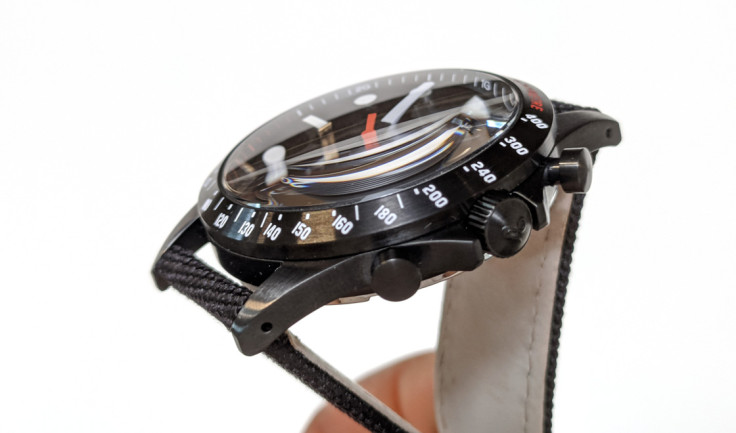 The Yema Spacegraf Zero-G is in an interesting space between genres, and the end result is a watch that fits in comfortably with a full black suit with white shirt and tie, or with a polo-shirt and loafers on a Sunday afternoon stroll.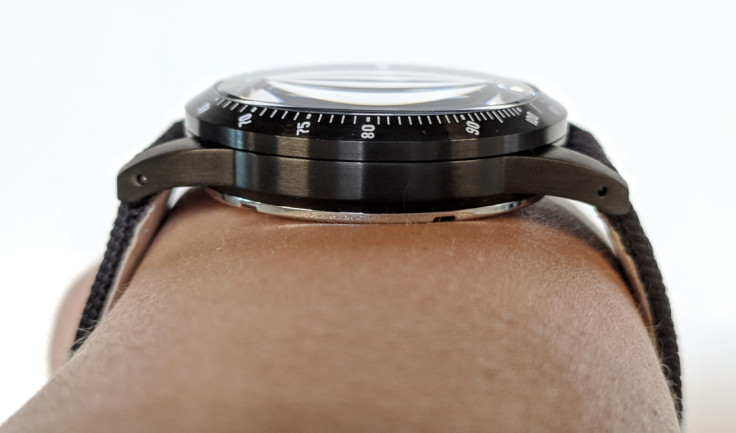 An engineer's timepiece
After wearing the Spacegraf Zero-G for a few weeks, my conclusion is that the designer of this timepiece must either be an engineer or had an engineer in mind. An engineer's two favorite words are efficiency and effectiveness, and those are the words I'd use to describe this watch.
Checkout other watch reviews on IBTimes here:
This watch is compact but handsome, which has a manly look without the heft and bulk. It has an Epson quartz movement which might not be as 'fancy' as an automatic movement, but keeps the overall weight down, as well as the accuracy up. It also has a chronometer but keeps the dials simple with only a minute dial at the 6 o'clock position.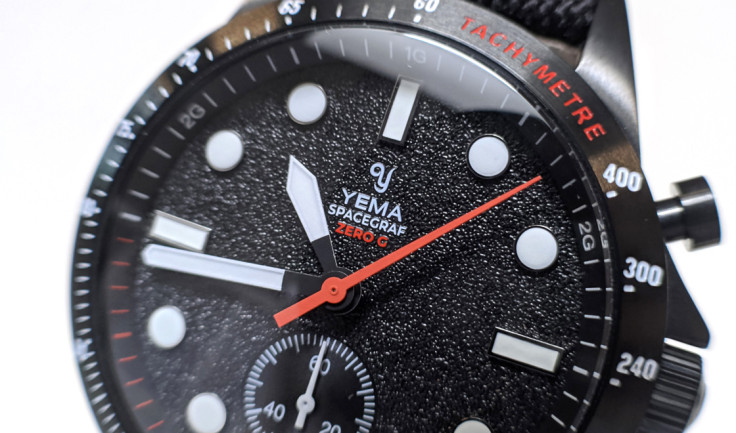 The 'Space Watch'
The Yema Spacegraf Zero-G also has the title 'space watch', getting its name not only because it's engraved with the French Space Agency (CNES) logo, but the face of the watch has a textured surface that was inspired by the moon's surface. The coarse sandblasted surface enhances the layered effects and legibility of the chronometer dial, hour markers and the hands greatly, giving it a unique 'spacey' look.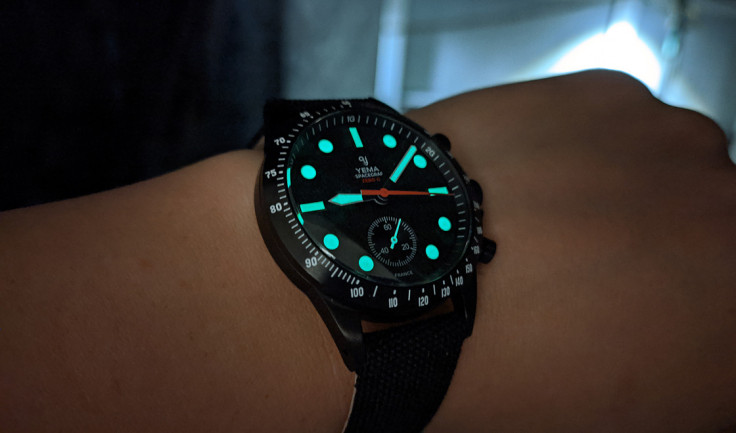 This space watch also has hands-down one of the brightest luminescence that I've seen. The hour markers, minute and hour hands, and the miniature hand on the chronometer dial are coated with Super-LumiNova C1, and has a brilliant glow after even a brief charge. Among all the watches that I have tested so far, this watch sets the standard of luminescent visibility, and for a traveller's watch this is an important quality. Whether it's in a dark cabin, or in a hotel room on a jet lagged sleepless night, you won't need to find your phone or switch on blinding lights to take a glance at the time.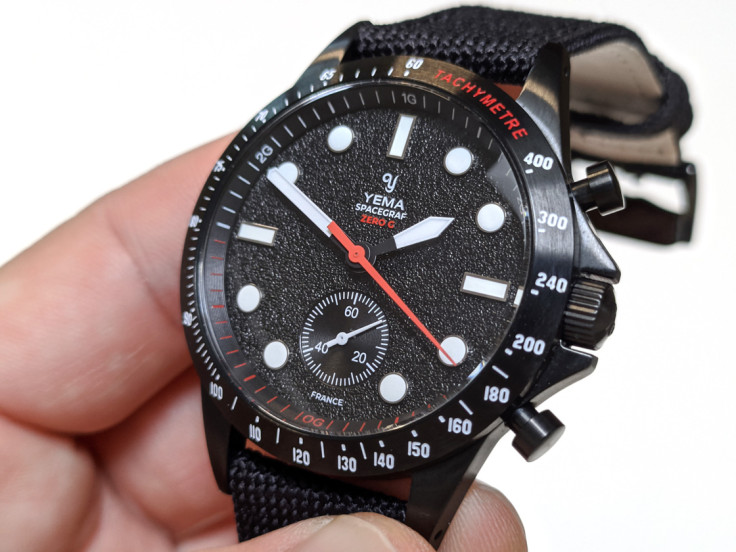 Final remarks
The Yema Spacegraf Zero-G is a watch made for a special purpose - it even has dials that mark the times of the flight when you experience different G-forces on a French parabolic flight. It is a special backstory that has made it an unique piece that doesn't fit in typical watch categories, which ironically gave it a versatile look that fits with a wide range of outfits. Whether you need to dress up for an important business meeting, or you're winding down afterwards, or even if you're needing a reliable tachymeter or stopwatch in the field - this is a watch that won't seem out of place.
For more information on the Yema Spacegraf Zero-G, check out their website.
Sam is a production engineer turned tech writer who specializes in seeking out gadgets that enhances productivity while still looking sharp. This is a contribution to an ongoing IBTimes review series on gadgets for Business Travelers.
© Copyright IBTimes 2023. All rights reserved.