Harry Styles Kisses Nick Kroll Before Hugging At Venice Film Festival; Twitter Reacts
Harry Styles and his "Don't Worry Darling" co-star Nick Kroll shared a kiss while the movie received a standing ovation at the Venice Film Festival held in Lido di Venezia, Italy.
A user on Twitter shared the video of Styles, 28 and Kroll, 44, featuring the stars celebrating the standing ovation. In the video, both the stars can be seen wearing different shades of blue suits. Styles grabs Kroll's face and give him a quick kiss on his lips before hugging him.
Styles and Kroll can be seen laughing as they hugged each other. The clip also featured a glimpse of female co-star Florence Pugh.
One of the users shared a screenshot of a woman standing in the background with a straight face when the two shared a kiss, and joked about her complaining to her "homophobic fam/friends."
One user questioned what Styles' girlfriend Olivia Wilde would think about the kiss, to which another one replied, "If Harry doesn't care, why should we?"
The "Don't Worry Darling" cast also includes Chris Pine, Gemma Chan, Douglas Smith, Sydney Chandler, Timothy Simons and Kiki Layne.
A user joked about the seat arrangement at the event for the cast members and wrote, "Whoever made this seating arrangement has planned a wedding with divorced parents."
In the photo, Pine can be seen sitting between the real-life couple - Styles and Wilde. Chan, on the other hand, sat between Styles and Pugh - the latter had an alleged falling out with Wilde over her rumored affair with Styles when she was still engaged to Jason Sudeikis.
Pugh portrays Styles' wife in the movie, which is set in the 1950s. Her character named Alice learns an upsetting truth about her husband that moves the psychological thriller forward.
Styles wasn't the first choice to play the role of Alice's husband. He entered the project after actor Shia LaBeouf's exit in September 2020.
Wilde, who also directed the movie, revealed in February 2021 that "most male actors don't want to play supporting roles in female-led films" and thanked Styles for accepting the job.
The movie is slated to release on Sept. 23 in theaters. It will start streaming on HBO Max 45 days after its theatrical release.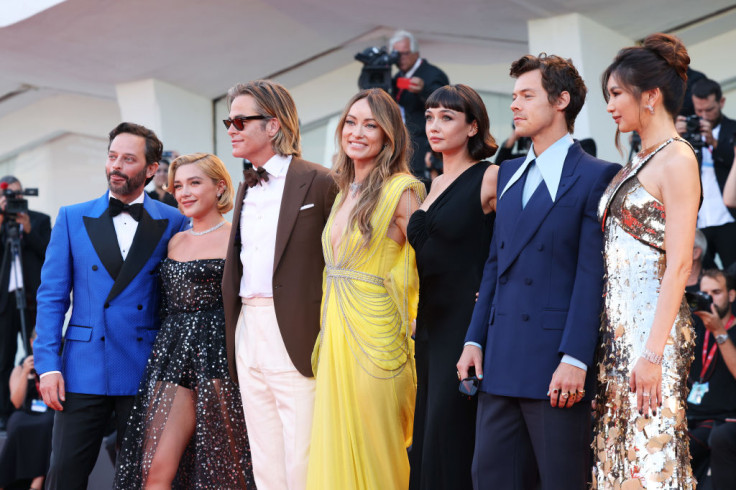 © Copyright IBTimes 2023. All rights reserved.