Hate In America: Anti-Muslim Groups Quadruple In 2016; Others Also Increase For Second Straight Year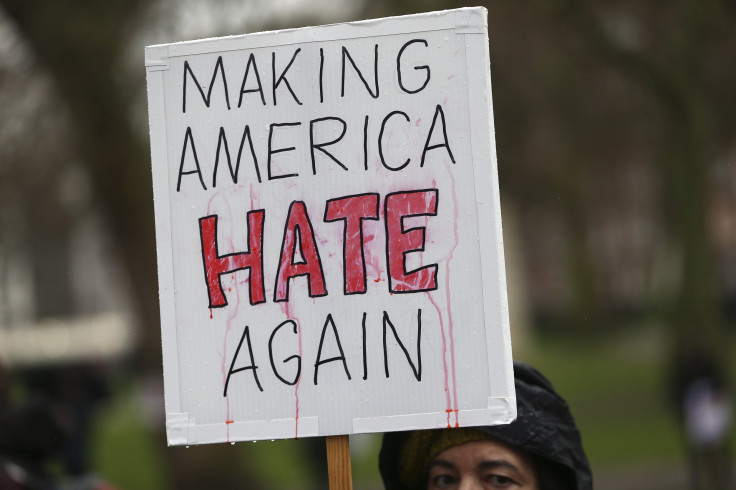 Last year was an unprecedented year for hate as 2016 witnessed the number of hate groups in the U.S. rise for the second consecutive year, the Southern Poverty Law Center reported Wednesday.
The number of organizations the Southern Poverty Law Center considers hate groups increased from 892 in 2015 to 917 in 2016.
Anti-Muslim hate groups saw the biggest rise, increasing from 24 in 2015 to 101 in 2016. The increase in hate crimes targeting Muslims could be attributed to rhetoric throughout President Donald Trump's campaign in which he associated Islam with the Islamic State group's terrorist attacks worldwide, according to the report. Trump maintained his attacks against the religion in January by issuing an executive order preventing citizens from seven Muslim-majority countries from traveling to the United States, which a federal court halted after finding it discriminated against Muslims.
New York Gov. Andrew Cuomo announced the creation of a state police unit specifically for protecting civil rights on Nov. 20 after two women wearing hijabs were attacked at public transportation hubs in New York City, reports said.
"We've had an uptick in hate crimes, actually a little bit more than an uptick," NYPD Commissioner James O'Neill told a New York radio station in November. "We're up 31 percent from last year. We had at this time last year 250. This year we have 328, specifically against the Muslim population in New York City — we went up from 12 to 25, and anti-Semitic is up, too, by 9 percent from 102 to 111."
When Trump was asked about the uptick in anti-Semitism in the U.S. at a press conference with Israeli Prime Minister Benjamin Netanyahu Wednesday, Trump responded by pointing out his daughter Ivanka is Jewish and that "we're going to have peace in this country," Haaretz reported Wednesday.
Roughly 53.3 percent of religiously motivated hate crimes in the U.S. were directed toward Jews in 2015, the Jerusalem Post reported.
Trump's lack of details on how his administration was planning to curb attacks targeting Jewish-Americans was criticized by the Anti-Defamation League, which tweeted it was "troubling that @POTUS failed to condemn real issue of anti-Semitism in [the] U.S. today."
There were 701 reported incidents of hate crimes in the week following President Donald Trump's election across the country, the Southern Poverty Law Center reported.
© Copyright IBTimes 2022. All rights reserved.
FOLLOW MORE IBT NEWS ON THE BELOW CHANNELS