Hate Crime Statistics: Increase In Anti-Muslim, Racial Offences Under Trump Administration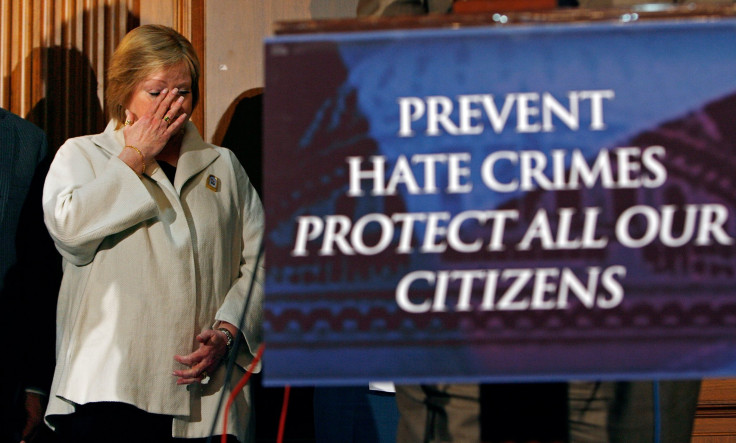 Jeremy Christian was being led out of the court room when he shouted, "You call it terrorism, I call it patriotism. You hear me? Die." Christian was charged with two counts of aggravated murder, one count of attempt to aggravated murder, two counts of second-degree intimidation and one count of first-degree assault, and three counts of unlawful use of a weapon in the recent Portland stabbings.
The 35 year-old man was hurling hate comments at two young women, one of them wearing a hijab when some men defended them and were allegedly stabbed by Christian. Hate crimes in the country have seen a sharp surge in the past few years.
Read: Police And Hate Crimes: Do Blue Lives Matter? Trump Executive Order, New Law Would Protect Officers
The latest statistics released by the Federal Bureau of Investigation (FBI) is from 2015, which shows a spike of 6.8 percent in hate crimes since 2014 mainly due to the increase in hate crimes directed at Muslims. A study conducted in 2016 showed a spike of 6 percent in hate crimes all over the country with a rise of 89.2 percent in hate crimes directed towards Muslims and 42.2 percent rise in crimes due to sexual orientation and gender based crimes.
The FBI defines hate crimes as: "A criminal offense committed against a person, property, or society that is motivated, in whole or in part, by the offender's bias against a race, religion, disability, sexual orientation, or ethnicity/national origin."
The term 'hate crime' was originally coined by journalists and bureaucrats in 1980s as they tried to summarize a series of crimes directed towards Jewish, Asian and African-American people.
Since Donald Trump was elected president, hate crimes have supposedly spiked up in the country. Racist graffiti and fliers containing threatening messages along with physical attacks provoked by racial, sexual or any other hatred has seen a rise in the country. Financier George Soros had announced to donate a total of $10 million to fight hate crimes which he calls "dark forces that have been awakened."
Read: Hate Crimes In The US Under Trump: Swastikas Among Other Anti-Semitic Messages Discovered On New York City Subway
"More than 3,000 state and local law enforcement agencies don't report hate crimes to the FBI as part of its annual national survey of crime in America. Professor Brian Levin, who heads the Center for the Study of Hate and Extremism at California State University, San Bernardino, said the entire state of Hawaii fails to file any such reports. And many of the law-enforcement agencies that do choose to participate do not appear to be particularly rigorous about documenting hate crimes and passing that information onto the federal authorities," the Associated Press reported in June 2016 regarding the data collection done by the FBI and concluded the reports are flawed.
Although the FBI have no data post 2015, many local governments and police departments are better equipped. "We've had an uptick in hate crimes—actually a little bit more than an uptick," said New York City police commissioner James O'Neil in a radio interview. "We're up 31% from last year. We had at this time last year 250; this year we have 328. Specifically against the Muslim population in New York City, we went up from 12 to 25. And anti-Semitic is up, too, by 9% from 102 to 111."
"I have no scientific evidence as to why," O'Neill explained. "But you've been paying attention to what's been going on in the country over the last year or so and the rhetoric has increased, and I think that might have something to do with it."
© Copyright IBTimes 2023. All rights reserved.