Hathaway's Catwoman Suit a Superman Rip-Off? Plus Top 10 Catwoman Costumes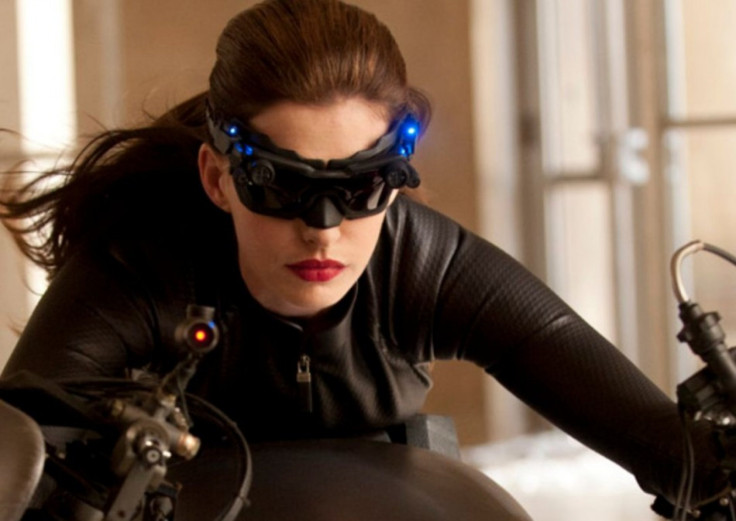 Warner Bros. unveiled official photos of The Dark Knight Rises character 'Catwoman' to the media showing actress Anne Hathaway riding a Bat Pod. The photo reveals the latest Catwoman, aka Selina Kyle, costume equipped with goggles, gloves, utility belt, and no high heel stiletto shoes.
The costume covers Hathaway head to toe in what looks like black leather. But taking a closer look, the suit is created from a textured material, very similar to the ones used for the Superman and Spiderman film costume suit. The texture gives a high tech appearance, which mimics some of Nike or Adidas mesh sportswear, allowing for breathability and mobility. Superhero costume designers may be borrowing some elements in making the latest line of suits for upcoming films. The textured fabric has been popular for a variety of upcoming superhero costumes as seen on the recently released photo of Henry Cavill's Superman suit.
Catwoman's suit looks new and originally designed from past costumes. In fitting with previous rumors, Catwoman's latest outfit looks less sexy then the previous ones word by Halle Barry and Michelle Pfeiffer but tactical and realistic have been the themes in recent Batman films.
The Dark Knight Rises' director Christopher Nolan's version of Catwoman is more practical and designed more to what a thief would wear. More elements have been borrowed from the latest Catwoman character designs seen in DC comics and Batman video games.
Catwoman's latest design takes reference to comic book writer Ed Brubaker's revamp of the feline thief. The comics and games design her in a high tech looking body suit, equipped with whip and leaps from rooftops with her infrared goggles. The costume has been widely used by popular comic artists such as Jim Lee and adapted into recent Batman video games such as Arkham City.
Comic book writer Ed Brubaker originally revamped the new Catwoman goggles that are now widely portrayed by comic book artists such as Jim Lee. No ears, whiskers, tail, or whip are present as Hathaway sports basic attire without the bells and whistles for Nolan's version. The costume's high-tech fabric is matched with a higher tech looking pair of goggles perhaps for infrared night time vision. Her utility belt may also contain a nice collection of gadgets that will come in handy during combat.
It is interesting to see photos of Hathaway riding the Batpod, leaving many to ponder if the Dark Knight Rises villains have access to all of Batman's vehicles or is Catwoman going to be an ally in this film. Bane was spotted standing atop a camouflaged designed Bat Tumbler. Actress Marion Cotillard, who has been rumored to be portraying Talia Al Ghul, was seen entering a Bat Tumbler vehicle as well.
Check out the line Catwoman costumes that were popularized in comics, cartoon shows, toys, and movies. Click "START" to begin and see which Catwoman suit tops them all.
Must Read: Kim Kardashian vs. Kate Middleton: Who Will Win Wedding of the Year? [PHOTOS]
China's New Lucrative Business: Dead Babies Turn into Stamina Booster Pills
North Korean Restaurant: Who Is the Most Beautiful Waitress?
© Copyright IBTimes 2023. All rights reserved.