Helium Hard Drive: HGST Ultrastar He6 Packs 6TB Into 3.5-inch Box
In an effort to improve the performance of cloud storage, one tech company is taking a tip from balloons. HGST, a subsidiary of Western Digital Corp. (NASDAQ: WDC) that develops hard disk drives, used helium to pack a whopping 6 terabytes of disk space into a 3.5-inch hard drive.
The Ultrastar He6, which HGST announced will start shipping Monday, is hermetically sealed to completely fill the hard drive with helium instead of air. At one-seventh the density of air, helium allowed HGST to add seven disks in a space where air would only allow five.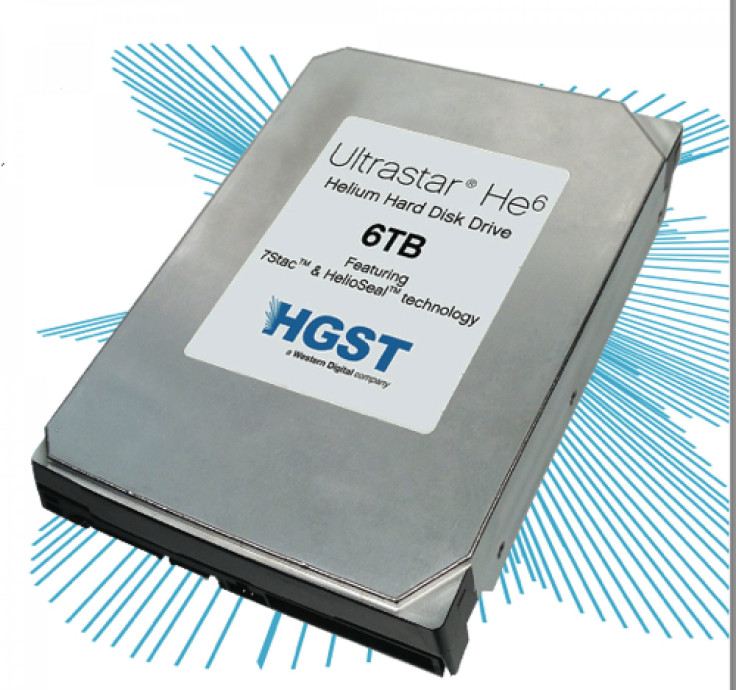 "HDD industry areal density growth is not keeping pace with the rate of storage capacity growth in enterprise data centers," John Rydning, the research vice president of the International Data Corporation, said in a HGST press release about the Ultrastar He6. "HGST's proprietary, new, hermetically sealed, helium-filled HDD solution -- the industry's first helium filled platform that simultaneously increases capacity while lowering power consumption and operating temperature -- is intersecting the market at a time when IT managers are seeking out capacious and energy-efficient new disk drives that will help to reduce the total cost of ownership of enterprise storage systems."
Part of lowering the cost is by providing new methods of cooling data centers. As companies continue to pack more HDDs and servers into small spaces, the cost of keeping them cool is an increasingly expensive problem. One solution is using liquid, which is denser, more effective at removing heat and easier to keep at a constant temperature than air.
The hermetic seal that HGST used to keep helium in the Ultrastar He6 also keeps liquid out, allowing the HDD to be safely submerged in liquid. HGST calls it the HelioSeal platform, and said it's the "only cost-effective solution" for liquid cooling HDDs. In the long-run, liquid cooling is much more environmentally friendly than air conditioning, and much more cost-effective.
"With HGST's new breakthrough 6TB Ultrastar He6 drives, we will not only be able to offer the highest storage density per container, but with the drive's low power and low temperature, we can significiantly lower power and cooling costs even further," Christiaan Best, the founder and CEO of Green Revolution Cooling, said. Green Revolution Cooling provides liquid cooling services for data centers, and aided in the research and development of the Ultrastar He6.
At 6TB, the HGST Ultrastar He6 is the world's highest-capacity HDD, and will be used by companies like Netflix, Huawei, HP, CERN and Code42 it for massive cloud-based services and big data.
"We serve billions of hours of streaming video per quarter to over 40 million subscribers, David Fullagar, director of content delivery architecture at Netflix, said. Netflix will use the HGST Ultrastar He6 to "build better and better streaming appliances" like streaming videos in 4k resolution.
In addition to providing 6TB of storage in just a 3.5-inch box as opposed to just 4TB, the Ultrastar He6 also boasts the lowest power consumption per TB than air-filled drives. It uses 23 percent lower idle power per drive than competitors, and 49 percent better watts-per-TB. The Ultrastar He6 is also 50g lighter, despite having two more disks.
You can check out the full spec details here, though there is no word how much the helium hard drive might cost.
© Copyright IBTimes 2023. All rights reserved.