'Helter Skelter' murderer Charles Manson gets 30 days added to life sentence for possessing cellphone in prison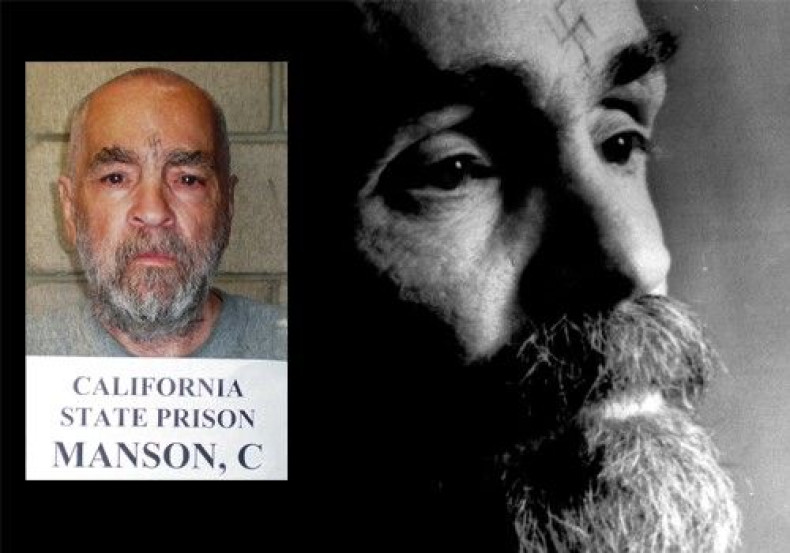 Charles Manson, who is serving a life sentence for his conspiracy role in the killing of seven people in the Tate-LaBianca murders in Los Angeles, 1969, has been handed down an extra 30 days on his life term after being found in possession of a contraband cellphone within jail premises.
Manson, the man behind the ritualistic murders of pregnant actress Sharon Tate and six others in 1969, had 30 days added to his life sentence after he was caught with an LG flip phone under his prison mattress, according to Los Angeles Times.
According to Terry Thornton, a spokeswoman for the California Department of Corrections, Manson had made calls and sent text messages to people in California, New Jersey, Florida and British Columbia.
Thornton said it was troubling that he (Manson) had a cellphone since he's a person who got other people to murder on his behalf.
However, prison officials did not release the identities of the people Manson had contacted.
Though in August President Obama had signed a bill that bans cellphones from federal prisons and makes smuggling of a cellphone a crime, punishable by up to a year in jail, the same law does not apply to California state prisons.
Though prison officials are against usage of cellphones in prisons as inmates are known to use cellphones for all manner of criminal activity, including running drug rings from behind bars, intimidating witnesses and planning escapes, the plea of prison administrators to jam cellphone signals on prison grounds have been ignored so far by the Federal Communications Commission, which regulates the nation's airwaves.
The politically powerful telecommunications industry lobby has also argued that jamming is not a precise solution because legitimate customers trying to use their phones near prisons could also be denied service.
The lobby has suggested a better, albeit more expensive solution, called managed access that would allow only calls from approved phones to transmit through towers near prisons.
The system has been successfully tested in Mississippi and prison officials in California are expected to do a pilot run next year.
According to Sen. Alex Padilla (D- Pacoima), who sponsored a bill that imposes a $5,000 fine on anyone caught giving a phone to a prisoner, said it is time California made a law banning cellphones in state prisons.
The fact that Charles Manson had a cellphone in prison is just further proof that the situation is out of control, Padilla was quoted as saying. I'm not giving up. Until we have a law on the books with real consequences, this will continue to be a danger.
The bill SB525 was vetoed by California Gov. Arnold Schwarzenegger in September on grounds that it did not make it a serious crime for a prisoner to possess a phone and did not include the threat of jail time for the smuggler.
Padilla said he was caught between a governor who wants to put smugglers in prison and a Senate Public Safety Committee policy that is against adding new felonies to the state penal code for fear of exacerbating California's prison overcrowding.
As for Manson, 76, the 30-days sentencing means little. Manson, who is incarcerated in a maximum security prison in California, is technically eligible for parole but was denied parole for the eleventh time in 2007. His next parole hearing is scheduled for 2012 but has almost no hope of ever being released.
The 1969 murders
Charles Manson, a messiah to a band of hippies known as the family believed that the lyrics of Helter Skelter, a Beatles song, warned of an apocalyptic race revolution.
Manson also brainwashed his followers into believing that a revolt by blacks against the white establishment was imminent. In August 1969, he hatched a plan at his headquarters, the Spahn Ranch (some 30 miles northwest of Los Angeles), to kill record producer Terry Melcher and spark a race war.
Manson, an aspiring songwriter held a grudge against Melcher, who refused to have one of Manson's songs recorded, and ordered his followers to kill whatever pigs were in Melcher's house.
In the carnage that followed on Aug. 9, Hollywood actress Sharon Tate, 27, and four others, including an international hair stylist and an heiress to a San Francisco coffee fortune, were brutally stabbed and/or shot to death.
Tate, who was married to Oscar-winning director Roman Polanski, was eight and half months pregnant at the time of her murder.
Melcher was not present at the time of the murders because he had moved on to Malibu with his girlfriend. The victims, who had rented the house, did not even know Manson.
However, Manson was not satisfied with the murders. About 11 miles to the east of the house where Tate and others were murdered, Manson instigated his followers to brutally murder supermarket owner Leno LaBianca, 44, and his wife, Rosemary, 38.
Initially, the police investigators thought It took the investigators several months to connect the two incidents. They also thought a black racist group had committed the murders because of the words pig war and rise written in blood on walls, refrigerator doors and bodies of the murdered victims.
The investigators made their first breakthrough when Susan Atkins, who was arrested on charges of arson and grand theft along with other Manson family members, described to a prison inmate how the grisly murders were carried out. The inmate informed the authorities.
Atkins' testimony later led the authorities to Manson, 35, Charles Tex Watson, 23, Patricia Krenwinkel, 22, and Linda Kasabian, 20. The five were charged with seven counts of murder and one of conspiracy. Kasabian, who did not directly take part in the killings, traded her testimony for immunity. The trial began on June 15, 1970. Just three days later, the defense rested its case without calling even one witness.
Manson, Atkins, Watson, Krenwinkel and Leslie Van Houten were eventually convicted of murder and sentenced to death.
In a separate trial that began in August 1971, Watson was convicted of seven counts of murder and one of conspiracy. He, too, was sentenced to death.
However, after a 1972 decision by the California Supreme Court temporarily eliminated the state's death penalty, the sentences of the Manson family members were commuted to life.