Here's How Many COVID Vaccines Were Wasted This Week Amid Shortages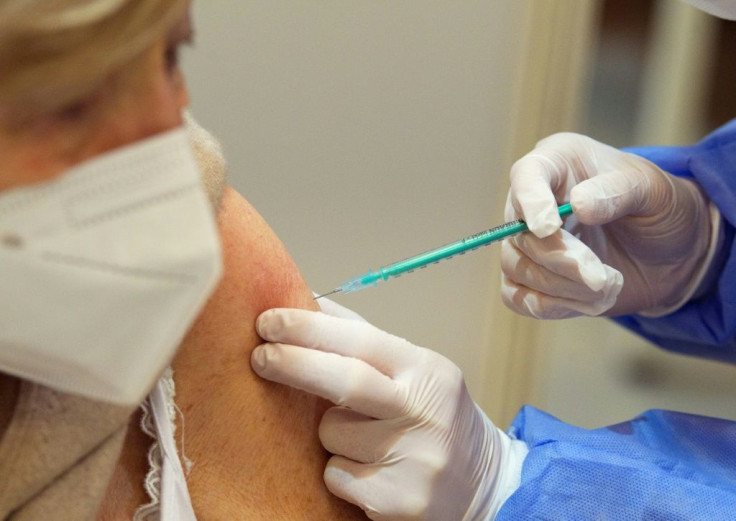 Over 18,000 doses of the COVID vaccine went to waste this week amid a growing supply shortage that has caused a widespread number of vaccination appointments to be canceled.
The latest snafu comes as a cleaner in Boston accidentally unplugged a freezer where the Moderna COVID vaccine was being stored at the Jamaica Plain VA Medical Center, destroying at least 1,900 doses of the drug, ABC News reported.
The Moderna vaccine needs to be stored at temperatures of minus 4 degrees Fahrenheit for up to six months or in a refrigerator at 36 to 46 degrees for up to 30 days.
Kyle Toto, a public affairs specialist at the VA Boston Healthcare System, said in a statement that VA Boston Pharmacy staff discovered the freezer at the Jamaica Plain campus had failed, compromising the doses of the Moderna COVID-19 vaccine.
He continued by saying the freezer "was in a secure location and had an alarm system installed" and that "the plug was found loose after a contractor accidentally removed it while cleaning."
The alarm system was designed to trigger if the COVID vaccine became too warm or too cold during storage, but was thought not to have sounded when the freezer was unplugged, the New York Post reported. An investigation into the incident and why the alarm system did not activate is being conducted.
Toto said that replenishment doses are now in process and the facility does not foresee any disruption in its vaccination schedule.
The incident in Boston was not the only report of COVID vaccine spoilage this week as two other instances occurred in Michigan and Maine.
In Michigan, 11,900 doses of the Moderna vaccine were destroyed because of temperature control issues during delivery, the Detroit Free Press reported Tuesday. Health officials said they believe the vaccine got too cold during transport and could not be used.
An investigation into the cause of the temperature control issue has been started by McKesson, the healthcare distribution company that was contracted for the vaccine delivery by the federal government.
Maine also had 4,400 doses of the Moderna COVID vaccine spoil this week during delivery as the containers of the drug were set aside, becoming too warm for use, the Portland Press Herald reported Tuesday. The sensor indicator on the packages of the drug indicated that the vaccine was beyond the safety threshold for the vaccine to be administered.
The news of wasted COVID-19 vaccines comes as the U.S. grapples with a supply shortage of the drug as several vaccination sites around the nation had to cancel shot appointments this week, citing a lack of product availability.
The Centers for Disease Control and Prevention said that it has distributed over 37.9 million doses of the vaccine and administered over 17.5 million doses of the drug to over 15 million people.
© Copyright IBTimes 2023. All rights reserved.