Herman Cain: Pizza Too Salty Means Cheap Ingredients, and More
Opinion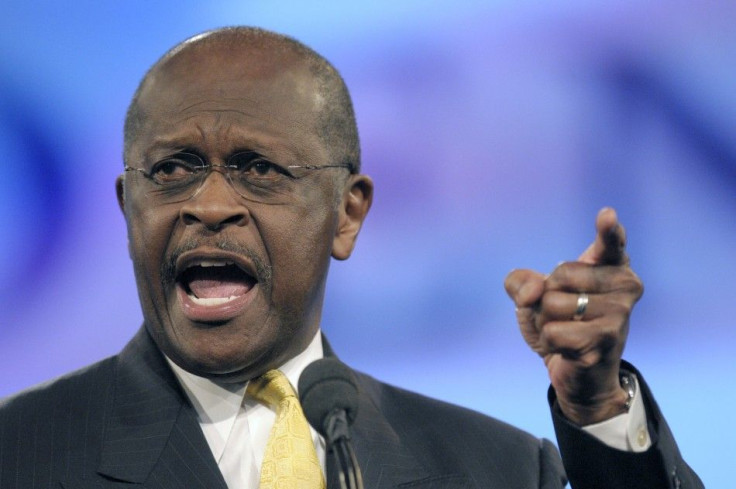 The more I get to know about Herman Cain, the more I like about Herman Cain.
Apparently I'm not alone, either, because recent polls show Cain surging to the forefront of contenders in the race for the GOP's presidential nomination with a Seabiscuit-like charge.
Herman Cain is doing a major thing right now. He's got a lot of momentum, Amy Kremer, chairman of the Tea Party Express, told CNN. A lot of people like him. He's a straight talker. He's a businessman. And that's what people like. He knows how to run a business. He knows how to create jobs. He knows about profits . . . He's got some traction right now, so I think he's one to watch.
I've been thinking the same thing, honestly. But I keep wondering about what I don't know about Cain. I've been trying to find some hole to punch in either the character, the experience or the simple likability of Cain, the fast-rising Republican candidate from Atlanta, just so I can get that out of the way and really dig in.
But thus far, the more I get to know, the more Cain seems solid, frank and grounded -- and also a lot like me. And you.
Exposing details about himself in his new book, This Is Herman Cain! My Journey to the White House (Threshold Editions), Cain gives a glimpse of his background, his beliefs and his plan like we've not seen him do before. Consider that until Cain rocketed onto the national scene by winning the Florida Straw Poll in a surprise victory last month, we were too preoccupied with Rick Perry's Perryisms, for better or worse, to notice.
But we're taking notice now.
Cain's book is selling out at stores throughout the country in its first days on shelves. In the Atlanta area, where Cain lives, books were hard to find on Saturday, just days after its release.
Its not like the book is some literary accomplishment. No, the demand has to do with Cain's frank, revealing style. He wrote the book first-hand, without a ghostwriter -- which is notable, if one is keeping score. And while he professes he's not much of a writer by saying he's not much of a reader, Cain does deliver on the details, and that's what matters.
The nuggets that intrigue me the most from this perspective are the ones that provide strikingly good common sense and insight into the problems that plague America, which are viewed through a lens of everyday examination. For instance, Cain, the former Godfather's Pizza CEO (who has never been elected to public office), says that the best way to determine if a pizza place is good, just order the all-meat pizza.
If it tastes too salty, then the ingredients are too cheap.
That's one of the little keys to understanding 'Pizzaology,' Cain writes in his book.
He's right, of course. He's right about a lot more, too.
Cain sees himself as a risk-taker, his book reveals, and he doesn't see himself as politically correct. Apparently, he's too frank for that.
Thank goodness.
His mother was a maid. His father worked three jobs at once for years, and was the private chauffeur to Robert Woodruff, the powerful Coca-Cola CEO.
Cain is a numbers man -- his favorite is 45, the year in which he was born -- and a man of God: Cain says God was watching over him in 2006 when he had nearly a third of his colon and part of his liver removed during cancer surgery. Totally cancer-free now, Cain says the J symbol left by the surgeon was a sign that Jesus was watching over him.
Cain doesn't believe unions always act in the best interests of the nation, and he thinks that anyone who messes with Israel is messing with the United States of America.
Don't mess with us, he writes. Don't mess with us. Is that real clear?
Cain doesn't like bureaucracy. He wants to unbundle the mess of red tape in education from the national level to the local level, and reduce regulations tangling businesses at the federal level.
But beyond policy positions, I now know some detailed gems from Cain, like the one about tasting the all-meat pizza to determine if the ingredients are cheap, or the one about how he cuts his own hair, and has for years. That practice began after Cain graduated from college, and after America's civil rights legislation had just become law.
He was in Virginia. He went to the barbershop. The barbershop said it didn't cut black people's hair.
Cain left. He bought some scissors. He cut his own hair. And he still does to this day.
I like that about Herman Cain. I like that, and more.
© Copyright IBTimes 2022. All rights reserved.
FOLLOW MORE IBT NEWS ON THE BELOW CHANNELS