The High Cost Of Beauty Pageants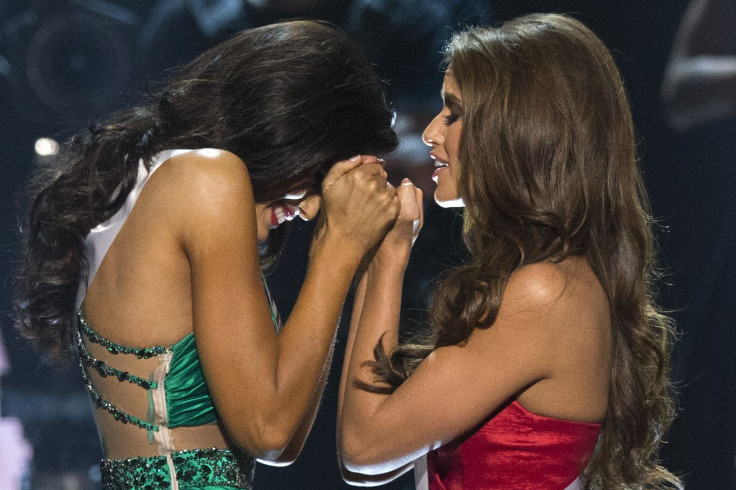 Tens of thousands of dollars can get you a year of college, a new car or even a down payment on a home. Or you could use that money to enter a major beauty pageant, like the Miss USA pageant, set to take place Sunday. Contestants often spend an amount that is more than the cash prize awarded to the pageant's winner: reportedly somewhere in the five-figure range for national pageants, and presumably much less for state and local titles.
Kim Gravel, star of Lifetime's "Kim of Queens" (which will return for a second season this fall), owner of The Pageant Place costume and coaching service and the 1991 Miss Georgia America, said pageant dresses alone can run from "$700 to $1,000 when bought off the rack, or as much as $5,000 for the serious competitor."
"Now it's a big business," said Gravel. "There's a pageant every week."
Lisa Barefield, marketing director for Henri's Cloud Nine in Minerva, Ohio, which is dressing four girls competing in the 2014 Miss USA pageant, said she's seen custom dresses cost $8,000 to $10,000 each "for the big pageants."
Approximately 2.5 million girls compete in more than 100,000 beauty pageants each year in the U.S., according to Statistic Brain, and at least 72 percent of contestants hire a pageant coach like Gravel, often at a cost of $100 or more an hour, sometimes three sessions a week, according to Gravel—and a long list of other expenses. Then there's hair and makeup (about $250 an hour), a spray tan ($75), and a wig or extensions ($200).
Pageants also charge an entry fee that can range from $300 to $500, Gravel said, though some pageants can cost as much as $1,000 to enter.
Barefield said customers typically need additional outfits beyond an evening gown -- for the opening number, interview portion, rehearsals, swimsuit competition, and public appearances. And all must be accessorized with shoes and jewelry.
"It can definitely add up," said Barefield.
Rachel Slawson, 19, the current Miss Provo USA 2015 and a Miss Utah USA 2014 contestant, spends a bit less than a lot of pageant contestants. She plans to spend $600 to $700 at Salt Lake City-based shop Ypsilon for her dress to compete in the 2015 pageant.
"To me, it's not so much about the cost of the dress as it is how I feel in it," she said.
Last season, Slawson said, she spent only $100 for a Nephi Garcia gown because the designer gave her a discount as promotion for his brand. She's also sponsored by makeup artist Jannet Delgaldo, Pureza Salon, Medi Spa and Xtend Barre Provo, which gives her beauty services and a space to exercise in exchange for promotion on social media to her 2,500+ followers. All the rest of her expenses, including travel costs and the entry fee, she pays for on her own.
"My first pageant I invested very little effort and money," she said. "This year I have taken it more seriously. I want to win. I want to be Miss Utah USA."
Gravel said young women enter pageants not just to earn scholarship money, as she did, but also because they believe a win will help propel them into the spotlight. Actress Ali Landry, for example, was Miss USA 1996 and singer Britney Spears competed in local pageants in her native Kentwood, Louisiana.
"It's lucrative on so many different levels and that's why it's so competitive now," she said. "It's about the launching pad."
Pageants have also changed over the years, from what contestants wear—swimsuits, Gravel said, use to be much more modest, for example -- to a lower cost of entry, as paradoxical as that sounds.
"It was more expensive back in the day," she said, because there wasn't a "dress shop on every corner," forcing girls to pay designers for custom-made dresses. Now the options are endless, due to a proliferation of formal-wear shops and imports from countries like China.
"The accessibility is more prevalent so it drives the cost down," Gravel said.
While fitness has always been a part of pageants, Gravel said, expectations have gone up. Many girls, feeling they need to be in perfect physical shape, and hire pricey personal trainers or opt for plastic surgery. Gravel believes this is ill-advised.
"I've never seen a girl win Miss USA or Miss America because she has the best boobs," she said. "You win because you have the best brain and can communicate the best."
Still, many women who compete in pageants never feel quite good enough. Gravel, who said she's had young girls with eating disorders or who are overweight and feel they're "not perfect," said she often works to help contestants feel "comfortable in their own skin."
"We're really the hardest on ourselves," she said.
Barefield, who overhears customers in Henri's dress shop make remarks about extreme dieting, said she often "encourages girls to do fitness the right way."
As a competitor, Slawson said she's tried to develop healthy habits, cutting out junk food and soda, but "doesn't believe in the word 'diet.'" She credits pageant competitions with helping her learn to eat well and to exercise.
"In middle school and high school, I struggled with my body image, but pageantry has vastly improved my confidence in my body," Slawson said. "I don't feel pressure to be skinny, but I do want to be ridiculously healthy."
That's just one benefit of being in a pageant, a "once-in-a-lifetime opportunity," said Gravel.
"You've got one shot," she said. "The stakes are high, so that's why they spend so much money and time."
Miss America, which is not affiliated with Miss USA, awards $50,000 to the winner, $25,000 to the first runner-up and $20,000 to the second runner-up.
The possible payoff—a scholarship, opportunities for a future career—is "not just about the prize package." It's much more emotional, Gravel said.
"There's so much more than money," she said. "The money is nice, but it's about giving it all you've got."
FOR FREE to continue reading
✔️ Unlock the full content of International Business Times UK for free
offer available for a limited time only
✔️ Easily manage your Newsletters subscriptions and save your favourite articles
✔️ No payment method required
Already have an account? Log in
© Copyright IBTimes 2023. All rights reserved.