Is Donald Trump Sparking A Republican Feminist Revolution? Women Lead Anti-Trump Movement, But Not Because Of His Policies
Beth Barr, a 44-year-old mother and swim teacher from Pensacola, Florida, never considered herself much of a feminist. A lifelong member of the Republican Party, she describes herself as "pro-life," believes in decentralized government and has little patience for what Democrats call "women's issues." But this year, Donald Trump has made her reconsider.
"I'm totally against Donald Trump. He's a misogynist. He's a bigot," Barr said. "I never thought of myself as a feminist before. It would never have crossed my mind. But he's so in your face. I wouldn't let that man come within 50 yards of my daughter, much less be president. Trump has made me a feminist. How about that?"
Trump is a remarkable presidential candidate in many ways, but perhaps one of the most striking is that he has managed to become the GOP's front-runner without the support of half the population. For months, Trump has frequently criticized, disparaged and mocked women, and while he has continued to dominate primary contests, polls consistently show he is extremely unpopular among female voters. His comments this week that women who seek abortions should be subject to "some form of punishment" if the procedure were made illegal in the United States sparked an expected backlash from Democrats, but they also invited a wave of anger from women in his own party, like Barr, who are increasingly hostile toward Trump.
It should come as no surprise then that women are at the forefront of the #NeverTrump coalition. What is surprising, though, is how these Republican women have begun to use a language of gender equality and identity politics that is most often associated with liberal ideology — some, like Barr, even call themselves feminists. But this should not be confused as the latest wave of a feminist movement. While these women eagerly agree with their liberal friends that Trump poses a danger to their gender, they see this as completely separate from the GOP policies that Democrats often say demonstrate a "war on women."
"My friends, they know I'm not a racist, they know I'm not a bigot, but to have that man representing us is horrible," said Barr, who has worked on a number of Republican political campaigns over the years. "That big tent has gotten a little bit too big. If he is the nominee, one of us is in the wrong party. One of us has got to leave, and if it has to be me then OK."
The Florida mother is far from the only Republican woman to feel alienated by Trump. A recent NBC News/Wall Street Journal poll found nearly half of Republican female primary voters said they could not imagine themselves voting for the New York businessman. Just three in 10 female Republican voters said they can't imagine supporting Texas Sen. Ted Cruz or Ohio Gov. John Kasich. When it comes to favorability, Trump is also the most disliked candidate among women GOP voters. Two surveys released last week indicated Trump had an average unfavorable rating among Republican women of 42 percent, significantly higher than Cruz or Kasich. General election matchup polls predict Trump losing to Democratic front-runner Hillary Clinton by double digits.
"It's the way he talks to people. It goes back to when Rosie [O'Donnell] was on 'The View.' He was saying the most horrible things about her. I thought, 'What man goes and says those awful things about another person?' " said Karen Sandoval, a grandmother from Milwaukee who is deciding which of Trump's rivals to vote for in her state's Republican primary next week. "I raised my kids to not be like that. To have someone as president who basically bullied his way there and to have him influencing people, to show kids that his abusive behavior is OK? I don't want that."
Women are important voters in any election cycle. Unlike other demographic groups targeted by politicians, women are half the population and often vote in higher numbers than men. In the 2012 presidential election, women made up 53 percent of the electorate, and they favored President Barack Obama over Republican nominee and former Massachusetts Gov. Mitt Romney by 11 points.
So far, no blunder or gaffe has stopped Trump. His supporters have remained loyal through every controversial incident, and GOP primary voters have given him victory after victory. But if Trump continues on his path of antagonizing women voters, Republicans are worried it could hurt them in the general election when they need people to vote for races down the ballot. Liz Mair, a GOP strategist who runs Make America Awesome, an anti-Trump superPAC, said her group has conducted polling asking Republican women whom they would support in the general election if Trump were their party's nominee.
"They would be looking for an independent conservative third party candidate," she said, adding that perhaps women recognized Trump as a problem because of their experience on the dating scene. "Women are used to guys who have a lot of bravado coming onto us all the time and trying to convince us that they're the best guy. We're also used to scrutinizing those guys and shooting down the ones who don't have the goods. We wouldn't date the guy so we wouldn't vote for him."
As Trump's strength has grown, women like Mair have taken on leadership roles in the anti-Trump movement. When Cruz launched a "Women for Cruz" coalition this week in Wisconsin amid Trump's latest attacks, he relied on a trio of women — his wife Heidi Cruz, his mother Eleanor Darragh and former GOP presidential candidate Carly Fiorina — to lead the conversation about why the Texas senator is a better option than Trump.
The largest Republican super PAC working to take out Trump, Our Principles PAC, is led by Katie Packer, who served as Romney's deputy campaign manager in 2012. For Packer, opposing Trump is a natural extension of her work at Burning Glass Consulting, a firm she started to help Republicans do a better job of appealing to women voters.
"Donald Trump would set our efforts back a decade. Not just because of his record on women but his disrespect for women, minorities and the disabled along with his bullying ways make him abhorrent to a large majority of women," Packer said.
Both prominent Republican women and regular voters said there's something unique about Trump that has caused GOP women to take a stand. Many women interviewed said that while they don't typically think about their own gender when voting, Trump has forced them to reflect on it this year.
"I have to think that any woman, or any person if you have a daughter who you want to be treated with respect just like anybody else — I don't understand how that is possible to support Trump," said Melissa Amour, a Republican mother from a suburb of Philadelphia.
In a field as dominated by men as politics, any group of women taking on a major candidate for president could easily be considered feminist. Fiorina attempted to reclaim the term last year in the early months of her White House bid, criticizing liberals for pitting women against men and using gender as a political weapon.
"A feminist is a woman who lives the life she chooses. We will have arrived when every woman can decide for herself how to best find and use her God-given gifts," Fiorina said in June. "I am a conservative because I know we are all equal in the eyes of God — men and women. Our principles work better to lift men and women up."
Though Republican women are banding together against Trump, they aren't quick to use the "f word" or believe "women's issues" are a top priority. Amour, who works as the communications director at an all-girls high school in Pennsylvania, said she wants a president who respects women and whom the students at her school can look up to, but her conservative values are just as important.
"I have this discussion with my teenage daughter a lot," she said when considering whether she identifies as a feminist. "Their litmus test is abortion, whether you're pro-choice. I don't pass that test. I do believe in equal opportunities and education for women. But I certainly don't call myself a feminist because there is a connotation of what that's become."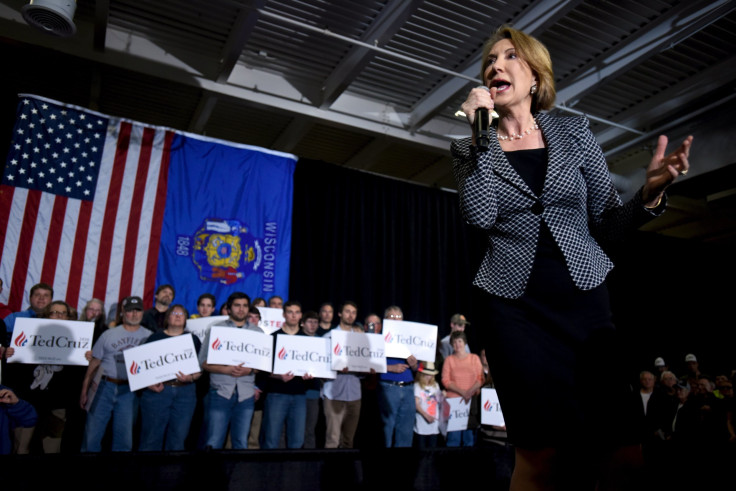 When Democrats are trying to appeal to women, they often tailor their message and focus on issues such as healthcare, equal pay and education. But with Republicans, gender is not usually such a defining factor.
"Republican women and men are not used to thinking about women and taking women's side," said Kathleen Dolan, a professor of political science at the University of Wisconsin-Madison. "We often forget that there are many women who are pro-life and don't see that as a bad thing. Women can have a very conservative ideology. They can be OK with those ideas because they agree with them. But I think [Trump's] language is really violent and disgusting and insulting. That's a line the Republican Party has never crossed."
For Barr, the Florida woman who said Trump has made her a feminist, this is exactly the case.
"For pro-life stuff, I don't see that as a women's issue. If you're going to look at a baby and if the baby is a female then you're killing a woman [with an abortion]," Barr said. "But Donald Trump is a walking women's issue. To me, he is not a conservative. He says everything is negotiable."
Other women also said while they did not like Trump's attacks on people of their gender, there were many other reasons not to support him. Packer said her main problem with Trump is that he's "not a conservative and I don't think he's even a Republican." While her career is focused on making women a political force in the Republican Party, she, too, expressed hesitation when it came to the "feminist" label.
"I support equal rights and opportunity for women. But I don't support emasculating men in the process. And I don't think government is obligated to pay for everything we want to have in our lives whether we are men or women," Packer said. "The word feminist has come to mean different things to different people so I'm careful about labeling myself."
For their part, Democrats have tried to take advantage of Trump's comments by painting him as a prime example of what they see as a "war on women." Clinton and rival Sen. Bernie Sanders of Vermont often criticize Republicans for issues such as restricting abortion access, not wanting insurance to cover contraception and opposing equal pay and family leave policies.
After Trump's comments on abortion Wednesday, Clinton tweeted about the incident, calling the suggestion that women be punished for seeking an abortion "horrific." Her campaign also sent multiple emails to supporters highlighting the quote and held a conference call with reporters Thursday, during which surrogates linked Trump to the rest of the GOP candidates, pointing out that all three would heavily restrict access to abortions. This linking of Trump with other Republicans is precisely what Packer and other GOP women want to avoid.
"Even if they're socially conservative that's not the same thing as being anti-woman and Republicans don't always do the best job of emphasizing that. Most Republicans think that what Donald Trump is doing and saying is totally abhorrent," said Mair, the GOP strategist running the Make America Awesome superPAC.
Packer also dismissed the idea that Trump is a part of the "war on women" or that such a thing exists. When Democrats talk about a "war on women" they are typically disagreeing with Republicans' policies, she said, and Trump changes his positions so often it's difficult to know where he stands. Instead of disagreeing with Trump on a policy level, women have found themselves turned off by his character.
"Women are different in their opinions about abortion and birth control. They have the same variance that men do. But the difference with Donald Trump is that he's talking a little bit about whether abortion should be legal, but he's really targeting women. His attacks are very personal but not issue based," said Sarah Gershon, a political science professor at Georgia State University in Atlanta.
Because of the nature of Trump's attacks, he has offended Republican women even while trying to convince them he is on their side. Amour, who has been a Republican for many years, said she started the question this year of whether liberals are right about a "war on women." She doesn't consider herself a feminist, but does wonder how women can support the party if it chooses Trump.
"There are segments of the Republican Party that have racist and sexist tendencies that are there. A lot of liberals have said that, and I wouldn't have guessed there was that to that level," Amour said. "He's proving the theory that was out there from liberals that there is a war on women."
She shudders to think about all the implications a Trump presidential nomination would have for the GOP. "I think there will be droves of people who will leave the Republican Party if he's the standard bearer. You have to think that's going to have an effect on the Republican Party going forward."
© Copyright IBTimes 2023. All rights reserved.