Hillary Clinton WikiLeaks Emails: Campaign Was Concerned About Bill Clinton Affairs, Linked President's Past To Bill Cosby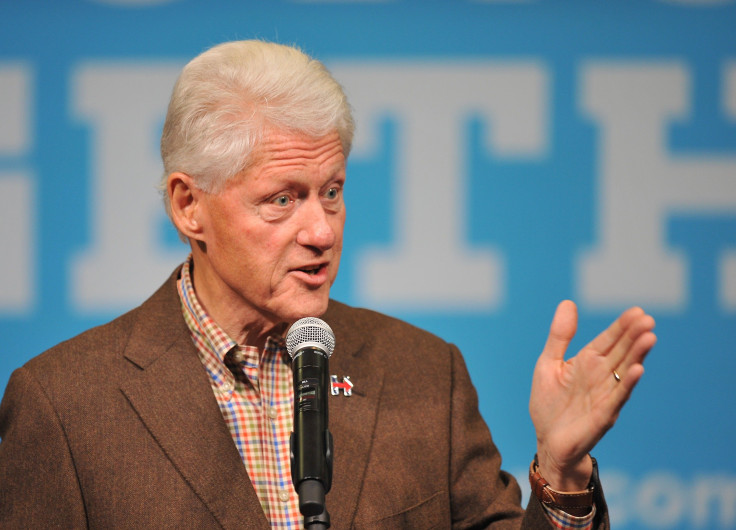 Emails purportedly sent by Hillary Clinton advisers and staffers, show the campaign of the Democratic presidential nominee was concerned about the political implications of sexual assault allegations against her husband, former President Bill Clinton. In the latest batch of WikiLeaks emails published Thursday, advisers prepared to answer questions on the former president's past, including if it was any different than the controversy surrounding comedian Bill Cosby, who has been accused of assaulting dozens of women.
Allegations that Bill Clinton has committed sexual assault or sexual harassment has dogged the Clintons for decades. Republican nominee Donald Trump has made it a central issue during the 2016 election, even holding a press conference before the second debate with four accusers, one of whom, Juanita Broaddrick, said onstage, "Bill Clinton raped me."
Despite Broaddrick's previous denial of an encounter at a Little Rock, Arkansas, hotel in 1978 in an affidavit for the 1998 Paula Jones sexual harassment lawsuit that was eventually dismissed, the issue of Bill Clinton's sexual history continues to persist into the 2016 campaign cycle.
The latest batch of WikiLeaks emails, which were stolen from the account of Clinton campaign chairman John Podesta, show people close to the candidate anticipating allegations being brought up again. Clinton adviser Ron Klain emailed in January 2016 a number of staffers, including Podesta, about "political" (quotation marks his) questions. "We need to set aside some time – it can be tomorrow, it can be Thursday – to do Q-and-A on the political questions, which now seem to be really owning the coverage," the email reads. The first three questions are about Clinton's polling numbers, emails and voter trust. The fourth is about "WJC Issues," referring to William (Bill) Jefferson Clinton.
It reads as follows:
" a. Is his conduct relevant to your campaign?
b. You said every woman should be believed. Why not the women who accused him?
c. Will you apologize to the women who were wrongly smeared by your husband and his allies?
d. How is what Bill Clinton did different from what Bill Cosby did?"
Clinton aide Jake Sullivan responded, "I think we should go through 1-3 tomorrow. John, how to handle 4?" There was no email response after that.
The Clinton campaign, and the candidate, have mostly dodged questions on Bill Clinton's past. The new WikiLeaks emails seemingly confirm the campaign was ready to respond to past allegations. Trump, who has a pattern of lambasting political opponents on a personal level, was leading the Republican race for the nomination at the time.
It should be noted that there is no definitive way of proving if the stolen emails are authentic. Other batches of emails released by WikiLeaks, however, have seemingly proven to have been unaltered. The Clinton camp has not confirmed the authenticity of the stolen messages and U.S. intelligence officials have said the hack into Podesta's emails was carried out by Russia in an attempt to influence the 2016 election.
Read a screenshot of a portion of the WikiLeaks email below: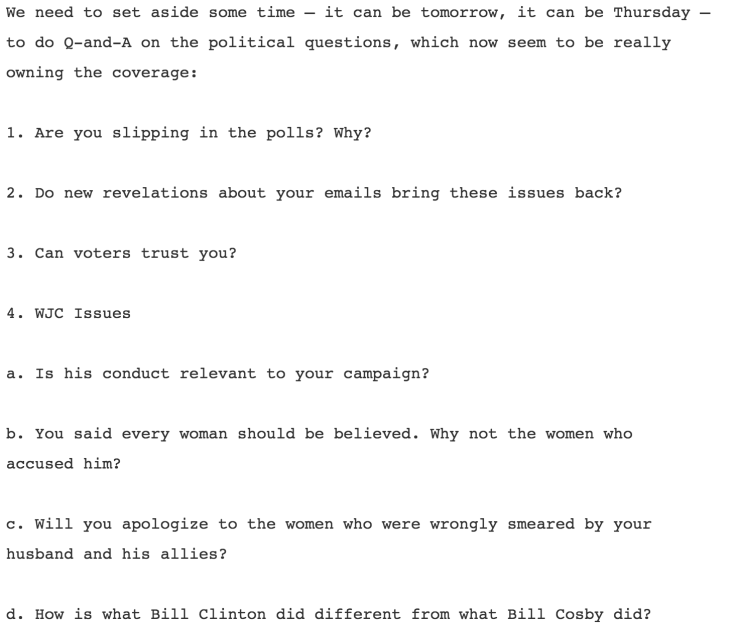 © Copyright IBTimes 2023. All rights reserved.
FOLLOW MORE IBT NEWS ON THE BELOW CHANNELS