Hillary Clinton's Latest Polls: Women Favoring Dem Again After Trump's Comments, Debate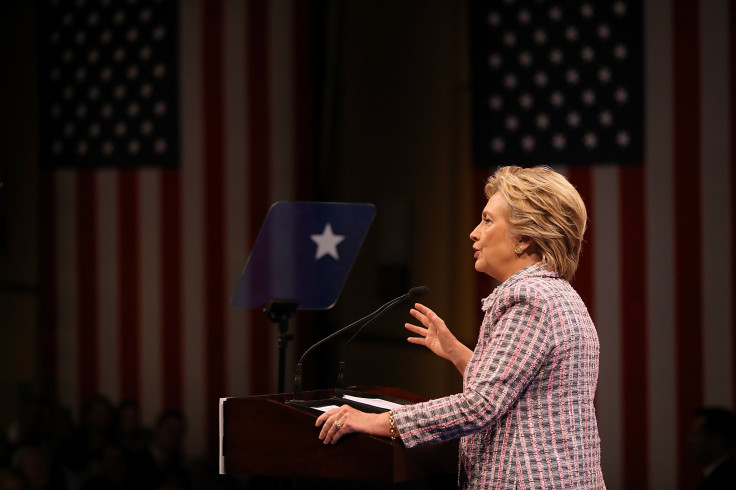 Women ultimately handed Barack Obama his second term as president, and they very well could decide the upcoming election between Hillary Clinton and Donald Trump.
The latest polls following the first debate between Democrat nominee Clinton and the GOP's Trump show the former has regained significant support from women after seeing her figures plummet into the single digits, according to the nonpartisan project PresidentialGenderWatch.org.
Clinton, hoping to be the first woman ever elected to the nation's highest office, has greatly improved what was a whittling lead among women voters to as much as a 23-point or 20-point advantage in two Fox News polls conducted in the three days after last week's debate.
Clinton only held a marginal five-point lead among women in the days leading up to the showdown at Hofstra University in New York, compared to the regular double-digit figures she was pulling down while attempting to secure the Democratic nomination and in the early stages of the general election following this summer's party conventions.
The debate could have been a turning point with women for Trump as his numbers were slowly climbing and eating into Clinton's lead. One Quinnipiac poll of a two-way race had Trump earning 44 percent of women's votes compared to Clinton's 49 percent. A four-way race that included Libertarian Gary Johnson and Green Party nominee Jill Stein did little to assuage women, with Trump still taking in 42 percent to Clinton's 47.
But Trump's performance in the 90-minute debate, which included some well-received moments in the first half of the highly acerbic affair, had some significant down moments when it came to his history of treatment towards women.
Clinton brought up Trump's previous comments and feud with comedienne and talk show host Rosie O'Donnell, as well as his criticism of former Miss Universe Alicia Machado when she gained weight following her victory in the then Trump-sponsored beauty pageant.
In the one week since the debate, RealClearPolitics shows most polls have Clinton in the lead by varying margins, with some showing only a 1-point lead over Trump and others much stronger in swing states like New Mexico (10-point lead), Virginia (7-point lead), and Florida (4-point and 1-point lead).
Much has been made of the Trump campaign's ability to lure in white male voters, and rightly so. The first-time candidate has a massive 76-17 percent, or 59 percent lead, over Clinton among white males who don't have a college education, according to an ABC News/Washington Post poll released one day before the debate.
But Trump will have to find a way to draw women voters away from Clinton since they proved so critical to Obama's run in 2012 against Republican Mitt Romney.
Four years ago, Obama was reeling from what most considered a resounding victory by Romney, but he responded well in the next two debates and clearly reached female voters the most.
Almost 241 million Americans were of voting-age in 2012 and 129.1 million actually turned out to the polls. Of that 129.1 million, Obama won 56 percent of the female vote compared to 44 percent for Romney, which turned out to be largest gender gap in voting in Gallup's polling history.
And in the 2014 midterm elections, 43 percent of women reported voting compared to 40.8 percent men, according to the U.S. Census.
© Copyright IBTimes 2023. All rights reserved.