Hillary Clinton's Wall Street Reform Plan: History Of Cozy Relationships And Big Campaign Checks Cast Shadow Over Position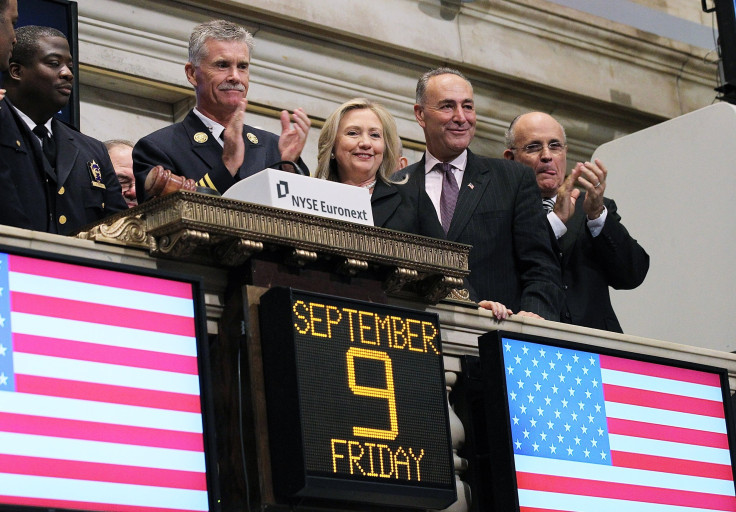 Bill Clinton's 1992 presidential campaign was fueled in part by money from big Wall Street executives, and he continued to cozy up to them during his eight years in the White House. More than 20 years later, that connection may be haunting his wife, Hillary Clinton, as she looks to capture the same office but is facing major competition from Sen. Bernie Sanders, who has positioned himself as a foe of big banks.
Hillary Clinton detailed her Wall Street reform plan Thursday and criticized lax banking rules. The proposal was the latest step to the left for the candidate as she has tried to woo Sander's growing populist base. But the revised policy statements have been viewed skeptically by some who point out her husband's deregulation of the banking industry, the millions of dollars the Clintons earned from banks on the speaker circuit and the millions she's raised for presidential runs from finance leaders.
"There are enough people out there who are emboldened by Bernie and also the fact that Vice President Biden is, at least in the media, seriously considering a run, that she really needs to consolidate her hold on the nomination or it will get ugly in the spring of next year," James Angel, a professor of finance at Georgetown McDonough School of Business in Washington, D.C., said. "So this move to the left – like coming out against the Trans-Pacific Partnership -- is, clearly, she's pandering to the Democratic base."
Clinton's plan was received in many ways as a rebuke to President Barack Obama's perceived weak enforcement on financial misconduct. She called for a reform of loopholes on the Volcker Rule portion of the 2010 Dodd-Frank Wall Street Reform, which is meant to prohibit banks from risky trading with funds that are insured by the United States government. She also called for increased accountability from bankers and taxes on high frequency trading.
She did not, however, go as far as Sanders -- who has vocally called for the breaking up of big banks -- or the bank restructuring that some in the Democratic base have called for.
Hillary Clinton Presidential Candidate Profile | InsideGov
Her perceived move to the left on this issue and others has been interpreted as a direct result of Sanders' surge in the polls. Whereas Clinton helped to negotiate the Trans-Pacific Partnership with 11 pacific nations during her time as secretary of state, she came out against the deal Wednesday.
For years, Clinton has had a reputation for being cozy with the finance industry. She did call for Wall Street reforms early during her primary run in 2008, saying – accurately, as it turns out -- that subprime mortgages were a problem that many were ignoring, but the Clinton and her husband have also amassed millions of dollars in personal wealth since leaving the White House in 2001. A big portion of that cash came from private, paid speeches and big Wall Street banks were among the institutions that wrote those checks, including a $200,000 speech given to Goldman Sachs by Bill Clinton while the bank was lobbying his wife's State Department
During her 2008 presidential run, her third biggest donor base was the security and investment industry – coming in behind lawyers and the indiscriminate grouping of retired people – with $7.3 million in donations, according to the Center for Responsive Politics (CRP). So far in the 2016 race, the industry has been the fourth biggest, giving $1.36 million to her campaign. That's one quarter's worth of fundraising, CRP data shows.
Hillary Clinton Campaign Contributions by State | InsideGov
But her husband's presidency is perhaps one of the most obvious ways the family is connected to the industry. While running for president in 1992, Clinton amassed a strong network of industry supporters, including Bob Rubin, a former Goldman Sachs executive, who later served in the Clinton White House after putting forward an impressive fundraising front for the future president in New York. Rubin pushed for the repeal of the 1933 Glass-Steagall Act, which mandated that investment portions of banks, or commercial banks, and deposit-taking banks that are guaranteed by the federal government, be separate institutions.
Rubin got his way in 1999, and abruptly resigned to take over a newly created position at Citigroup. The bill to repeal the Glass-Steagall Act, known by some as the Citigroup Authorization Act, has been called one of the major contributors to the 2008 financial crisis.
"I think Bill Clinton as a general matter was more moderate on his position on a number of issues," Patrick Griffin, the associated director for the Center for Congressional and Presidential Studies at American University in Washington, said. Griffin once worked in the Clinton White House running the Office of Legislative Affairs and said Hillary Clinton wasn't afraid to voice her opposition to her husband's policy directives. "Personally, I'm not surprised by her position on these kinds of issues and think that it makes sense being in the Democratic primary."
Still, neither party has been particularly kind to Wall Street, as the national electorate seems to have soured on the industry. The real question is, could Clinton moving to the left alienate them?
" I think it's a bit of a mixed bag, but I would be surprised if it doesn't affect her ability to raise money in those communities," Griffin said. "They're not going to support Bernie, that's for sure."
FOR FREE to continue reading
✔️ Unlock the full content of International Business Times UK for free
offer available for a limited time only
✔️ Easily manage your Newsletters subscriptions and save your favourite articles
✔️ No payment method required
Already have an account?
Log in
© Copyright IBTimes 2023. All rights reserved.