HIV-Infected Porn Actors Cameron Bay And Rod Daily Speak Out, Call For Condoms On Film Sets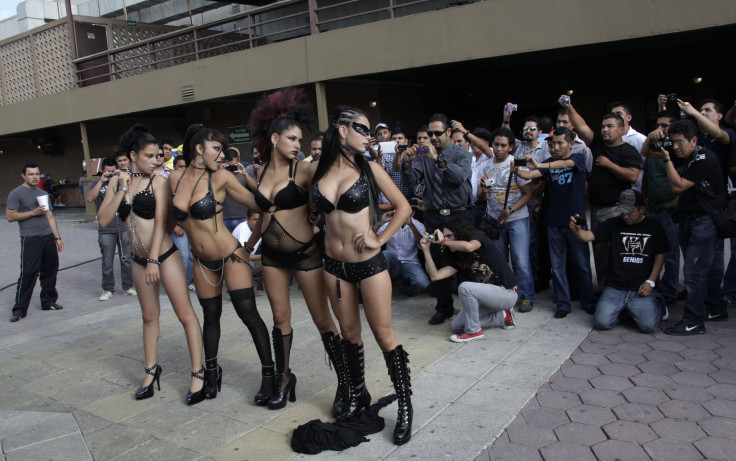 The performers at the center of an HIV outbreak that caused a brief shutdown in the Los Angeles porn industry now say condoms should be used on all film sets, according to the Associated Press.
At a press conference on Wednesday called by the AIDS Healthcare Foundation – an organization that backed a statewide bill in November to make condoms mandatory in porn – porn actors and longtime couple Cameron Bay and Rod Daily (their porn, not real, names) spoke out for the first time about condoms in the industry.
"Condoms in porn is not really that crazy a thing," said Daily. "If they do care that much about the performers, they would use condoms."
"Ultimately it's just a big industry, and their main concern is money," Daily added.
The porn industry issued a moratorium on all production on Aug. 22 when Bay announced she was HIV-positive. Just days later, Daily, Bay's boyfriend, revealed he had tested positive. Earlier this month, a third performer -- who has not been identified -- also was found to have HIV. The AIDS Healthcare Foundation said a fourth performer had tested positive, but this has not been confirmed.
According to the AP, industry officials say that out of the three HIV-positive performers, none appeared to have been exposed to the virus on a film set.
"Unfortunately, we can't control what people do off-set," Steven Hirsch, CEO of the Vivid Entertainment Group, said.
At the press conference, Bay told reporters about unsafe conditions on set, citing one shoot in particular where filming took place despite the fact that her partner had a cut on his penis, according to the New York Daily News.
"I'm not here to push anything down anybody's throat, I'm not here to fight anybody's fight," Bay said. "I'm just here to share my story and to get knowledge out there to people and try to prevent anything like this happening to anyone else."
The Free Speech Coalition, a trade group for the porn industry, announced that it would lift the shutdown in production on Friday. It also said studios would require performers to be tested for sexually transmitted diseases every 14 days, rather than the former industry standard of 28 days.
"Our industry protocols are designed to be conservative and our doctors support a conservative approach, for the health and well-being of the performers," said Diane Duke, the coalition's CEO. "We can do more to help our performers learn how to protect themselves, on screen and off."
© Copyright IBTimes 2022. All rights reserved.
FOLLOW MORE IBT NEWS ON THE BELOW CHANNELS