Holly Madison-Kendra Wilkinson Feud Continues: I 'Tried To Be Friends,' Ex-Playboy Bunny Says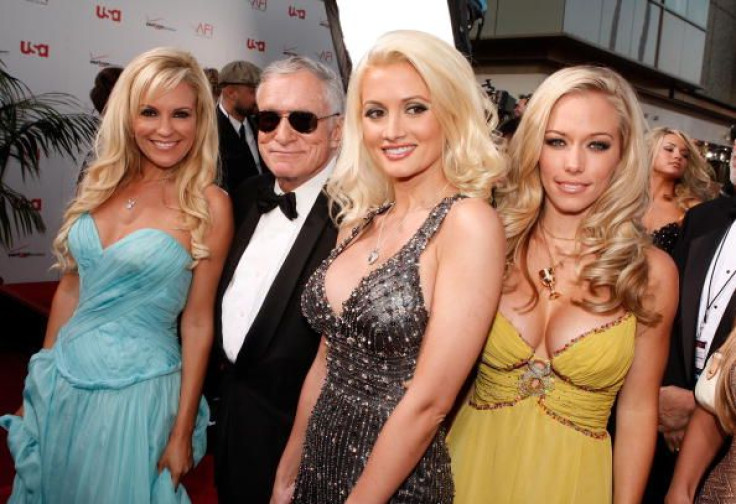 No matter how hard Holly Madison tried, she couldn't form a true friendship with Playboy Mansion housemate Kendra Wilkinson, she told Us Weekly. Madison dished tons of secrets about former boyfriend Hugh Hefner and "The Girls Next Door" in her new memoir, "Down the Rabbit Hole: Curious Adventures and Cautionary Tales From a Playboy Bunny." Aside from dissing her ex-boyfriend, the magazine mogul, she also slammed Wilkinson.
The Playboy veteran, 35, claimed Wilkinson, 30, had a "sense of entitlement" that she envied when they lived together. "I had felt so lucky just to scrape by when I moved into the mansion. And here was a rookie who had just gone all the way with an old dude, and her only concern was how big her room was going to be. Though she wasn't as cunning and sophisticated as the other girlfriends who had inhabited the mansion in recent years, she seemed to have that same hustler mentality," the author told Us Weekly.
She added that Wilkinson, the youngest of the trio (which also include Bridget Marquardt), demanded a new car, dental work and a home for her two pets. "The balls on this girl," the buxom blonde said.
Madison isn't worried about Wilkinson reading her memoir, because as far as she can tell, the "Kendra on Top" star doesn't read. "I lived with Kendra for four years, and I never saw her in the vicinity of a book, so I don't think she's going to read it," she said. "Maybe she'll have frenemies fill her in on what it says? But I don't think she's going to read it."
She might not be concerned about Wilkinson, but Hefner is "furious" about Madison's book. "He knew she was upset over the way things worked out, but that's part of life," a source told Hollywood Life. "Hef gave her this amazing opportunity, and they had a lot of fun together. She was never complaining about their love life or their relationship when she lived there. If she was unhappy, she should have said something or just left."
Though Wilkinson defended Hefner, 89, in a recent interview, Madison isn't the only one who had negative things to say about the Playboy Mansion. Jennifer Saginor grew up in the household because her father was Hefner's doctor, and she told Life & Style the Playboy founder treated the playmates like "inmates."
"While looking from the outside in, it seemed the Bunnies lived a life of glamour and luxury. Clearly, it was the complete opposite filled with the constant pressures to stay super skinny and always looking a certain way," she said, according to Hollywood Life.
Madison's memoir arrived on bookshelves Tuesday.
Follow me on Twitter @mariamzzarella
© Copyright IBTimes 2023. All rights reserved.