Holmes, Cruise Lived Separately Before Divorce Filing; Scientologists Stalking Katie And Suri?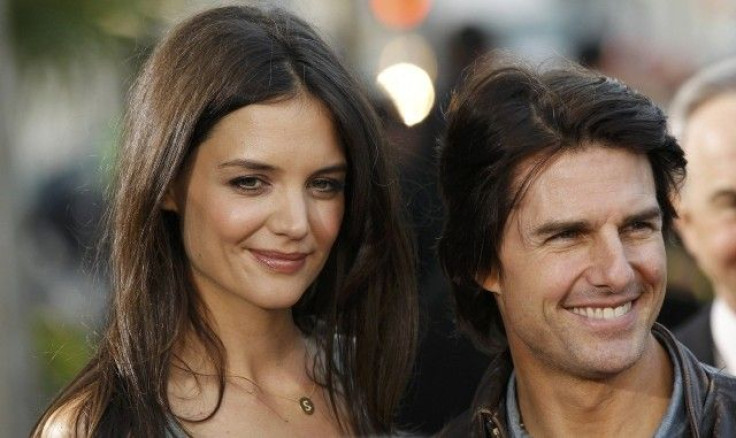 Sources close to actress Katie Holmes are speculating the soon-to-be divorcee is being followed by Scientologists, according to TMZ. News broke on Friday that the former Dawson's Creek star filed for divorce from Cruise, who has been criticized in the past for his religious beliefs.
Katie Holmes believes Scientology now views her as a threat to the organization and has put a team on her tail, the gossip site reports. We're told Katie believes in recent weeks -- as the discord between her and Tom Cruise grew -- Scientology has been following her moves, especially in New York City. This does not appear to be the mind of a paranoid person. People who have photographed Katie multiple times tell TMZ there have been several 'mysterious' men and vehicles around Katie's apartment and following her when she's out.
Most news sites and talk shows have called the couple's five year marriage a sham and speculated that Holmes has long been under Cruise's control. Those theories have only been fueled over the past few days since it was revealed that Holmes filed for divorce from Cruise while the Born On the Fourth of July actor was filming his new sci-fi film, titled Oblivion, in Iceland.
A representative for Cruise reported, Tom is deeply saddened by the news and is concentrating on his three children.
Two of Cruise's three children belong to his ex-wife Nicole Kidman and reports say Holmes is seeking sole legal custody of the third, their daughter Suri.
Holmes apparently checked the irreconcilable differences box when she filed for divorce and almost everything coming out of the rumor mill cites scientology as the cause for Holmes' choice to raise Suri herself.
Cruise became a Scientologist after marrying his first wife Mimi Rodgers, who subscribed to the religion. Since then he's been one of the most outspoken proponents of the belief system and has allegedly tried to convert Holmes, which was not a success.
By all accounts Holmes has been living separately from Cruise for at least a few weeks. The Huffington Post reports that in the weeks leading up to the divorce the couple has been living in separate apartments in New York City. Cruise evidently opted to stay at The Greenwich Hotel instead of at the apartment he shared with his wife.
Our sources say Katie, meanwhile, was going back and forth between the apartment she and Tom shared, and a new apartment she recently got, TMZ said. According to the people we spoke to in Tom and Katie's building they couldn't remember the last time they had seen Tom. Our sources say that while they were clearly having problems, Tom had no idea this was coming and his entire team was caught flat-footed by the filing.
Born on the fourth of July or born yesterday?
© Copyright IBTimes 2023. All rights reserved.