Homan Square Detention Black Site: 7,000 Predominantly Black Detainees Held At Chicago Police Facility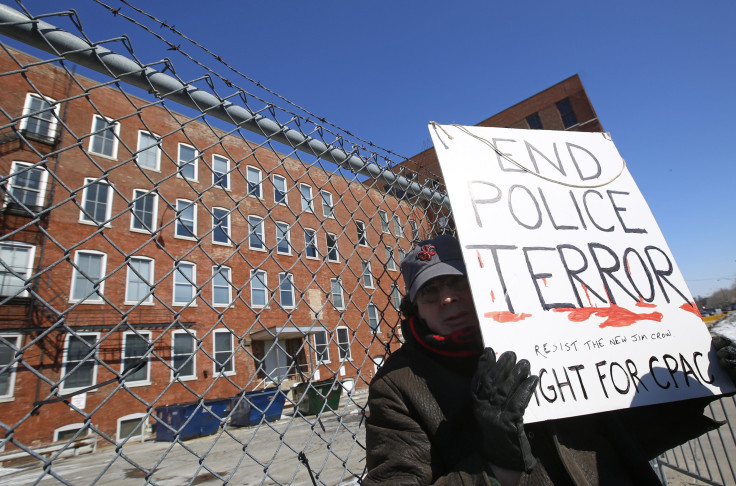 More than 7,000 people were held by Chicago police as a part of an off-the-books interrogation program that operated from August 2004 to last June, according to an ongoing Guardian investigation. That number is twice as high as was revealed previously during the investigation. The Guardian learned about the increased number of detainees, at least in part, through a civil lawsuit.
Roughly 6,000 of the detainees were black. That's a starkly disproportionate number compared to the overall population of the city, which has black population of less than 33 percent, according to recent Census data.
Chicago police have described the building, known as Homan Square, as a low-level narcotics outpost that follows police protocol and rules. Detainees and their lawyers, however, take issue with this classification. Some have indicated police continued to interrogate them even after lawyers said continued conversations would not take place when the lawyer was not present. More than 5,000 people held at Homan Square faced drug possession charges.
A lawsuit filed Monday accuses six Chicago police officers of violating federal civil rights laws while working at Homan Square, the Guardian reported. It is the third lawsuit filed since the news organization began reporting the story. Those techniques include allegedly holding a knife to an individual's neck and slicing off portions of that prisoner's sweatshirt after the suspect asked for a lawyer. Another officer allegedly conducted a full strip search of a man after his requests for a lawyer were denied. Other officers are accused of short-shackling detainees to a wall in dark cells without food, water or bathroom facilities.
Critics of the facility argue it traps individuals who don't know their constitutional rights and who then offer up information because they feel they need to in order to leave. Homan Square reportedly kept people, at times, for days. Some detainees reportedly were not processed, and many were simply processed at a different facility if their arrests were put on the books.
© Copyright IBTimes 2023. All rights reserved.