How Angelina Jolie Really Feels About Daughter Shiloh Dressing In 'Boy's Clothes'
Angelina Jolie is completely fine with her and Brad Pitt's daughter, Shiloh Jolie-Pitt, dressing "like a boy."
Tabloids recently claimed that 12-year-old Shiloh's fashion choices have been causing some friction between her parents, who recently gained back their "single" status despite not having finalized their divorce. But how does Jolie really feel about her daughter's preference for "boys" clothes?
Over the years, Jolie and Pitt's eldest biological child is almost always photographed wearing formal suits on the red carpet and tracksuits and hoodies during outings. And the "Maleficent: Mistress of Evil" has no problem at all with her daughter's style choices.
"Shiloh, we feel has Montenegro style. It's how people dress there," she told Vanity Fair in a 2010 cover story interview. "She likes tracksuits, she likes [regular] suits. So it's a suit with a tie and a jacket and slacks, or a tracksuit. She likes to dress like a boy. She wants to be a boy. So we had to cut her hair. She likes to wear boys' everything. She thinks she's one of the brothers."
Jolie and Pitt's daughter clearly still loves the wearing tracksuits as she was spotted wearing a baggy hoodie and sweatpants just this week while on her way to her music lessons. In February, she wore a black suit when she attended a screening for "The Boy Who Harnessed the Wind" in New York City with Jolie and her siblings, Maddox, 17, Pax, 15, Zahara, 14, and twins Knox and Vivienne, 10, Harper's Bazaar reported.
Back in December, Jolie also revealed during an interview with BBC Radio 4's "Today" that she actively encourages her children to make their own choices and follow whichever path they want in life.
"[My kids] all have a good rebellious streak that is wonderful and curious," the stunning actress said. "I don't want them to be perfectly behaved little people that just say what's absolutely appropriate because I say so … they have to find themselves."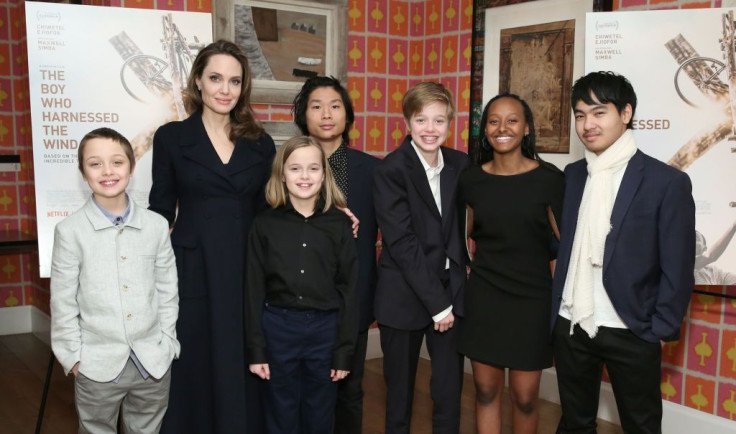 As for her estranged husband, Pitt previously opened up about his daughter's request to be called "John." During an interview with Oprah Winfrey back in 2008, he explained that he makes sure to call Shiloh the name she prefers to be called.
"She only wants to be called John. John or Peter. So it's a Peter Pan thing. So we've got to call her John," he recalled.
"'Shi, do you want…' 'John. I'm John.' And then I'll say, 'John, would you like some orange juice?' And she goes, 'No!' So, you know, it's just that kind of stuff that's cute to parents and it's probably really obnoxious to other people," the actor continued."
© Copyright IBTimes 2023. All rights reserved.