How 'Arrow' Actor Stephen Amell And His Costars Handled A Canceled Convention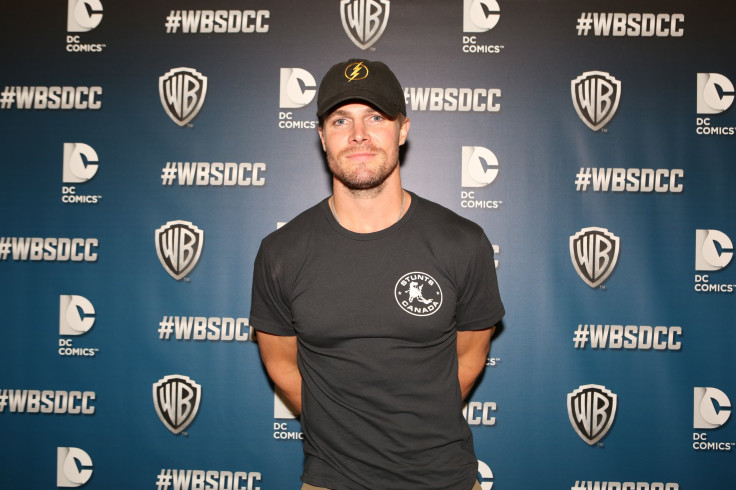 The "Arrow" cast knows how to make the best out of a bad situation. The snowstorm forced Heroes and Villains Fan Fest to cancel the Saturday portion of their event, but many people were already at hotels near the Meadowlands Convention Center in Secaucus, New Jersey — including several celebrity guests. Cast members from "Arrow" and "The Flash" were nearby, so they didn't let the snow stop them from meeting with fans.
In the afternoon, the stars wandered down to the lobbies of their hotels to meet their snowed in fans. John Barrowman (Malcolm Merlyn on "Arrow") posted a video on Facebook with fans in his hotel and said that he and Stephen Amell (Oliver Queen on "Arrow") were doing the same thing at separate hotels.
However, the cast wasn't separated for long. Everyone needed food eventually, and it seems a nearby restaurant temporarily turned into a convention hall. Barrowman posted a video of himself and Amell, as well as Katrina Law (Nyssa from "Arrow) and Robbie Amell (Ronnie Raymond from "The Flash") eating in a restaurant filled with Fan Fest attendees.
"This is what happens when you get canceled at a con and it's snowmaggedon," Barrowman said before panning to a restaurant of screaming fans.
The evening finished off with a party that involved a bit of karaoke. Amell and Barrowman chose a very appropriate song: "Do You Want To Build A Snowman?" from "Frozen." Watch their sing-along below:
Heroes and Villains Fan Fest officially opened Sunday, but several stars, including Caity Lotz, Ciara Renee, Danielle Panabaker, Paul Blackthorne and Willa Holland were unable to fly in due to the snow. The event's Facebook page notes that they will try to reschedule the entire event with the same guests.
© Copyright IBTimes 2023. All rights reserved.