How Is 'Breaking Amish' Star Jeremiah Raber's Marriage After Domestic Abuse?
Fans of the "Breaking Amish" franchise were stunned when news broke in 2017 that "Return to Amish" star Jeremiah Raber had been arrested for abusing his wife, Carmela, who he had married in 2016. Now, one year later, after a series of ups and downs, the couple appears to be trying to put their tumultuous past behind them.
In a police report at the time, it was stated that Raber had escalated a verbal dispute with his wife, who then also stated he had been physically abusive for their entire relationship.
"On the above date and time [April 22, 2017, at 2:30 PM] during a verbal dispute, the defendant did purposefully throw hot coffee onto the lap of his wife. The defendant did make several threats to cause harm [redacted] during the argument," the report read. "The victim did show me several large bruises on her legs and arms that were caused from the defendant striking her with a closed fist. The victim stated that the defendant strikes her on a daily basis. The defendant and the victim have been residing together [redacted] for the past year."
After his release, Jeremiah had then shared that Carmela had gotten a restraining order against him and that she too had been abusive.
By August, Jeremiah had allegedly filed for divorce, telling his followers in a Periscope video that he had "finally gotten smart" and was "done with her." Carmela had responded to his claims at the time as well, saying life with him had been "a living nightmare."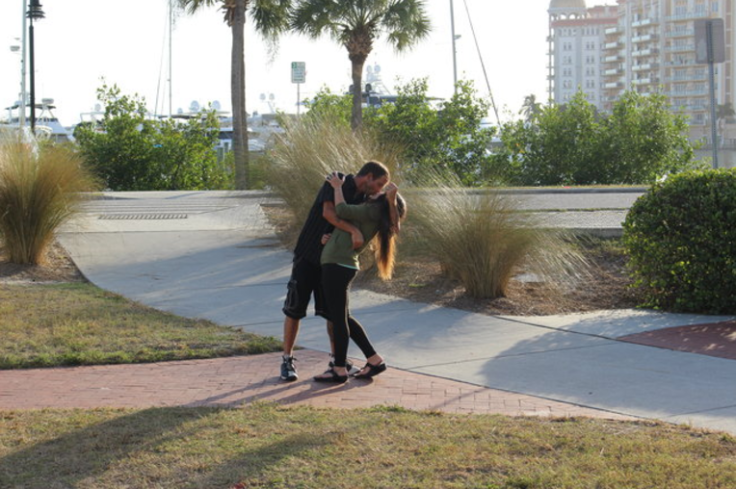 The two briefly rekindled the relationship once more afterward, though things fizzled again in October when Carmela allegedly skipped town with $15,000 worth of cash and other items of property.
However, since then, the pair has been working on fixing the relationship, with Jeremiah revealing in a YouTube vlog to his followers that he was leaving his Florida home behind and moving to Washington State to be with Carmela again.
"We're not living together, we are together, but we're not living together. First, we're going to go through marriage counseling, and eventually, we're going to move in." He shared in March 2018.
In a later update, Carmela confirmed that was their plan, and added that they were "taking it slow."
The two haven't shared too many updates since then, but Jeremiah did post another video earlier this month, where he paid tribute to the relationship, wishing Carmela a happy two-year anniversary in the process.
© Copyright IBTimes 2023. All rights reserved.