How Can You Help Victims Of Sri Lanka Floods? Donate Funds, Goods After Landslides Leave Many Missing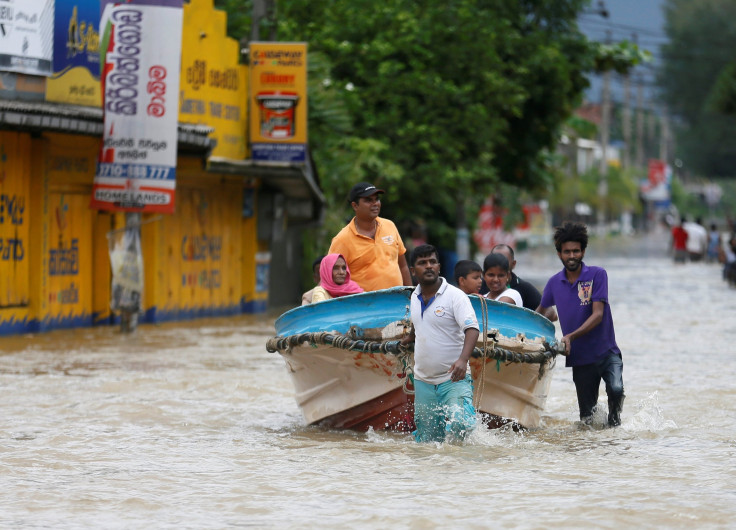 Landslides caused by torrential rains falling on Sri Lanka left more than 200 families missing Wednesday, the Sri Lankan Red Cross said. The flash flooding and landslides have also forced thousands of people to leave their homes, CNN reported Wednesday.
At least 19 people had died as of Wednesday morning, according to the Disaster Management Center in Colombo, and around 346,000 more are estimated to have been affected by the floods. Soldiers joined local residents in digging through the mud in a search and rescue effort in the villages of Siripura, Pallebage and Elagipitya in the Kegalle district, the Associated Press reported.
While soldiers and aid organizations like the Red Cross are continuing to search for survivors, Sri Lankan officials warned that further storms could mean additional lightning and further landslides. Mudslides typically occur during the monsoon season, which begins next month, and their early timing means they were likely unexpected.
While relief efforts are already underway, organizations can use more help. If you're looking for a way to help those affected by the floods, here is a list of organizations doing work in Sri Lanka that you can support.
The Red Cross — The Sri Lankan chapter of this worldwide organization is sending updates about Sri Lanka and providing food, blankets, clothes and first aid on the ground.
Oxfam — Oxfam has teams on the ground distributing portable toilets and other hygiene items to families displaced by the landslides.
PickMe — If you're interested in sending goods but are not near Sri Lanka, this app is a good option. Pick "Food Aid" on the PickMe app and choose to make the donation now or later.
Without Borders Sri Lanka — If you're in Sri Lanka and have the ability to donate food or dry goods, this group is collecting items to take to people displaced by the floods. Details about drop-off locations are on its Facebook page.
SocialService.lk — This organization has partnered up with the app bigbon to collect donations for those in Sri Lanka who have been affected by the floods.
Sarvodaya — A relief organization in Sri Lanka, Sarvodaya has teamed up with media organizations like Siyatha TV, Siyatha FM, Varnam TV, Varnam FM, Kiss FM and Real Radio to support those affected by the flooding. You can find out more information about how to donate on its website and Facebook page.
Yamu — This site has a host of other resources for those in or near the areas affected by the natural disasters. If you're looking for places to donate goods or ways you can volunteer, this list will offer you more ways to help.
© Copyright IBTimes 2023. All rights reserved.