How Did Malia Obama's Selfie Get On The Internet? White House Reportedly Investigating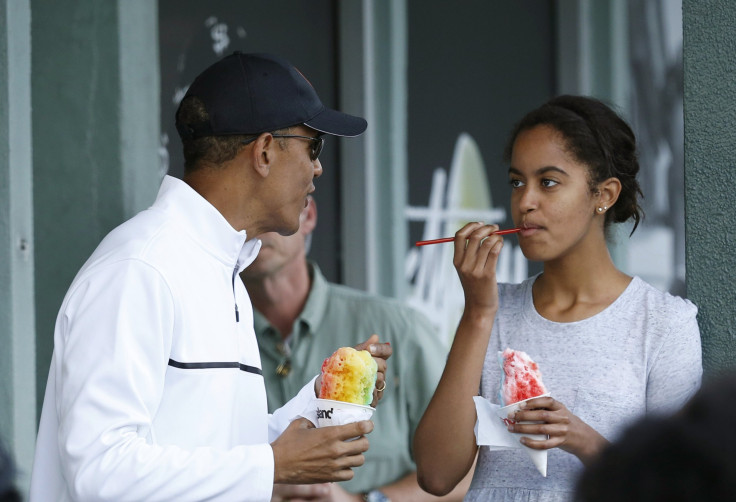 The White House is reportedly investigating how a photo apparently featuring first daughter Malia Obama surfaced on the Internet. On Monday, a photo that appeared to be of Obama, 16, posing in a white T-shirt with a red and green logo, appeared on Instagram, in what has been called the first Obama selfie leak. The photo has since gone viral on social media and has been reposted by a number of sites.
It remains unclear how the image made its way onto social media. It appears to have first surfaced on the Twitter account of the Brooklyn-based rap collective Pro Era, whose logo is featured on the T-shirt in the image. A representative for Joey Bada$$, a founding member of the collective, told Gawker that the group received the photo from "a mutual friend of Malia and the Pro Era member."
The authenticity of the photo has yet to be verified, but the White House is reportedly looking into how the image made it on the Internet, reported Yahoo. First lady Michelle Obama has previously said that both of the first daughters have strict limits on their social media use. In a 2013 interview with Barbara Walters, she said that she limits her eldest daughter's Facebook access and that Sasha Obama, then 12, was not allowed to use the social media site at all, reported ABC News.
Though the image has not yet been confirmed to be of Malia Obama, Pro Era has nonetheless taken advantage of the the free publicity. The rap collective tweeted the photo with a link to its Web shop, where merchandise featuring the logo in the image can be purchased. The white T-shirt in question did not appear to be on sale Tuesday morning, though earlier reports indicate it had been on sale for $40.
The fashion choices of the first family have a proven record of generating publicity for the apparel they choose to wear -- for instance, J. Crew successfully capitalized on the first lady's 2008 appearance on the "Tonight Show With Jay Leno" while wearing a cardigan, tank top and pencil skirt from the brand.
© Copyright IBTimes 2023. All rights reserved.