How Did Meghan Markle, Prince Harry Spend Their First Valentine's Day?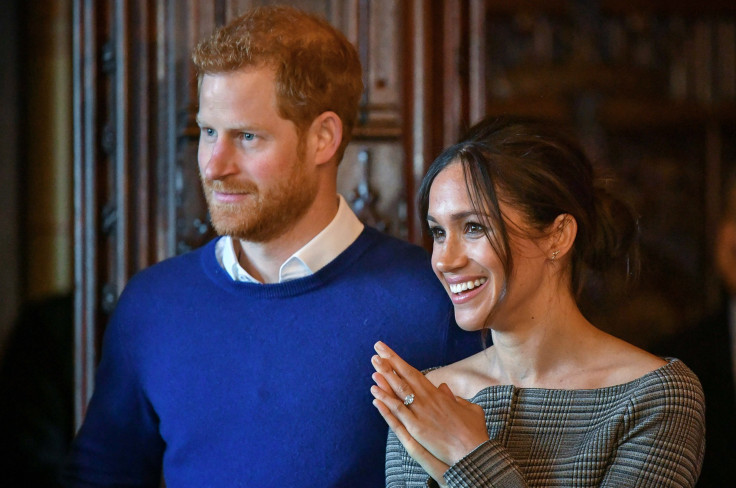 One would think that royals would celebrate Valentine's Day with the most extravagant of dates, much like many celebrities, including Christina Aguilera, Jennifer Aniston and the Kardashians do, but that's not always the case. At least not when it comes to Prince Harry.
After dating Meghan Markle for a few months, the new couple celebrated their first Valentine's Day together in 2017 with a nice, relaxing evening. There were no surprise trips to Paris, like Aniston, no thousands of roses, like Kim Kardashian and Kanye West, and there were no romantically-decorated rooftop dinners, like Aguilera. Instead, the duo opted for a casual night to simply enjoy time with each other.
"Harry and Meghan are together at Kensington Palace," a source told Us Weekly of the royal twosome's Valentine's Day plans last year. "Tonight, she and Harry are staying in for Valentine's."
Then again, while this might sound like a normal night and not a grandiose Valentine's Day, it's important to remember that they were "staying in" at a palace. The two had only been dating for a few months and Markle had been spending a lot of time staying at the property already, perhaps she wanted to enjoy as much of it as possible before having to return to North America for work.
"It's become Meghan's home away from home," a source told the outlet about Markle's love of the palace. "All the security know her, she slips in and out whenever she likes."
Clearly, this holiday was romantic enough to keep their love alive as less than a year later, the couple announced their engagement. Now they're about to celebrate their second Valentine's Day together and it won't include staying home.
Markle and Prince Harry will be traveling to Scotland the evening before the Feb. 14 holiday, but not just for some sightseeing. The couple are visiting Edinburgh Castle on official royal business. There will a reception for Scottish Year of Young People, which celebrates youth achievement, at the Palace of Holyroodhouse, which the royal duo will attend. While in the area, they'll also be checking out SocialBite, a cafe that helps out youth dealing with homelessness.
Though their Valentine's Day this year will be filled with charity work and royal business, surely the engaged couple will find some time throughout the day for a little romance. They do have an upcoming May wedding to celebrate, after all.
© Copyright IBTimes 2023. All rights reserved.