How To Fly Business Class Without Paying Business Class Prices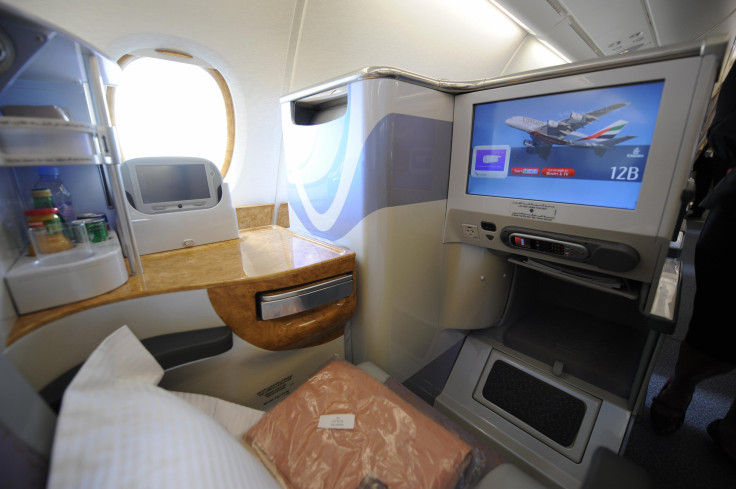 Years ago, while flying from Dubai to Paris on Emirates, my mother and I were upgraded from coach to business class, through no doing of our own. When we received our boarding cards, we glanced around surreptitiously, wondering whether we were just the lucky beneficiaries of somebody's egregious mistake.
The experience was glorious: All the pains and indignities one typically suffers on a long flight in coach were nonexistent as we nibbled on Godiva chocolates after our multicourse meal served on real china and snoozed in our roomy, fully reclining seats. We arrived in Paris impossibly fresh after such a long international flight. Of course, our joy was soon erased as we shuffled into coach class of an American Airlines Group Inc. (NASDAQ:AAL) jet bound for the U.S.
Since then, I've looked longingly at business-class fares whenever I book a trip. As travel expert Johnny DiScala, aka Johnny Jet, puts it, "Once you've flown up front, it's tough to go in the back." But on a journalist's salary, those fares -- which are often dramatically higher than those in coach class -- remain out of reach. (For example, a recent search of flights from New York to Paris turned up business-class tickets that cost more than five times those in coach.)
And flying coach has only gotten worse, as seats shrink and service gets stingier. Meanwhile, the experience beyond the coach-class curtain appears to be even more luxurious, with airlines racing to improve their premium cabins with amenities such as private suites and fully flat seats. And as carriers operate more packed flights, chances for random upgrades such as the one I happened into have become impossibly slim.
But experts say it is possible to experience the comfort of business class without paying through the nose. It requires a bit more legwork on the ground before you travel, but once you're relaxing in premium class with a drink in your hand, it will have been worth it. Here's how:
To fly premium, become elite.
Most airlines still offer upgrades as perks to their most loyal flyers. If you aren't one of those people who travels tens of thousands of miles each year, the best way to earn elite status on airlines' frequent-flyer programs is still through the many co-branded airline credit cards that offer hefty sign-up bonus points and reward miles for purchases. While many cards are excellent for accruing miles, you need to focus on credit cards that help you accrue so-called elite qualifying miles, or EQMs, to earn elite status. One such card is the Platinum Delta SkyMiles American Express, which awards 5,000 EQMs and 35,000 bonus miles after you spend $1,000 in the first three months of owning the card. And if you spend $25,000 a year, you'll earn another 10,000 EQMs, plus 10,000 regular bonus miles. Scott Mackenzie of HackMyTrip.com offers a roundup of the requirements and perks of major U.S. airline elite programs here.
If you travel with a companion, the American Express Platinum card gets you two-for-the-price-of-one first- or business-class tickets each year. (However, eligible fares may cost more than the price of two discounted ones, so be sure to check.) And the card's annual $450 fee pays for itself, thanks to the many travel benefits that come with it, according to DiScala. For instance, you get $200 in fee credits on any airline, a $100 credit towards the U.S government's Global Entry program, and access to more than 600 premium airport lounges around the world.
Buy upgrades with miles.
If you have a lot of miles that don't qualify you for elite status, they can still help you get into premium cabins for less than the price of a business-class ticket. As George Hobica of Airfarewatchdog.com observed, "This is one of the highest-value ways you can spend your miles." For example, you could upgrade a $400 coach ticket from New York to Los Angeles to a business-class ticket that's worth $4,000 -- for around 30,000 miles on a flight offered by the United Airlines unit of United Continental Holdings Inc. (NYSE:UAL). Keep in mind most airlines will now charge you both a cash fee and the miles to upgrade, Hobica noted. If you don't see the option to upgrade when you book, check back with the airline about three to four days before departure. "That's when they put the upgradeable seats back into their inventory," he pointed out.
Consider a cheap last-minute upgrade at the airport.
Many airlines will give you the option to upgrade your ticket for a discounted rate at the last minute if they have the room, according to Hobica. These are typically made available about six hours before flight time, so call before you depart or pay attention when you're checking in. Virgin America offers these last-minute upgrades for around $299 on long-haul flights when seats are available. Italy's Alitalia offers upgrades on board the plane: If there are business-class seats available, you can buy them when you board the aircraft for a fraction of what they would have cost otherwise.
Keep an eye out for sales.
Premium cabin fares do go on sale -- you just need to watch for them. If you want someone to do all the work for you, sign up for the First Class Flyer newsletter, DiScala recommended. Run by Matthew Bennett, the newsletter costs $197 a year and publishes information about sales on business- and first-class fares, in addition to other tricks. If you'd rather do the legwork on your own, be prepared to get organized. Hobica said airlines send out alerts via email and snail-mail touting fare sales -- so don't dismiss them as junk. British Airways had a sale on business-class round-trip tickets from Los Angeles to London for just $2,013.
And competition from domestic carriers have made sale prices much more affordable. "Thanks to JetBlue lowering fares on transcontinental flights, other airlines have followed suit," Hobica said. "From New York to Los Angeles, you could have paid $2,400 for a business-class ticket going just one way. Now, thanks to JetBlue, I'm seeing them closer to $1,000."
You can also find nonrefundable discounted premium seats from the legacy carriers, Hobica said. On a nonstop flight from Los Angeles to Miami, American Airlines was selling nonrefundable first-class fares for $368 each way, while the refundable seats cost $2,148.
Fly when business travelers aren't.
You're more likely to be offered an affordable last-minute upgrade or find a cheaper business-class fare if you schedule your trip for a time when business travelers are not going anywhere, DiScala said. "A lot of business travelers aren't going to travel on a Saturday or a Sunday morning," he noted. And Thanksgiving and Christmas are actually times when business travelers stay home, so those cabins are emptier then.
Get help landing a deal.
You don't have to do it on your own. Because travel agents deal in so much volume, they often have access to fares you might not, DiScala said. His travel agent helped him get a round-trip first-class ticket from Los Angeles to Singapore for around $3,500. DiScala said it would have cost him $8,000 otherwise.
There are also several consolidators, such as Planetamex.com, that sell premium cabin fares at big discounts that can be as much as 50 percent. The catch is that their fares are most likely nonrefundable, and you may not be able to accrue miles for those flights, Hobica said.
Look out for offers that let you buy miles.
The cost of buying miles is a roundabout way of buying a ticket, but it can work. American Airlines frequently offers "buy miles" deals. Recently, the company had a sale for 100,000 miles at the cost of $1,300. If that sounds hefty, consider that a round-trip first-class ticket from coast to coast would normally cost around $5,000. Alternatively, you can redeem 65,000 of 100,00 miles for the same trip.
Be willing to get bumped.
If you're flexible about getting to your destination, volunteering to be bumped from a flight can also provide good leverage to ask for a better deal. If volunteers are few and far between, request a first-class seat on the next flight, DiScala advised. It worked for him on a trip from Los Angeles to Erie, Pennyslvania. He arrived at his destination about four hours later than planned, but, because he owned the American Express Platinum card, he relaxed for free in the Delta Club lounge while he waited.
© Copyright IBTimes 2023. All rights reserved.
FOLLOW MORE IBT NEWS ON THE BELOW CHANNELS