How Meghan Markle's Perfectionism Hurts Kate Middleton
While recent reports suggest the real royal family feud rests between brothers Prince William and Prince Harry, reports are still swirling about rumored issues between their wives, Kate Middleton and Meghan Markle.
In the March 25 print edition of Life & Style Magazine, it is revealed that Queen Elizabeth II is determined to "play peacemaker" for her two granddaughters-in-law. "She just wants everyone to get along. The queen is extremely fair so she isn't siding with Kate or Meghan…" said a source.
The insider added that reigning monarch is "confident" she can get the relationship between the Duchess of Cambridge and the Duchess of Sussex "back on track." Though, it may not be a simple task.
Read: Meghan Markle 'Out Of Tune' With Prince Harry And Kate Middleton One Year Later
An insider tells the magazine Meghan's desire to see things done her way doesn't sit well with her sister-in-law. "Meghan is a perfectionist who wants things to be done her way, even if it means unintentionally upsetting others [like Kate]," the source told the magazine.
While the two women got along well at first because of their "different personalities," they are now said to only be able to "make awkward small talk" around one another.
The magazine reports that issues between the two started before Megahn's royal wedding to Prince Harry last spring. The Queen is said to believe the two women will reconnect once Meghan and Harry welcome their first baby later this year.
Said a source, "She's a pro at dealing with tricky situations and is confident she'll be able to help Kate and Meghan sort out their differences."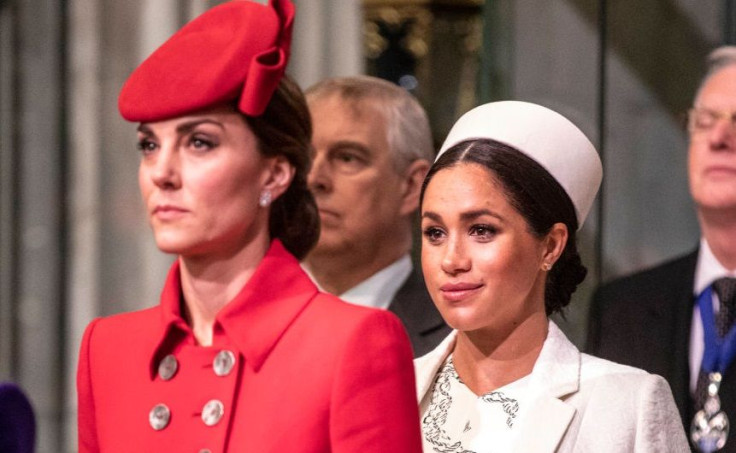 © Copyright IBTimes 2023. All rights reserved.