How Much Time Has Trump Spent At Golf Clubs After Becoming President?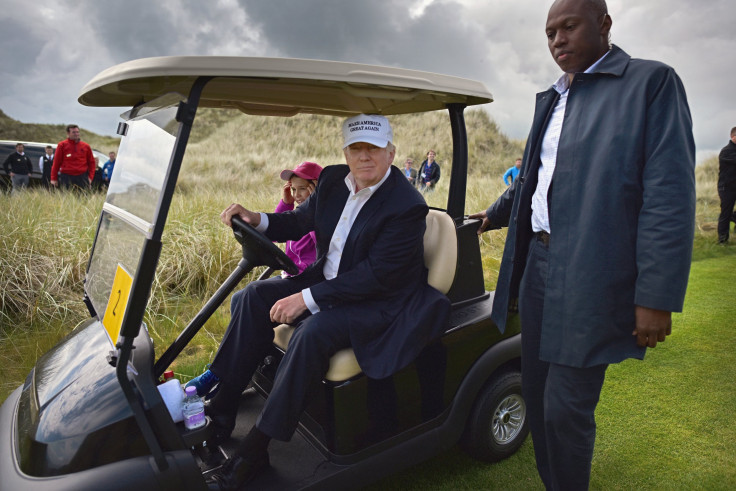 Hours after tweeting that he would be returning to work following the Christmas Day, President Donald Trump was seen at the Trump International Golf Club on Tuesday playing golf with Sen. David Perdue (R-GA), PGA tour player Bryson DeChambeau and former pro golfer Dana Quigley.
"I hope everyone is having a great Christmas, then tomorrow it's back to work in order to Make America Great Again (which is happening faster than anyone anticipated)!" Trump tweeted on Monday.
While he did not play golf on Christmas, choosing to spend the holiday indoors with his family at the Mar-a-Lago resort in Florida, he was seen on the golf course the next day at 9 a.m. EST. One of his golfing partner, Perdue, has been ranked one of the best golfers among elected officials in Washington, the Hill reported.
According to NBC News, out of 341 days that Trump has been in office, he has spent 111 days at various properties owned by him. In fact, Tuesday marked his 85th visit to a golf club after becoming president.
However, out of the 85 visits, how many days Trump actually spent on the golf course playing his favorite sport is another matter altogether. There is no official count of the days the president actually spent playing golf since his administration has gone to extraordinary lengths to ensure that the number remains under wraps.
Nevertheless, according to a tracker maintained by Politifact – last updated on Nov. 13 – the president has played golf 35 times since he took office. The same article also goes on to compare the time that Trump has spent in the golf courses with that of his predecessor, Barack Obama.
During Obama's tenure as the president, Trump sent out the following tweet:
Although the-then business mogul had criticized Obama's tendency to spend his time playing golf during his presidential term, it turned out that in the same number of days that Trump has now spent in the office, Obama took to playing the sport a total of 11 times.
The White House has often defended Trump's "business vacations" that he spent playing golf, stating that the rounds he plays with high-profile lawmakers help him build closer ties to the Congress. Sen. Lindsey Graham (R-SC), who spend back-to-back weekends in October playing golf with the president at his Northern Virginia country club, agreed with the White House's notion.
"I said I want to beat you on the golf course," Graham said in an interview, Politico reported. "But the best thing I can do for you is telling you what I think and be respectful of it. Here's the one thing about playing golf, and you're getting to know someone, you're far less likely to take gratuitous shots because you've spent time with them."
The president had promised during the 2016 election campaign that he would be so busy working at the White House that he would not have time to play golf. "I'm going to be working for you. I'm not going to have time to go play golf. Believe me," Trump said.
Trump will be spending the entire holiday season in Mar-a-Lago with his family, making his way back to the White House in the beginning of January.
© Copyright IBTimes 2023. All rights reserved.