How Popular Is Melania Trump? Latest Poll Shows FLOTUS And First Daughter Ivanka Are Well-Liked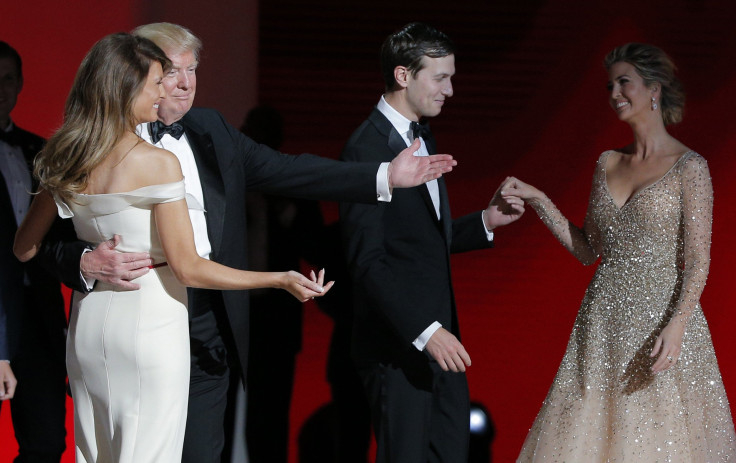 Despite President Donald Trump's mixed popularity, there are two Trump family members that voters do appear to like. A recent Politico/Morning Consult Poll concluded that first lady Melania Trump and first daughter Ivanka Trump were well-liked among the country's voters.
Roughly 47 percent of voters said they maintained a "favorable opinion" of Melania Trump, while 32 percent ruled her as "unfavorable," Politico reported Wednesday. The votes for Trump's eldest daughter Ivanka Trump showed similar numbers. About 49 percent of voters had a favorable view of her, while 30 percent ruled that they were not huge fans.
Where Donald Trump is concerned, the poll determined that the new POTUS was "strongly approved" of by 26 percent of voters, while 28 percent strongly disapproved when it came to his current performance as president. The poll results were comprised of 1,992 registered voters and was conducted between Jan. 20 and Jan. 22.
Politico determined that Melania Trump's numbers grew after her appearance at the Republican National Convention last summer. On the other hand, Ivanka Trump's likability fell by one point from 50 percent following the GOP convention.
Although Ivanka Trump, who recently moved with her family to Washington, D.C., played a big role in her father's presidential campaign, her new role will be to act in an unofficial advisory role. Ivanka Trump's husband Jared Kushner, meanwhile, was named Donald Trump's senior advisor in the White House.
Aside from the occasional speech, Melania Trump, a Slovenian-born former model, has remained relatively quiet following the election. Melania Trump will largely reside with her son Barron Trump in New York as he continues through the school year and it is not entirely certain how her unique role as first lady will unfold over the next four years. More than half of the voters polled wanted to see Melania Trump participate in the new administration.
© Copyright IBTimes 2023. All rights reserved.