How Record Labels Buy Social Media Love From Teenage 'Influencers'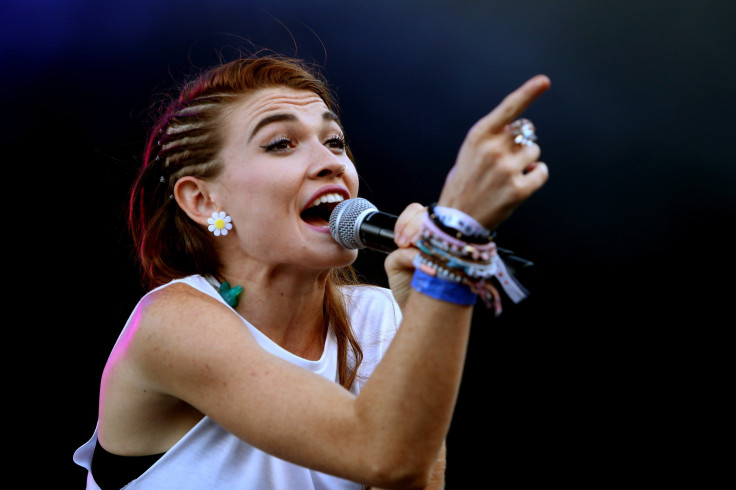 The next time your favorite YouTube or Instagram star squeals with delight about a great new song, it's worth asking whether he or she was paid to do that squealing.
As record labels increasingly lean on YouTube, Instagram and Vine celebrities to break their records — lavishing them with care packages of free music, or plying them with VIP access at concerts or music festivals — a number of them have begun paying those celebrities to play songs, or lip-sync to them, or endorse them in other ways without disclosing they've been paid to do so. It's a legally ambiguous form of promotion, and it's gaining traction, with artists as big as Rihanna having explored it as a way to promote songs and albums.
These social media celebrities, many of them fresh-faced teenagers who have built huge followings largely through the force of their own charisma, have become a favorite new marketing channel for record labels. Young social media stars, executives say, are often more authentic than polished celebrities. Labels, meanwhile, want to attract young listeners, and a plug from a teenage Vine personality with 10 million-plus followers is essentially a high-impact endorsement coming from within their own peer group.
"People trust influencers more than they do celebrities," said Evan S. Aaronson, the CEO of Boomopolis, an influencer network that's executed numerous campaigns for record labels across a number of social media platforms. "They feel like they're your friends. If it's your song they're lip-syncing to, that's great promotion," he added.
Influencer marketing is not new. In many ways, the music industry's embrace of influencer marketing campaigns is just keeping up with the times. As social media platforms like Facebook, Twitter and Instagram have grown into worlds with their own recognizable personalities, they have also become places where marketers can pay to leverage that fame, signing up platform stars as endorsers and pitchpeople. Eighty-four percent of all U.S. marketers said influencer campaigns would be part of their plans in 2015, according to Augure, and 61 percent of them said they were increasing the budget they allotted to it.
"At the end of the day, it's not that different from advertising anywhere else," Aaronson said. "Instead of offering in a magazine that has good circulation, they're advertising their accounts with lots of followers."
But while a marketer hawking an unsexy product will embrace any new platform that comes along, the music industry is loath to admit that it needs to sell what it's selling. Even though a company like Boomopolis can point to plenty of gaudy research statistics, including one that suggests $1 spent on influencer marketing yields $6 in product sales, record labels have felt like they're offering consumers something different.
"They've been hesitant to do this," said Eric Dahan, the CEO of Instabrand, an influencer marketing firm that said his company has done deals with a number of record labels. "They think, 'We don't need to team up with influencers. Our product is cool enough.'"
Dahan declined to name the labels and artists Instabrand has worked with – "They like to keep it close to the vest," he said – but the reality is that most of the labels doing this are keeping it quiet for another reason: It's an effective way to drive interest in an era when it's difficult to cut through the noise, and sales in an era when (most assume) the youngest music listeners don't buy songs anymore.
It's also a way to get a song into millions of young ears. Though the rates for these campaigns vary immensely, a record label can buy 3 million impressions of a song, spread across a handful of influencers' social media accounts, for $10,000.
"The independents absolutely get it," said Reed Berglund, the CEO of Fullbottle, another influencer marketing firm that's worked with Universal Music Group, as well as a number of other independent labels he declined to name. "How many examples does an industry need to change the model on how you break an artist?"
There's no shortage of evidence that artists can launch themselves into orbit on social media. YouTube has given us everything from Justin Bieber to Pomplamoose to OK Go; more recently, the breakout successes of Brooklyn rapper Bobby Shmurda and Canadian pop singer Shawn Mendes can be traced not to radio airplay or well-timed ad placements, but to Vine, where things like Shmurda's "shmoney dance" became cultural phenomena that caught the attention of superstars like Bieber.
But in the last couple of years, it's become clear that social media celebrities, even those who owe none of their fame to music, have the power to mint music stars too. In 2014, a single by the Chainsmokers called "#Selfie" blew up on YouTube, thanks to a video that was heavily promoted by a number of social stars, including Nash Grier, the North Carolina teenager who rose to fame on Vine in 2013 and now has more than 12 million followers.
"When [Grier] tweeted the video to his fans, no one got a bigger reaction, not even David Hasselhoff," Chainsmokers member Alex Pall told USA Today. "He was, by far, the most recognized person in the whole video."
That viral success helped launch the Chainsmokers from obscurity into a comfortable place on the charts. Their most recent release, "Roses," has been on the Billboard Hot 100 for more than two months; as of last week, it had climbed up to No. 9.
It also prompted others in the space to build businesses . A record label called Heard Well, co-founded by YouTube celebrity Connor Franta, claims some responsibility for launching the careers of artists including Odesza, Bastile and Capital Cities.
All that success was enough for labels to start buying influencer help. Interscope Records, the label that Apple Music executive Jimmy Iovine put on the map, paid Boomopolis for posts promoting music by one of its new artists, Jason French. Republic Records, the label group responsible for almost 25 percent of last year's radio hits, used the service to promote artists including Somo.
Photo Finish Records, which is part of Universal Music Group, has been an enthusiastic proponent of influencer marketing, paying to promote singles by nearly every artist on its roster, including MisterWives, the Mowglis, Marian Hill and Handsome Ghost.
According to Aaronson, representatives for Rihanna's record label, Def Jam, explored the possibility of using influencer networks on a number of occasions, including looking into promoting the phrase, "four, five seconds" from the song she made with Kanye West and Paul McCartney.
While few companies are enthusiastic about discussing their marketing strategies, both labels and influencers appear to be interested in keeping this work quiet. Representatives for Roc Nation, Rihanna's management, did not respond to requests for comment. Photo Finish did not respond to requests for comment. Interscope Records responded to initial questions by claiming it had never heard of the company that executed all of its campaigns.
It's possible that both the influencers and the labels want to avoid looking like they're shilling for products that fans should be gravitating toward naturally. But they also may want to avoid being caught doing something that could be viewed as illegal. The Federal Trade Commission Act prohibits "deceptive" native advertisements, which it defines as messages that "convey to consumers expressly or by implication that they're independent, impartial or from a source other than the sponsoring advertiser — in other words, that they're something other than ads."
Most of these posts, which consist of an influencer lip-syncing to, or dancing along to the songs, could be regarded as examples of product placement, which publishers do not need to disclose. But more than a few posts include links to download stores, which could be regarded as endorsements, and could open the labels up to investigation, provided it's determined that the influencer's young audience doesn't know that they're looking at an advertisement.
"We evaluate ads from the standpoint of the audience to whom they're directly addressing," Mary Engle, director of the FTC's Division of Advertising Practices, said, speaking generally about what the FTC looks for in weighing investigations; the office does not comment on specific pieces of content. "The level of sophistication of the intended audience does matter."
While this phenomenon is only a few years old, it has already begun to grow and evolve, as different platforms fall in and out of fashion. "YouTube was the primary focus over the last five years," said Berglund, Fullbottle's CEO. "You're now seeing Instragram leading the way."
Months or years from now, it could be Snapchat. Mike Metzler, a content strategist with the influencer network Delmondo, said users on that fast-growing network are already experimenting with ways of using the platform that could wind up being monetized down the road.
Aaronson of Boomopolis said Instagram celebrities who are tapped for these campaigns will often delete the posts after the campaigns have run their course.
No matter what it grows into, the finished product will be part of a broader trend of labels, which are more dependent on hits than ever, looking for any advantage they can find to get their music out there.
"At one point, labels were very paranoid about doing anything that could be perceived as payola," said William Hochberg, an entertainment attorney with the firm Greenberg Glusker Fields Claman & Machtinger, LLP. "It appears that things have slipped back to an earlier time."
© Copyright IBTimes 2022. All rights reserved.
FOLLOW MORE IBT NEWS ON THE BELOW CHANNELS