HTC One X vs Nokia Lumia 900: Would You Prefer An Android Candy Or A Windows Dessert?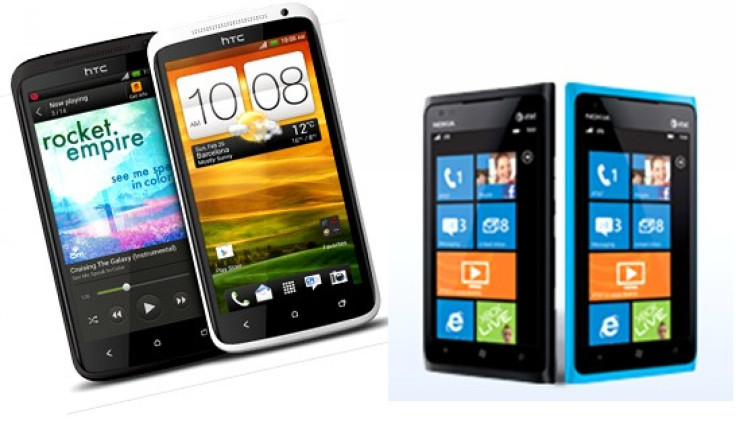 While Samsung and Apple are still tight-lipped about their plans to release their next flagship smartphones in the market, other major phone manufacturers are taking full advantage of the whole market situation and delivering their best bets to consumers.
In a recent development, Taiwanese smartphone maker HTC and Finnish phone manufacturer Nokia, have debuted their latest offerings - One X and Lumia 900.
Despite the fact that, HTC One X is an LTE device featuring the latest version of Android, Ice Cream Sandwich 4.0, at the same time, Nokia Lumia 900 is a Windows 7.5-powered smartphone. So they both are on totally different concepts, logically attracting different set of consumers. However, a first time buyer, who has neither experienced an Android phone or a Windows phones, or anyone who would like to replace their existing OS phone with a new upgrade may choose either of the two. Hence, there is fierce competition among the two smartphones when preference of an operating system is concerned.
It is known to all that Nokia Lumia 900 has already made a push toward the US market and has occupied the retail space all around the country. After the phone launch, supported by wireless carrier operator, AT&T, Lumia 900 topped the Amazon.com smartphone sales charts in the United States recently. And the company also revealed in the news reports, that Nokia this week sold around 2 million Windows Phone-based Lumia devices in the first quarter.
However, soon after the release of Lumia 900, the phone got caught up with few controversies related to its connectivity issues. Responding to this issue, Nokia released a statement on Wednesday, this week, informing that the company has identified a software issue that caused the glitch. A software bug was reported which was said to be the reason for the loss of data connection in some Nokia Lumia 900 units.
Against this, Nokia has now promised to provide users with two options: install the software update via Zune on or around April 16; or switch their current Lumia 900 for a new device.
With either option, Nokia said it would offer a $100 credit on users' AT&T bills as a gesture of good will.
On the other side, HTC One X was launched in theUK last week. However, the company has shared no word on the US date launch. Although, recent news reports have emerged which are claiming that Roger is all geared to sell HTC One X, but in Canada. The carrier is already taking pre-orders for the phone, with pricing coming in at $169.99 with the Canadian-standard three-year contract. Hence, it can be assumed that HTC One X would reach the US market by as soon as end of April.
Hence, Which One Do You Prefer To Buy, the Android latest version ICS HTC One X or the Windows 7.5 Mango powered Nokia Lumia 900? Here is a spec to spec comparison of both the smartphone. Take a look at the features and decide and do share your opinion over here as well.
Form Factor
The Lumia 900 sports rounded edges and flat top and bottom look, has a vivid display of 4.3-inches Clear Black AMOLED with 480 x 800 pixels of resolution. On the other end, HTC One X features 4.7-inch Super IPS LCD2 touchscreen with 720p resolution. HTC One X has a candybar forma factor and outruns Lumia 900 in screen comparison test as it has superior screen with pixels density of 312ppi as compared to Lumia's screen with 217ppi pixel density. Both the phones come backed by Corning Gorilla Glass protection.
Further, Nokia's latest handset has have dimensions of around 127.8 x 68.5 x 11.5mm with a weight of 160 grams, while HTC One X figures dimensions of around 134.4 x 69.9 x 9.3 mm and weighs about 130 grams
Camera
Lumia 900 packs the same 8 megapixel primary camera as Lumia 800, complete with a Carl Zeiss lens at 3264 x 2448 pixels of resolution including features like autofocus, geo-tagging, dual LED flash and 720p video capture. Lumia 900 features the addition of a 1 megapixel rear facing camera, from its predecessor.
One X gives a head to head competition with its 8 megapixel camera and LED flash support. It records 1080p videos at 30fps with stereo sound recording. Further, it scores high with its VGA 1.3-megapixel camera in the device that is capable of recording 720p videos.
Processor and RAM
HTC One X is known for its quad-core 1.5 GHz Tegra 3 processor. It has 1GB of RAM and 16/32GB of internal storage. Surprisingly, there is no expandable memory option in One X. Also, the AT&T variant of One X will be dual-core only, based on Qualcomm Snapdragon chipset.
Turning to Nokia Lumia 900, it sports the regular 1.4 GHz Scorpion processor. It has 512MB of RAM and 16GB of internal storage. Unluckily, Lumia 900, like HTC One X, lacks microSD card slot.
Operating System
This is the most prevalent and the hottest difference between the two smartphones. HTC One X runs the latest Android OS version 4.0 dubbed Ice Cream Sandwich (ICS) topped by HTC Sense UI version 4.0. Additionally, HTC offers 25GB of Dropbox storage free for 2 years, Beats Audio integration and enhanced video and photo capabilities.
Whereas, Nokia Lumia 900 comes to fight against all with the Windows Phone 7.5 Mango, which boasts features like dynamic Live Tile Information, Twitter and LinkedIn integration in the People hub, Facebook-events integrated calendar, threaded email conversations support, visual voicemail, Outlook tasks support and much more. Other features of the OS include Shazam-like audio recognition, turn-by-turn Bing Maps navigation with voice guidance, Skydrive and Office 365 documents synchronization with PDF support, Microsoft Lync support, animated picture tiles, People/Groups gallery with Skydrive and Facebook sync, People Hub-integrated photo management, Zune SmartDJ multimedia mix support, video aspect ratio control capability while playback and more.
Wi-Fi, Bluetooth, WLan
In the following segment, HTC One X features Wi-Fi with DLNA sharing and hotspot functionality, Bluetooth version 4.0, NFC, assisted GPS and microUSB version 2.0 with MHL support. There is no FM Radio support in One X.
Nokia Lumia 900 sports an 802.11 a/b/g/n Wi-Fi connection and has 2.1+A2DP Bluetooth, the Focus S has 3.0+A2DP, EDR Bluetooth.
Battery Life
The HTC Titan II has an 1800mAh battery. Compared to this, the Nokia Lumia N900 has a standard Li-lon 1800 mAh battery with up to 300 hours of stand-by, 7 hours of talk time and 60 hours of music play.
Price
HTC One X got released in the UK through T-Mobile network on around $65 (£41) per month plan (for 24 months) which include unlimited internet, texts and minutes to any network. At the same time, the device is also available from O2 for approximately $749 (£472), with an upfront cost of about $126 (£79.99) and around $49 (£31) per month on a two-year contract.
Also, Vodafone UK is offering the HTC One X handset on a $65 (£41) per month tariff for free with a set of dedicated plans both in white and grey colored variants. Further, the SIM-free editions of this handset are available on Amazon for around $780 (£489.99).
As far as Lumia 900 pricing is concerned, Nokia initially dented the market with their deal for the handset with AT&T wireless carrier at a price of approximately $100. However, consequently, research firm IHS iSuppli did an analysis recently and informed that with the Finnish firm saving on processor and memory cost, the materials of Lumia 900 would cost around $209, some 46 percent of its retail price.
© Copyright IBTimes 2023. All rights reserved.