Human Rights Lawyer Amal Clooney Reportedly Charges $750 An Hour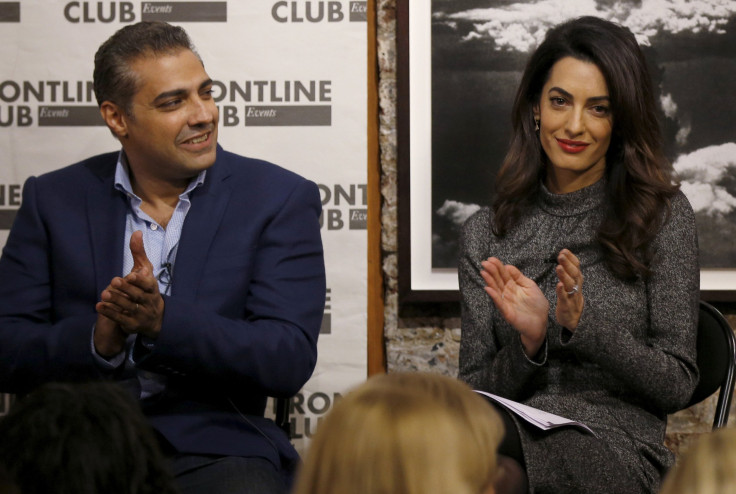 Amal Clooney reportedly charges $750 an hour for her services. The human rights lawyer, who works at Doughty Street Chambers, has many high profile clients. A retired lawyer, who asked not to be named, called Beirut-born Amal a rising star in the legal world.
"That does seem to be a high fee. That works out as 4,000 pounds a day, he said. The retired lawyer added that there are no set rates but usually barristers charge anything between 200 pounds to 300 pounds an hour.
However, he told that the very best people can charge more. The British-Lebanese lawyer is in demand and has raised her hourly rate. According to The Sun, the rate is just Amal's hourly rate for consultation.
The 37-year-old human rights lawyer launched a new annual scholarship for women from Lebanon in Dec. 16. The scholarship will fund the secondary education for one girl from Amal's home country every year. The 37-year-old teamed up with the 100 Lives charity to provide young girls equal opportunities in education.
The Amal Clooney Scholarship is part of an ongoing effort by the charity to strengthen cross-cultural education and understanding through collaborative social and philanthropic projects. The scholarship will offer one young woman each year the chance to enrol in a two-year international baccalaureate programme. The recipient will be sent from Lebanon to United World College in Dilijan, Armenia for higher studies.
The "Tomorrowland" star George Clooney's Not On Our Watch foundation is also a partner to the initiative. They aim to focus public attention on the impact of genocide and work to prevent mass atrocities around the world.
Meanwhile, Cindy Crawford gushed about Amal in an interview with ETalk Canada. She is a longtime friend of the human rights lawyer's actor. The newly minted author of "Becoming" spoke about the 37-year-old barrister. Cindy also spoke about the close relationship she and her husband, Rande Gerber, shared with George and Amal.
"Amal is obviously beautiful but she's the whole package. Now George has this woman that he's really in love with and she's smart and engaging," said the 49-year-old model. She added that she loved seeing George with a "real substantial woman."
© Copyright IBTimes 2023. All rights reserved.