Hurricane Harvey's Severe Flooding Traps Houston Residents, New York First Responders Add Help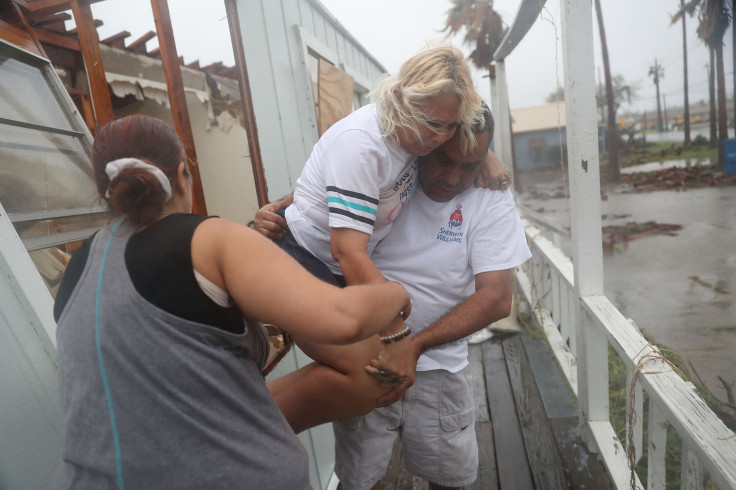 Torrential rain from Hurricane Harvey has caused record and catastrophic flooding in Houston after rampaging the southeast coast of Texas. The tropical storm has killed at least five people and forced widespread evacuations of apartment complexes, the National Weather Service reported Sunday.
Hurricane Harvey, which hit the Texas coast on Friday, has dumped 20 to 30 inches of rain on the Houston area after the 100-mph-winds downed trees and power lines in Corpus Christi and other areas along the Texas coast.
"This appears to be either the worst or one of the worst floods Houston has ever had. We are measuring it not in inches but in feet," Texas Gov. Greg Abbott said on "Face the Nation."
"As you probably have seen, there are countless water rescues. Our first and foremost focus at this particular time is saving lives. And so we are working on as many water rescues as we possibly can and trying to find ways to get people out of harm's way."
Hurricane Harvey's flooding is expected to continue for days, according to reports, with rainfall amounts potentially reaching between 40-50 inches. With the possibility of tornadoes on the horizon, it could result in one of the most damaging U.S. natural disasters in years, prompting relief efforts from around the country.
The New York Fire Department and New York Police Department has sent a task force to Houston to help Harvey victims. The task force being deployed to Houston comes bearing food, supplies and tools to aid the residents. The NYFD posted information about its task force on Facebook Sunday, saying, "We are set to stage in San Antonio and we're going to await orders depending on the severity of the damage. We are set up for all types of rescues."
New York, which was ravaged by Hurricane Sandy in 2012, has stepped up emergency teams to aid Texas.
"New York City is sending 120 emergency personnel to Texas to assist in the aftermath of Hurricane Harvey," New York Mayor Bill de Blasio wrote on Twitter Sunday. "The FDNY's Incident Management Team and our Urban Search and Rescue Rapid Response Team will assist authorities on the ground.
De Blasio added: "After Superstorm Sandy, so many cities stepped up to help our people. We'll do all we can to help those affected by this storm."
Florida will also send a rescue team to the scene, as the Fire Department in Orlando tweeted about its relief efforts Friday. The organization wrote, "Our Florida Task Force 4 — Urban Search and Rescue team is ready when needed to deploy to help with those impacted by #HurricaneHarvey."
Florida's Harvey relief task force also includes firefighters from the Orange County Fire Rescue and the Seminole County Fire Department, according to the Orlando Sentinel.
Houston Mayor Sylvester Turner had asked the Red Cross to open two shelters in wake of the tropical storm.
"Opening shelters for Houstonians is the next step in calm care for our city as we face the prospect of several days of heavy rain," Turner said in a press release. "We want to assure people who live in flood prone areas, as well our most vulnerable residents, that resources will be available if they need them.
"With the experience of the American Red Cross on our side, we will continue to muster every available resource to protect all residents as much as possible from this very unpredictable threat."
The Red Cross will reportedly open a third shelter soon at an unconfirmed location and is also seeking monetary and blood donations.
Follow me on Twitter @dory_jackson
© Copyright IBTimes 2023. All rights reserved.