Hurricane Olivia: Tropical Storm Watch Issued In Hawaii, Heavy Rainfall, Landslides Expected
As Category 1 Hurricane Olivia continued to move west towards the islands, 595 miles east-northeast of Hilo, a storm watch was issued Sunday for Oahu, Maui County, and Hawaii County, in Hawaii.
"On the forecast track, the outer circulation of Olivia will likely approach the main Hawaiian Islands on Tuesday, with tropical storm conditions possible over some areas starting Tuesday night," the Central Pacific Hurricane Center (CPHC) reported.
The watch included areas such Big Island Interior, Big Island North and East, Big Island Summits, Central Oahu, Haleakala Summit, Kahoolawe, Kohala, Kona, Lanai Makai, Lanai Mauka, Leeward Haleakala, Maui Central Valley, Maui Leeward West, Maui Windward West, Molokai Leeward, Molokai Windward, Oahu Koolau, Oahu North Shore, Oahu South Shore, Olomana, South Big Island, Waianae Coast, Waianae Mountains, and Windward Haleakala, local outlet Honolulu Star-Advertiser reported.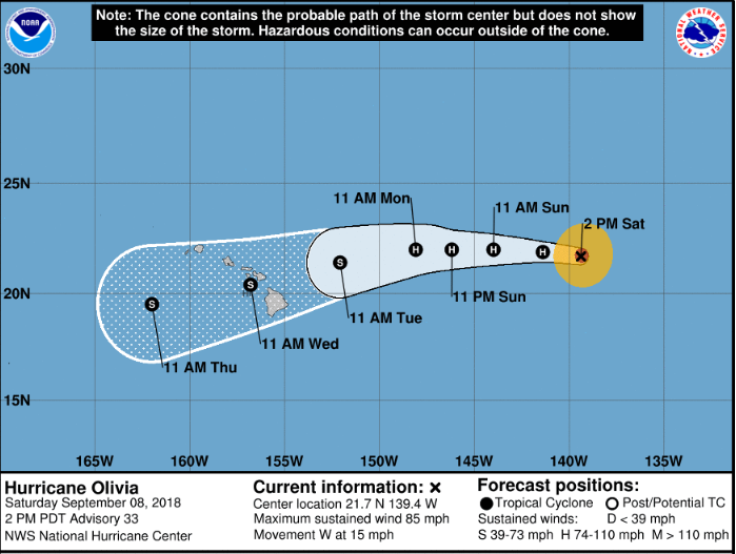 "It is too early to specify where the most significant impacts will occur," the National Weather Service (NWS) said. "However, it is important to remember that the mountainous terrain of Hawaii can produce localized areas of strongly enhanced winds and rainfall, even well away from the tropical cyclone center."
Although Olivia is believed to weaken to a storm before it reaches the Hawaiian Islands, it is expected to carry wind speeds between 70 and 60 mph. Islands in the projected path have been warned to brace for impacts such as intense flooding, rainfall, damaging winds, large and dangerous surf, and storm surge.
"Weaker structures across the state, termite-damaged structures could be vulnerable to these types of winds," Meteorologist Eric Lau said, local news outlet Khon 2 reported. "Also heavy rainfall. We can expect 10 to 15 inches of rain anywhere across the state, so flooding conditions are also a possibility, landslides, mudslides. Especially with what happened with Hurricane Lane, Big Island, Maui County, they've been flooded. Conditions are saturated enough that any flooding could really take a toll on those islands."
The NHC added that some parts of the Hawaiian Islands may experience damaging winds as early as Tuesday afternoon or evening.
Hawaii Governor David Ige signed an emergency proclamation in anticipation of Hurricane Olivia on Sunday. "Even if Olivia arrives as a Tropical Storm, as predicted, Hawai'i is in danger of experiencing high winds, heavy rains, high surf, storm surges and flooding that threaten to harm communities and cause extensive damage to public and private property across the state," a news release read.
"The proclamation declares the counties of Hawai'i, Maui, Kalawao, Kaua'i and the City and County of Honolulu disaster areas for the purpose of implementing emergency management functions. The proclamation also authorizes the expenditure of state monies as appropriated for the speedy and efficient relief of damages, losses, and suffering resulting from Hurricane Olivia," it added.
Ige said: "We're monitoring this storm closely and taking steps now to ensure that we're prepared for its impacts to the state. A tropical storm could bring heavy rain and flooding, especially in places that are saturated from previous storms. Now is the time to prepare."
Mayor of Honolulu also warned the citizens of the island to be vigilant. "I don't think we should let our guard down. You saw what happened when (Hurricane) Lane became a tropical storm: The Big Island got pounded. Kauai got pounded," he said.
© Copyright IBTimes 2023. All rights reserved.
FOLLOW MORE IBT NEWS ON THE BELOW CHANNELS