Ian Somerhalder Disses Nina Dobrev Split While Discussing 'Vampire Diaries' Season Five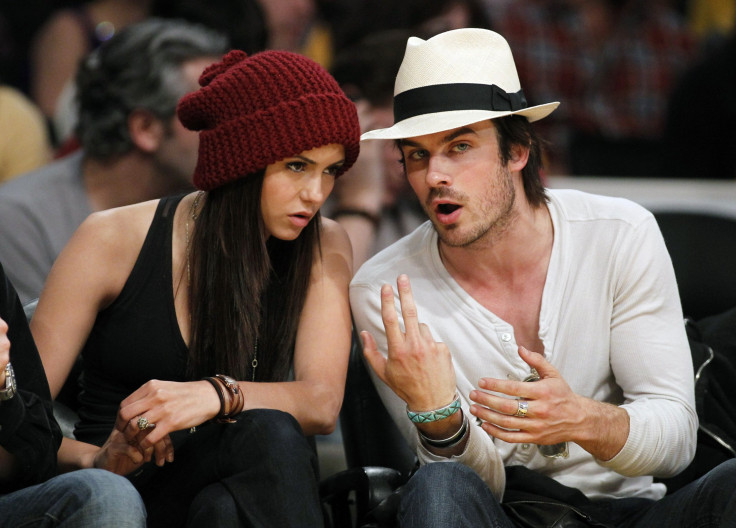 Following reports that co-stars and former off-screen lovers Ian Somerhalder and Nina Dobrev are keeping separate on the set of the hit CW show "The Vampire Diaries," hints of more on-set tension were revealed Wednesday.
Somerhalder, who recently began shooting season five of the program, hasn't been shy about revealing on-set antics on his Twitter account. But it was a comment released yesterday that has fans of his former relationship with his 24-year-old co-star that is gaining the most recognition. "Wrapped-crazy to be back on these stages in Georgia. Wow, so many memories here. Season 5-this show has lasted more than most Marriages... [sic]" Somerhalder tweeted following his split from Dobrev after three years of dating.
Social media wasn't the only platform the 34-year-old actor used to taunt his former lover. Just one month after their breakup, Somerhalder discussed his dream woman with Women's Health magazine, expressing his desire to be able to seduce women as easily as his "Vampire Diaries" character, vampire Damon Salvatore. "If it that easy, life would be so much simpler!" he said, also revealing a women's guide on how to seduce him. "Lingerie ... but when it's off [and] crumpled up on the floor," he said. "When someone can dance or you have rhythm with someone, it's really sexy."
Though neither actor has publicly discussed their breakup, Somerhalder did comment on the difficulty of splitting from a partner. "There are a million ways to handle it," he said. "You have wine, you have exercise, you have meditation, you have friends. You know, friends can be your meditation."
Friend of the former pair, MTV "Teen Wolf" star Colton Haynes, confirmed the famous couple's split in June during an interview with Entertainmentwise. "Oh, they are actually. I forgot [about that]. I'm sure they're really great friends," said Haynes, who also hinted at a possible reconciliation. "I think you always have love for someone. Every time you're in a relationship, when you get out of one, I always think you still have a little bit of love left," he said.
Season five of "The Vampire Diaries" is scheduled to premiere Oct. 10 on the CW.
FOLLOW MORE IBT NEWS ON THE BELOW CHANNELS