IHOP Manager Stopped Boy Without Arms From Sitting At Table, Woman Claims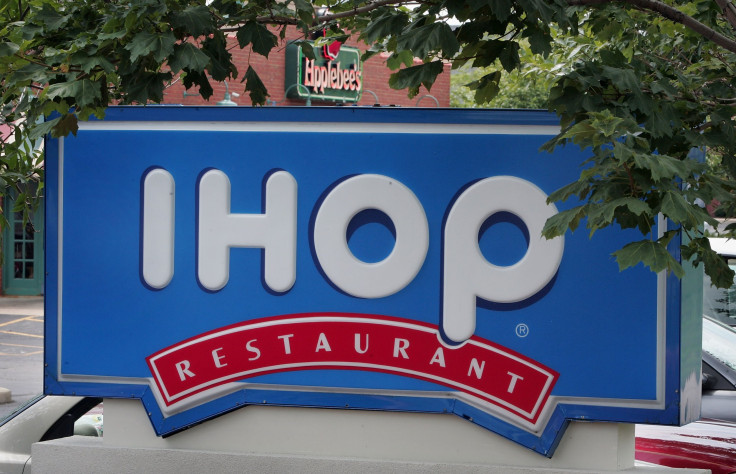 An Arkansas woman claimed an IHOP restaurant discriminated against her three-year-old son who was born without hands and, therefore, uses his feet to eat food.
Alexis Bancroft posted details about the alleged incident on Facebook, which went viral before it was taken down. In the post, she claimed the manager of an IHOP restaurant in Hot Springs, Arkansas, told her son, William, he could not sit on the table or touch syrup containers when Bancroft had gone there to enjoy a meal with her family.
The manager's reason behind banning William was his action would violate the health department rules.
"When we got there, I carried him in, took him to the bathroom and washed his feet so he could eat. I asked the manager, 'Do you ask all of your customers if they washed their hands before they touch them?'" Bancroft told NBC-affiliated KARK.
"He's three years old. That's all he knows. That's what he was taught from therapy," Bancroft added. ""She was the one who discriminated against my son for having a physical disability."
Bancroft said all her son wanted was pancakes but they never got around to ordering them as the family left immediately after experiencing the alleged discriminatory behavior, without paying for their drinks.
The unnamed manager reached out to Bancroft on Facebook, saying, "I really think this was all a misunderstanding. I would never do that to your son intentionally or otherwise. That's not what I was trying to do."
However, the damage had been done, Bancroft claimed.
"The very next day, he didn't want to sit on the table to eat. He wanted to sit in a chair, which he can't really do," Bancroft said. "Other people may think it's not a big deal, but that is my child,' Bancroft said. I'm his advocate, and you're not going to treat my kid like that."
Bancroft also added a few of the servers at the facility read her social media post and reached out to her, offering their sincere apologies.
One of them wrote: "Hello I'm a server at IHOP and was there today when y'all were in there. I just wanted to tell you how deeply ashamed I am of what happened to your child today. Me and a few other servers were completely SHOCKED that our manager did that."
In a statement from corporate, IHOP President Darren Rebelez said:
"IHOP and our franchisees do not tolerate actions that are or allude to discrimination of any type. The franchisee at this location has been in touch with the guest to express his sincerest apologies and will continue to be in communication with her to resolve the issue."

"Additionally, the franchise will also retrain his team members to ensure IHOP's level of service, particularly regarding guests with disabilities, is provided to all. For 60 years, IHOP and our franchisees have strived to create a warm and hospitable dining experience for all guests, and this incident is not reflective of that ongoing commitment."
This is not the first instance this year that IHOP has made headlines for all the wrong reasons. Earlier this month, a group of transgender activists claimed they were refused service at an IHOP restaurant in Nashville, Tennessee. They also alleged none of the servers took their order in the 30 to 45 minutes they were at the restaurant. Instead, some of the employees snickered and laughed at them.
Also, back in March, an IHOP manager of one of its Maine outlets issued an apology after a server allegedly asked a group of African-American teenagers to pay for their meals upfront. However, at the time, the manager claimed the behavior of its accused employee was not racially motivated and he was simply worried the teenagers would take off without paying their $100 bill.
© Copyright IBTimes 2023. All rights reserved.