'Immigration' Appears Only In Spanish-Language GOP Response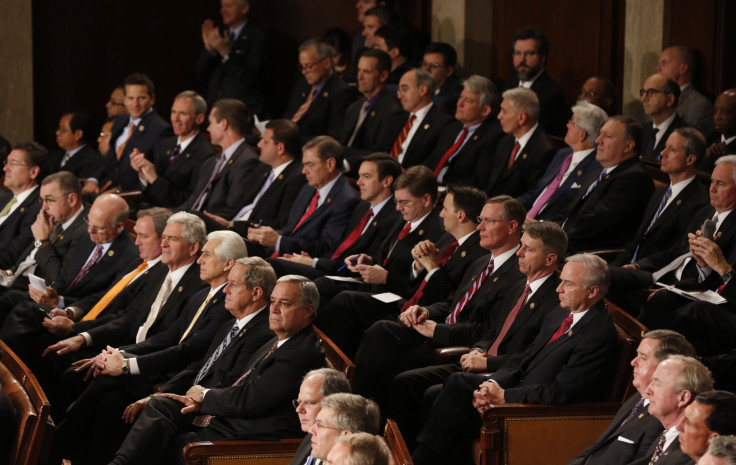 WASHINGTON -- The Republican Spanish-language response to President Barack Obama's State of the Union address included something the English-language speech didn't: a reference to immigration. The contentious issue has driven a wedge between Obama and the Republican-controlled Congress, and the split on the GOP side may have been on full display Tuesday night.
Iowa Sen. Joni Ernst delivered the Republican response and never once mentioned "immigration" or "border." She didn't talk about passing a comprehensive immigration plan through Congress, as the president has called for. Or about the GOP plans to try to reverse the executive orders Obama signed in November that gave legal status to 5 million undocumented immigrants.
But in a Spanish-language response speech, which the GOP had indicated was going to echo Ernst's address, Republican Rep. Carlos Curbelo, of Florida, did talk about immigration, as the liberal American Bridge super PAC was quick to point out.
"We should also work together through the appropriate channels to create permanent solutions for our immigration system, modernize legal immigration and strengthen our economy," Curbelo said in Spanish. "In the past, the president has expressed support for ideas like these, now we ask him to collaborate with us to get it done."
Immigration has been one of the most decisive issues in Washington in recent months. Last week, House Republicans passed a spending bill for the Department of Homeland Security, which runs out of funding on Feb. 27, that also includes a provision to undo all of the president's executive orders on immigration. It's setting up what could be a nasty showdown at the next of next month.
It might be one of the most telling signs of the intra-party divide among Republicans about how to tackle immigration and their uncertainty about how to discuss the issue publicly. House Speaker John Boehner has expressed a desire to see a comprehensive bill passed that would address problems with the nation's immigration system. Groups like the U.S. Chamber of Commerce and other GOP-aligned business organizations have endorsed passing a comprehensive immigration bill.
But hardline opponents within his party have stymied any efforts. Ernst has taken a more aggressive position against immigration, calling the bipartisan proposal that passed the Senate "amnesty" and advocating instead for securing the borders before granting status to the people within the nation already. But she did say she wouldn't fight letting "Dreamers," or the illegal immigrants brought to the country as children, remain -- a proposal Obama made official through executive order.
© Copyright IBTimes 2023. All rights reserved.