Immigration Reform 2016: Do Federal Raids Need Warrants? Undocumented Immigrants Denied Civil Rights, Advocates Say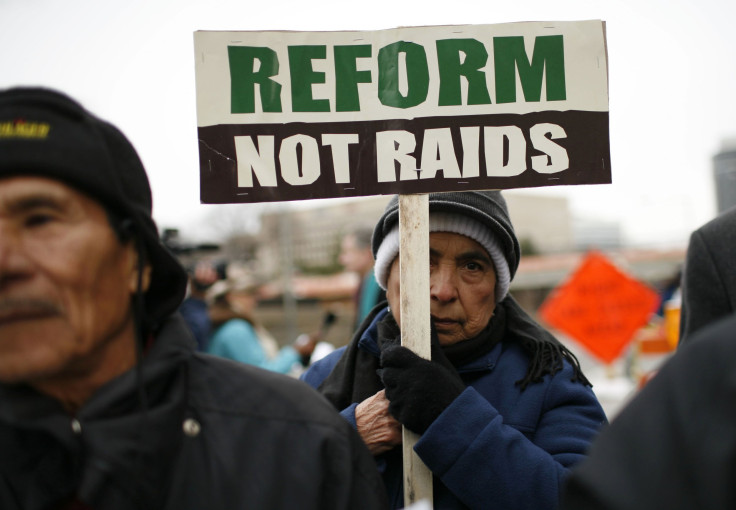 As part of a nationwide crackdown targeting undocumented immigrants who had crossed the U.S. border illegally, federal immigration authorities carried out raids in Atlanta, North Carolina and Texas without warrants, according to a report released Thursday by a pair of civil rights groups, the Atlanta Journal Constitution reported. The authorities entered people's homes without their consent and denied women access to their lawyers.
The report, released by the Southern Poverty Law Center and the Georgia Latino Alliance for Human Rights, also alleged that women were instructed to sign legal documents they did not understand, mothers and children with valid claims to immigration relief were detained before exhausting their legal options and that the U.S. Immigration and Customs Enforcement (ICE) had previously granted many of the detained women permission to remain in the U.S. Furthermore, the report contended that ICE had focused the raids in jurisdictions with weak due process protections.
Seventy-seven of the 121 adults and children arrested in the raids this month have been deported, according to the report from the Atlanta Journal-Constitution. President Barack Obama's administration reportedly said it was specifically focusing on adults and children who were caught illegally crossing the border after May 1, 2014 and who had been ordered to be deported.
"The tactics employed by ICE agents also raise serious legal questions," the Southern Poverty Law Center and the Georgia Latino Alliance for Human Rights said in their report. "The United States must address the humanitarian crisis in Central America, not resort to unconstitutional tactics that punish those we are bound by law to protect."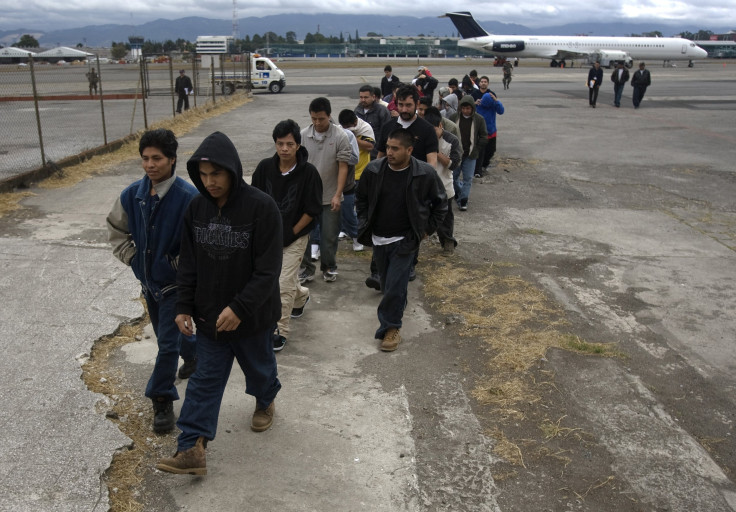 ICE has re-buffed the claims that its agents had entered people's homes without consent and asserted that it does not need warrants to carry out immigration judges' orders. ICE also said those who were arrested might have been out of touch with their attorneys for up to two hours while they were being transferred between facilities.
Many advocates have criticized the government's raids, as many Central American families are fleeing poverty and gangs in El Salvador, Guatemala and Honduras. Immigration watchdogs have expressed doubt that the government's actions will put a large dent in the population of those living illegally in the U.S.
"It just doesn't seem right to send back women and children who were truly fleeing for their lives, especially since the Obama administration rigged the system against these people," said Charles Kuck, an Atlanta immigration attorney, the Atlanta Journal Constitution reported. "You are enforcing the law, but you are doing it at the consequence of human rights."
U.S. Homeland Security Secretary Jeh Johnson defended the enforcement efforts Monday during a speech to the Rotary Club of Atlanta Monday.
"I know there are many who loudly condemn our enforcement efforts as far too harsh," he said, "while there will be others who say these actions don't go far enough," said Johnson, the Atlanta Journal-Constitution reported. "I also recognize the reality of the pain that deportations do in fact cause. But, we must enforce the law consistent with our priorities."
© Copyright IBTimes 2023. All rights reserved.
FOLLOW MORE IBT NEWS ON THE BELOW CHANNELS