Indiana Bans Most Abortions With Gov. Holcomb's Signature
Indiana has officially become a state with some of the strictest abortion laws after Republican Gov. Eric Holcomb signed a bill making the practice illegal with few exceptions into law on Friday night.
"Following the overturning of Roe, I stated clearly that I would . . . support legislation that made progress in protecting life," Holcomb said of the law.
The new law will go into effect beginning Sept. 15, and only hospitals or hospital outpatient centers will be able to provide services. Axios reports that the law also says those who perform illegal abortions or do not report them will lose their license.
There are very few exceptions to who can obtain an abortion in the new law. They do include incest, sexual assault, a fetus being unviable and if there are risks to the woman giving birth. When the bill goes into effect, all abortion clinics operating in the state will lose their licenses.
Prior to the new law, abortions will be legal in the state for up to 20 weeks, according to CNN.
After signing the bill Holcomb celebrated, saying he is "personally most proud of each Hoosier who came forward to courageously share their views."
"For my part as your governor, I will continue to keep an open ear," he added.
However, some Indiana Republicans feel the bill is not strong enough, with state Rep. John Jacob saying "the body inside of the mom's body is not her body. Not her body, not her choice," and that the bill still "allows babies to be murdered," according to the Washington Post.
In response to the Indiana bill passing, White House Press Secretary Karine Jean-Pierre said it was "a devastating step." She also clarified that federal law still supersedes state law protecting people who need abortions.
"It's another radical step by Republican legislators to take away women's reproductive rights and freedom," Jean-Pierre said.
The bill also puts "personal health care decisions in the hands of politicians rather than women and their doctors," she said.
Some states want to pass laws where an abortion ban would go even further. In response, the White House took action. Federal law requires local health care providers to save lives by providing abortion even if states ban such procedures.
Texas recently sued the White House over the action while Kansas voters acted to keep abortion legal earlier this week.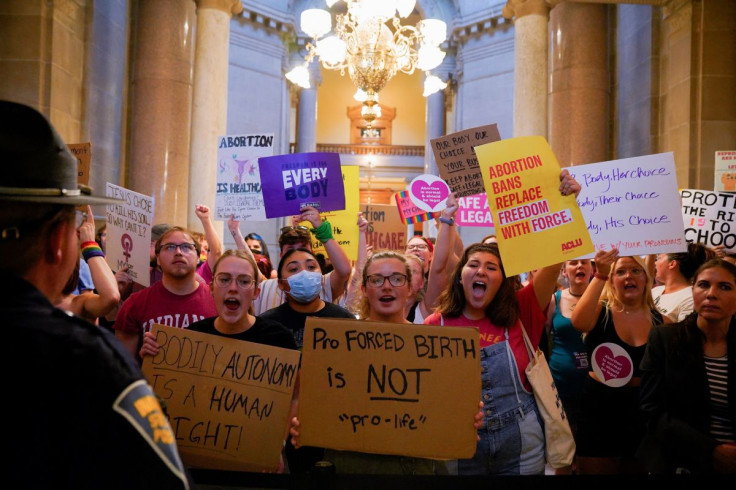 © Copyright IBTimes 2022. All rights reserved.
FOLLOW MORE IBT NEWS ON THE BELOW CHANNELS