'Insatiable' Star Debby Ryan Gets Honest About Emotional Bikini Scene
Debby Ryan stars as Patty, a teenager who recently lost 70 pounds after having her jaw wired shut, on Netflix's latest original series, "Insatiable." As a darkly-humored satire, the show aims to bring the laughs, but it's not without its emotional scenes. One of the most notable ones comes in the form of a bikini-shopping scene in episode 5. It's not just an emotional one for viewers, but for Ryan, as well.
Before heading to the store, she and her best friend Nonnie (Kimmy Shields) are looking over a poster for Patty's bikini dog wash charity event, which features women in bathing suits. Patty laments about how she wishes she looked like these girls and how she'd still have to "lose like a hundred pounds before I would even think about getting into a bikini." Despite Nonnie telling her how great she looks, she doesn't believe it herself.
When the two later go shopping for a bikini for Patty, she still doesn't see in the mirror the same person that Nonnie sees when she looks at her. Nonnie checks in on her best friend and opens the dressing room curtain to find a bikini-clad Patty sitting in the corner, crying, with her arms hiding her stomach.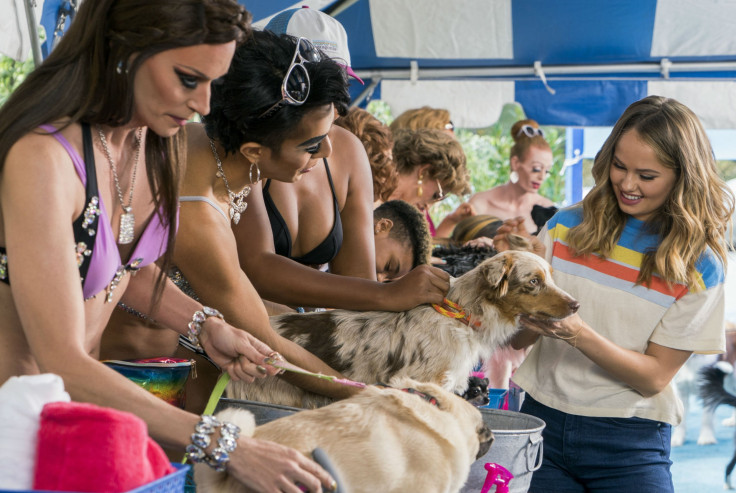 "I'm gross," Patty tells her through tears. She continues to say mean things — "disgusting and fat" — about herself before Nonnie demands that she stops "being mean to my best friend." Ryan was able to bring a lot of her own personal experiences, as well as those of her friends, to this Season 1 scene because it hit close to home.
"That was one of the first times that I read a scene and I was like, '[Creator Lauren Gussis] is recording outside my window,'" she told International Business Times.
She continued: "The people who have loved me have seen that moment of mine. My stylist has pulled me out of bathrooms. People have told me that I'm contractually obligated to appear at certain things and that if I am not okay, I am not okay, but ultimately a decision needs to be made. You can not rush the moment of feeling those things, which are constantly trying to push down, and when they come up, [they] inform me and Patty's dysmorphia. And I've had conversations with friends of mine who are trans, friends of mine who have seen body shifts, who have developed dysmorphia, who have always had it, and who have been able to see themselves outside of it. All of those perspectives are important and informed [that scene]."
The 25-year-old "Insatiable" actress explained that the dressing room scene feels honest because it is. Though she had a lot of personal experiences to draw from, Ryan revealed that she was only able to bring it all to the surface because "Kimmy [Shields] is a safe place." Ryan's co-star has heard her discuss "the ways in which I will never feel enough and has heard me say mean, mean, cruel, terrible things about my body." This scene was just the two of them having that true-to-their-lives conversation but in front of a camera. Plus, Ryan said, "being in a bikini in front of a crew of a hundred people that I met three months ago," also stirred up a lot of those feelings.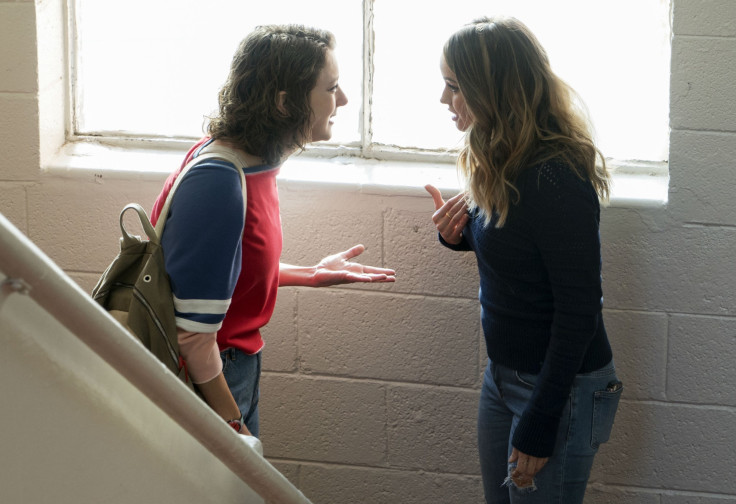 Though Ryan joked that Gussis wrote this scene after recording her inside her home, the "Insatiable" creator explained to IBT that it came from a place deep within herself. "I wrote a scene that Debby felt like she could have lived and I recorded it," Gussis said. "And it's because I was willing to share my pain, and she was brave enough to go there for the show. And I think there's so many things in the show [like that] because we were brave enough to be raw and to share the truth."
She continued about why it's important to get uncomfortable: "I think that we need to be willing to go in deep and show the thing, excavate the wound and then let it heal."
Ryan seconded that notion, saying that in order to heal, they couldn't avoid hard truths. "Everyone avoids it in different ways and tries to not feel it because it's uncomfortable," she said, before revealing that she's "done a lot of self-punishment" because she doesn't love to feel these uncomfortable things. But, ultimately, she knows that "that's the cost of growth." Her personal experiences, this realization and her "responsibility" to go into the show "bravely and with fearlessness but not recklessness" is what made the scene the emotional, and real, moment it is.
"Insatiable" Season 1 is now streaming on Netflix.
FOR FREE to continue reading
✔️ Unlock the full content of International Business Times UK for free
offer available for a limited time only
✔️ Easily manage your Newsletters subscriptions and save your favourite articles
✔️ No payment method required
Already have an account?
Log in
© Copyright IBTimes 2023. All rights reserved.