iPad Mini Mega: Conan O'Brien Spoofs Apple Tablet Designs [VIDEO]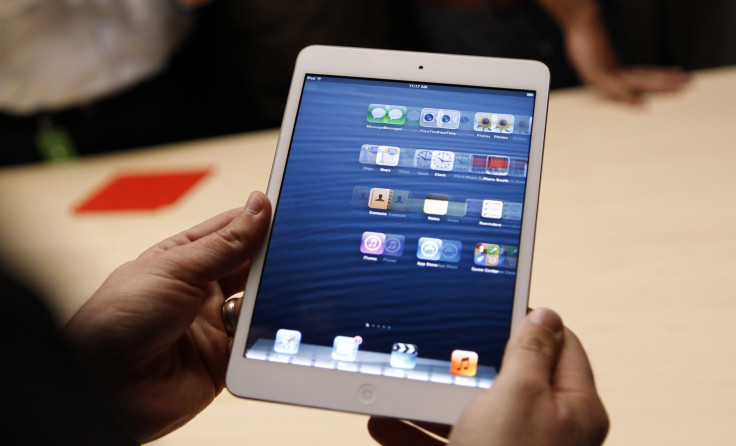 As Apple releases its newly announced iPad Mini today, Conan O'Brien envisioned the tech company combining the new device and its predecessor, the iPad, in a spoof mocking Apple's designs.
"We at Apple are thrilled with the iPad Mini," says "Andrew Grissom," who is given the title of "Senior Director, Apple Design" and closely resembles Apple design chief Jony Ive. "We put everything you love about the iPad in a smaller package."
"But then we thought, 'What if we combine the sleekness of the iPad Mini with the rich display of the original iPad?' Introducing the iPad Mini Mega. At 8.8 inches, it's the perfect blend of the iPad and the iPad Mini."
The video, which can be viewed below, aired on "Conan" and was posted Monday to YouTube, where it has more than 215,000 views. The clip is hugely popular, with 2,276 YouTube users liking the clip and only 41 disliking it.
In mocking Apple's new creation, Grissom said the company took it a step further.
"What if we put everything you love about the iPad Mini Mega in a smaller package? Introducing the iPad Mini Mega Micro. At 8.4 inches, it's a revolutionary mix of other revolutionary things," Grissom says in the video, which you can view below.
Grissom doesn't stop there, as he introduces another iteration of the iPad.
"What if we jammed another size in there? Introducing the iPad Mini Mega Mico Max. At 8.8 inches, it's actually the same size as the first one [iPad Mini Mega.] Whoops," Grissom says. "The iPad family is a rich array of barely different options. And let's not forget the iPad Monstro. At 112 inches, it barely fits in a door."
The "senior director of Apple Design" then unveils the tech company's new slogan.
"Apple. We're drunk with power," he says.
YouTube users who commented on the iPad Mini Mega video slammed Apple, opining that the Cupertino, Calif.-based tech company is no longer a leader in innovation.
"That's the thing with Apple...it's_ all just slick marketing," wrote MrSupastar83.
"LMAO!!! Yea, Apple seems to be on the decline to me. If it were just the iPad Mini, cool... but releasing a new, new iPad... just_ stupid," said PuppyProud.
The iPad Mini was released Friday, but there's not much fanfare surrounding the latest Apple tablet.
In Asia, where consumers got their hands on the new device before U.S. customers, lines were considerably shorter than earlier in the month when the iPhone 5 debuted, the Wall Street Journal reported.
"I saw an article online saying that there was practically no wait, so I came to pick it up," Hideyuki Morii of Japan told the newspaper as he waited in line in Tokyo.
© Copyright IBTimes 2023. All rights reserved.